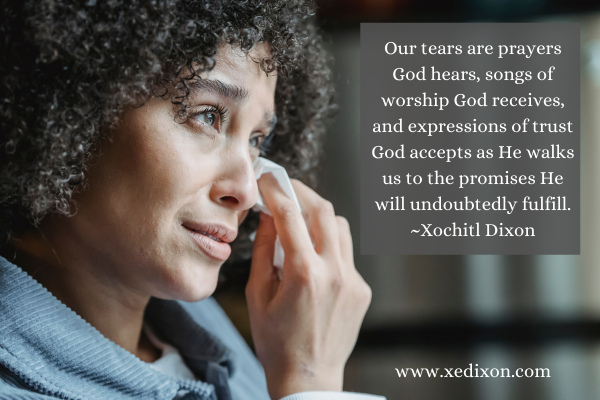 I've lost count of the days I sat alone, sometimes laid up in bed struggling with pain management and sometimes wrestling with guilt because fatigue sucked up more than half of my day. No one heard my sobs, except God and my service dog who tried her best to lick away the problem she didn't understand. I shared my one-and-done work related post, so one missed me on social media.
Then, I wept.
Embracing the sadness, I surrendered to the tears. But why was I sad? I've struggled with depression in the past, triggered by a hostile work environment. These tears felt different, refreshing in a way. Still, I had no idea how to explain why I was experiencing this sadness.
Sure, my road is tougher than I would like it to be. But God has also blessed me with so many reasons to be grateful every day. I enjoy a full workload and mean every word I type as I invite others to join me in praising Him. So, why did I need to cry alone?
I didn't have an answer, so I simply allowed my feelings to flow.
Some folks insist that everyone needs a good cry. I believe that statement. But for some reason, I knew these tears meant more than an overflow of feelings. As I sat in the quiet room, stroking my service dog's soft fur, I thanked God.
The ministry of tears had once again brought me to the foot of the cross, eyes gazing at the unchanging truth that kept me rooted in faith.
I couldn't share those tears. I had to let them finish their work of cleansing my weary soul, emptying my aching heart, clearing my jumbled mind. When the streaks of salty woes eased to sniffles, peace pressed into me, first in my chest then rolling over my shoulders and off my back as I exhaled.
Can I be sad and still have strong faith?
I used to struggle with that question. I'd always been quick to feel, open to sharing with transparency and boasting in my weaknesses while proclaiming the strength of Christ alone. Was I wrong? Did my easy weeping reveal a weak spot in my faith?
I've been told that people with strong faith can't be sad because their hope is in Christ. I've been told that my faith is weak, that I don't want to be healed, that I don't believe God can heal, because I'm still battling chronic pain and fatigue. But my walk with Jesus and my sacred strolls through the Bible have proven those claims false.
As I wept today, for no particular reason, I looked to the psalms for answers and found a rock-solid foundation of hope.
I could hear the psalmist David sighing as he began his prayer with confident surrender.
"Answer me when I call to you, O God who declares me innocent. Free me from my troubles. Have mercy on me and hear my prayer." (Psalm 4:1)
David turned his words toward his offenders then announced what He could depend on with a shoulders-back and head-raised proclamation of faith.
"You can be sure of this: The LORD set apart the godly for himself. The LORD will answer when I call." (Psalm 4:3)
Those are not the words of a doubting sinner. Those are the words of a victorious king reliant on the King of Kings.
Turning back to listeners, David encourages obedience and trust in the Lord before interceding in prayer then intimately speaking to God regarding his personal testimony without missing a breath.
"Let your face smile on us, LORD. You have given me greater joy than those who have abundant harvests of grain and new wine." (Psalm 4:6-7)
David acknowledges God's ability to meet His needs while he is still in need.
His faith shines with a bold assurance in God's promised provision. But it's clear that David is still suffering. I can imagine his head bowed because I bow my head as I pray with David.
"In peace I will lie down and sleep, for you alone, O LORD, will keep me safe." (Psalm 4:8, emphasis mine)
As I look around me, I see suffering that is hard to hide and suffering hidden behind a smile and a dismissive "I'm fine." I've been guilty of the latter, wanting to protect God's reputation by pretending everything was good in my life.
Now, I know better because I know God better.
Can I be sad and still have strong faith?
The psalmists would answer yes and prove their stance with their songs of praise and lament. The disciples would say yes and display their scars of faith like badges, as they willingly shared in the suffering of Christ. The Saints of the Old Testament would gather around and swap stories of God's faithfulness, trustworthiness, and power through their toughest moments. They all knew sadness and had faith.
As I tried to understand the reason for my gush of feelings, I asked God for clarity. He took me to dictionary .com on a hunt for meaning.
Sadness is "an instance of sorrow."
If that's true, then sadness is also an emotion that will pass, not our identity.
Sadness is not a shawl of shame that needs to be denied or minimized.
Sadness proves that we feel, that we care, that we're alive, that we're still fighting, still trusting, still walking by faith.
How does God respond when we're sad?
"The Lord is close to the brokenhearted and saves those who are crushed in spirit." (Psalm 51:17)
We can stop fearing sadness and trying to avoid tears when we begin to understand the ministry God does as we surrender to the emotions He gave us to experience.
Our tears are prayers God hears, songs of worship God receives, and expressions of trust God accepts as He walks us to the promises He will undoubtedly fulfill.
Loving Lord, thanks for knowing how much we need to feel sadness, how much we need to experience the overflow of tears, and how much we need to encounter You in the instances of sorrow You use to deepen our dependence on Your enduring mercy and love. Help us trust that You never let a tear slip down our cheeks without Your acknowledgement. And help us rest in the surety of Your all-encompassing grace. In Jesus' name, Amen.
*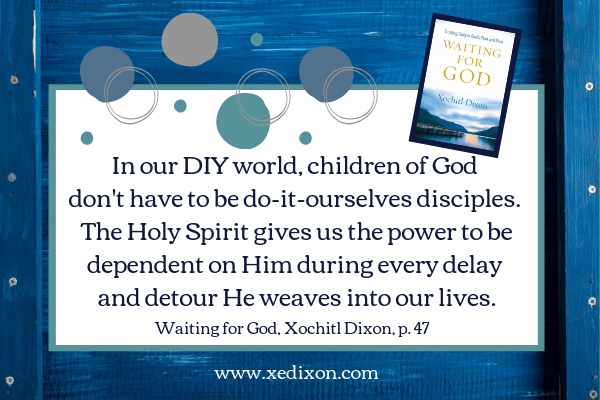 If your heart is weary and longing for answers—for healing, for provision, for miracles—Waiting for God renews your hope with strong biblical truth and encouraging Scripture-based prayer. Guided to inhale God's Word, exhale in prayer, and rest in God's love, you will be restored, able to worship the Lord even when the wait feels endless.
Xochitl Dixon shares her personal stories and the experiences of others to help you reclaim your peace and joy, knowing God has not forgotten you.
You can order your copies of Waiting for God: Trusting Daily in God's Plan and Pace from Amazon. Don't forget to love your neighbor by ordering extra copies to share as gifts.
To God be the glory!
*