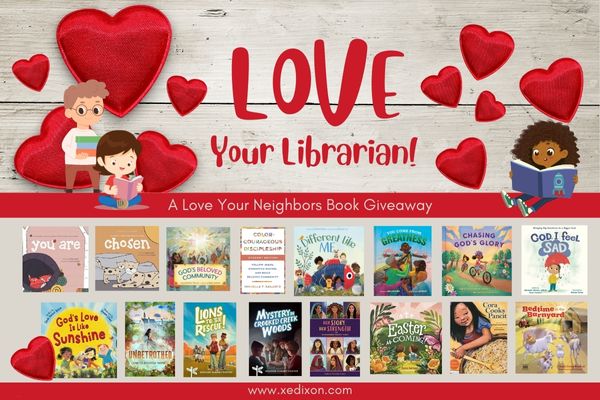 Suggested Reading: John 1:1-18
"In the beginning was the Word, and the Word was with God, and the Word was God." John 1:1
As a latchkey kid, I spent a lot of time alone. Books became my best friends. Music became my therapist.
I traveled the world and learned how to see beyond my personal space through the pages of picture books and novels, and as I sang the songs that touched the depths of my soul. So, for years, I thought words changed and saved my life.
Words gave me power as I began writing. I wrote poetry to explore my emotions and express my feelings. I wrote fiction to escape my world.
But it wasn't until my thirtieth year on this earth that I read the words that truly saved my life ̶ the Good News, the Gospel of Jesus Christ.
"In the beginning was the Word, and the Word was with God, and the Word was God." John 1:1
I met the Word ̶ Jesus, Emmanuel, God with us ̶ through the Gospel of John in 2001.
I got to know the Word a little bit better every time I opened up my Bible and prayerfully read and studied the God-breathed words of Scripture that the Holy Spirit used and still uses to transform me. And now, God has blessed me with the pleasure and privilege of sharing His truth and love with readers around the world through the words He empowers me to write.
To God be the glory, the honor, and the praise!
This is why I thank God for every book He used to prepare my heart for Him and for every ministry opportunity He provides so I can share Him with others, whether it's by placing a Bible in someone's hands or writing the words He uses to touch someone's heart.
This is why I'm so excited about the 2023 Love Your Librarian Book Giveaway!
*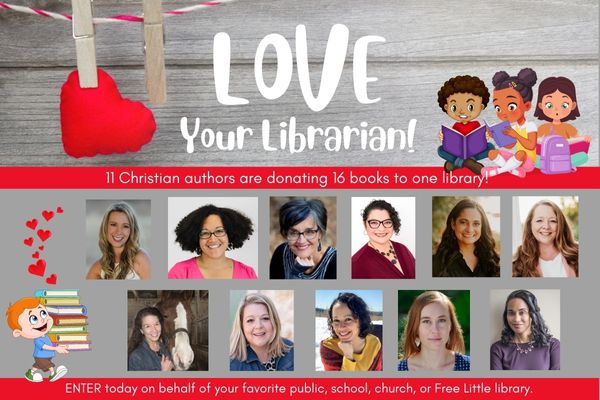 As a child, I didn't go to church. I knew God existed, but I had never even seen a real Bible until I stole my first Bible in 2001. (Don't fret or judge. I paid for that Bible two years later, after I learned that there was a small fee required to replace the Bibles taken from the church.)
Now, as I look back on the books I read during my countless hours in libraries as a child, I can see how God used many of those books to prepare my heart to receive the Gospel. I can see how God used those reading adventures to equip me for a lifetime adventure of enjoying Bible reading as an adult.
Our libraries need books written with a Christian worldview and books written to point readers to a life-saving relationship with the Word ̶ Jesus!
Yes. Dr. Seuss ignited my love for poetry. Mercer Mayer and Beverly Cleary sparked my love for humor and storytelling. However, The Berenstain Bears, Where the Red Fern Grows, and The Lion, the Witch, and the Wardrobe planted seeds of faith in my heart.
And this is why I thank God for every opportunity He gives me to write books for His glory, to support libraries, and to place Christian books on those library shelves and into the hands of young and older readers.
I would love to hear your stories about how God used children's books and libraries to encourage you, comfort you, and draw you closer to Him during your childhood.
I would also like to invite you to join me in blessing your local public, church, school, or Free Little Library with16 Christian children's books that honor God today!
I'm one of 11 Christian authors participating in the 2023 Love Your Librarians Book Giveaway on Instagram.
Praise the Lord! Praise the Lord!
To ENTER for your chance to have 16 of our Christian Children's books donated and sent directly to your library, all you have to do is:
FOLLOW ALL 11 participating Christian authors on Instagram.
Write the NAME, CITY, and STATE of your favorite church, school, public, or Free Little library in the comment section under THE ORIGINAL POST ON INSTAGRAM (Click HERE).
ASK OTHERS TO ENTER (following all giveaway rules) on behalf of your selected school, church, public, or free little library.
TAG the teacher, school, church, or public library or the librarian so they can ask others to enter on their behalf.
We'll announce the randomly selected library that will receive these 16 Christian books on February 14, 2023 by 10 am Pacific.
NOTE: The mailing address of the randomly selected library chosen to receive these 16 books MUST BE LOCATED IN THE CONTINENTAL U.S. to be eligible for this Love Your Librarian Book Giveaway, which is in no way sponsored, endorsed, administered by, or associated with Instagram or any other organization.
Thanks for joining the FUN and showing your love to our amazing librarians and the communities they serve!
I'm looking forward to hearing your stories about the wonderful ways God used libraries, books, and writing to encourage you, comfort you, embolden you, and prepare you during your childhood.
And I'm looking forward to growing closer to Jesus as we spread His Word together!
*
I am including the list of the 11 Christian authors and the 16 books we're donating for the 2023 Love Your Librarian Book Giveaway.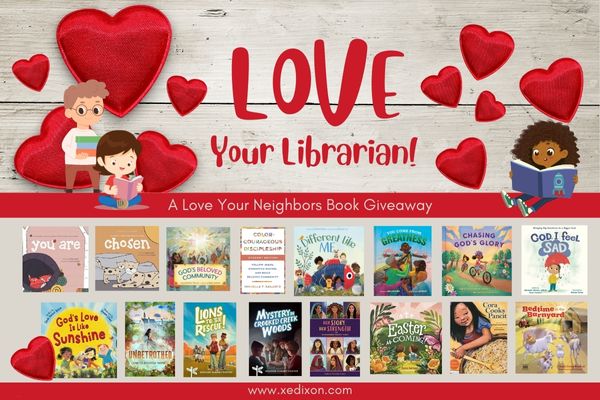 I'm adding our websites so you can partner with us in ministry by: praying for us, subscribing to our blogs, liking or following our social media pages, and supporting us by buying our books, reviewing our books, and sharing our books with others.
*
Chosen and You Are by Emily Assell
You Come from Greatness by Sara Chinakwe
Lions to the Rescue and Mystery of Crooked Creek Road by Amanda Cleary Eastep
Different Like Me by Xochitl Dixon
Chasing God's Glory and Cora Cooks Pancit by Dorina Gilmore-Young
Easter is Coming and God, I Feel Sad (with Michelle Nietert) by Tama Fortner
Bedtime in the Barnyard by Dandi Daley Mackall
God, I Feel Sad by Michell Nietert with Tama Fortner
Unbetrothed by Candice Pedraza Yamnitz
Her Story, Her Strength and God's Love is Like Sunshine by Sarah Parker Rubio
God's Beloved Community and Color-Courageous Discipleship by Michelle T. Sanchez
*