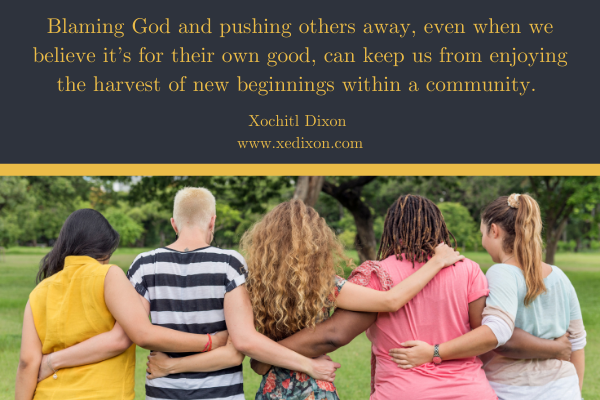 Suggested Reading: Ruth 1
The nurse placed my newborn son, Xavier, on my chest. I stared into his dark brown eyes. When His chubby cheek jiggled when I kissed him. At that moment, I began to understand the meaning of unconditional love. Nothing could make me stop loving that tiny human. Nobody mattered more than Xavier.
My doctor was still caring for me when the nurse took Xavier from my arms. I turned toward my husband. "Go with him," I said. "Don't let him out of your sight."
He had stopped at my bedside. "What about you?"
"He's the only one who matters now," I said, waving him away. "Go. Please."
Another nurse helped me until I was ready to join my husband in the nursery.
The moment I first saw Xavier's beautiful face is seared into my memory. I'd never loved any human as much as I loved Xavier.
That obsessive love led to a child-centered marriage, which was not healthy.
I still remember the day when my husband said, "After Xavier was born, I stopped existing in your world."
Sadly, he wasn't wrong. We struggled but agreed to stay together . . . for Xavier.
Marital problems led to a legal separation. For three months, Xavier and I lived over seven-hundred and fifty miles away from my husband and my stepson, AJ.
One night, my sweet boy packed up his toys and a few choice snacks. "I need a ride to the airport, Mommy," he said. "Daddy needs us to be home."
After allowing Xavier to talk to his dad, I sang him to sleep. I had an honest conversation with my husband later that night. We agreed some things had to change and decided to work things out . . . mostly for Xavier.
But when Xavier was five years old, I surrendered my life to Jesus.
As I studied God's Word, I grew closer to Him and began to understand the meaning of selfless love. God has used His Word to help me better understand the way He loves me and the way I need to love Him and others in a healthy and holy way.
When studying the book of Ruth, I naturally gravitated to the main character. I admired Ruth's strength and her dedication to loving and caring for her mother-in-law.
But sometimes, I wondered why she didn't want to go home. Why would Ruth leave her family to follow Naomi into a life of struggle and sacrifice that she'd undoubtedly face with Naomi?
As I learned to look closer when studying Scripture, I began to focus on other details that could easily be skimmed over when approaching the Bible with a one-track mind.
During one deep dive into Scripture, I discovered Naomi's heart of love.
In Ruth 1, Naomi demonstrates what our lives will look like if we have a heart of love.
A Heart of Love remains committed, regardless of how difficult the road ahead may be.
Naomi followed her husband to an unknown country. The famine probably made it easier to leave the familiar place she called home. But what else did she have to leave behind?
Scripture says her husband took his family with him (v. 1). They walked away from everything they knew, everything they depended on, and everything that they had once called home.
"And when they reached Moab they settled there" (v. 2)
Moab means "land beyond the Jordan," a land "just short of the Promised Land," or "from the Father."
In the ten years they stayed in Moab, Naomi experienced great heartache. Scripture affirms her husband died but doesn't give the ages of her sons when he passed (v. 3).
How long was he alive after they reached Moab? How did this single mom survive in the middle of a land that was historically considered an enemy of Israel? How often was Naomi reminded that the Promised Land was just beyond her reach?
When her sons got married to Moabites, they didn't have children for about ten years (v. 4). Then, her sons died and "left Naomi alone" (v. 5).
How did Naomi feel when she looked around and realized she was all alone in a land she couldn't really call her own? Did she want to give up, to run away, to lash out at her daughters-in-law?
While we can't figure out what Scripture doesn't share about Naomi, we can see what she did.
A Heart of Love places the needs of others first.
Naomi obviously had a good relationship with her daughters-in-law. They wouldn't have wanted to leave their homeland if they didn't trust her love for them.
Though she was alone, a widow with no sons who would have no one to care for her as she grew older, Naomi placed the needs of her daughters-in-law before her own. She urged them to return to their families and acknowledged that they had been good to her, her husband, and their husbands (vv. 6-8).
With a heartbreaking goodbye, Naomi prayed they would find new husbands to care for them (v. 9).
"No," they said. "We want to go with you to your people" (v. 10).
But Naomi knew she had nothing to offer them, so she begged them to leave her (vv. 11-13). Even though she would be left with nothing if her daughters-in-law returned to their homes, Naomi chose to protect them from suffering.
The mutual love seems evident as Naomi begs them to go back to their families and the women weep as they struggle to say goodbye (v. 14-15).
And Ruth outright refuses to leave her mother-in-law (vv. 16-17). This act of devotion is often what seems to stand out when readers first approach. But if we remain focused on Ruth, we miss out on Naomi's expression of love toward her daughter-in-law.
A Heart of Love has compassion for others and willingly compromises for their good.
"When Naomi saw that Ruth was determined to go with her, she said nothing more" (v. 18).
No nagging. No "told-you-so" comments when the situations got too hard.
Naomi traveled with Ruth and continued her grieving process with vulnerability and transparency, which seemed to only strengthened their bond (vv. 19-21).
Though Naomi wanted to spare Ruth the suffering she knew single women would have to endure, she showed compassion for her daughter-in-law. She embraced Ruth and compromised so they could move forward.
"So Naomi returned from Moab, accompanied by her daughter-in-law Ruth, the young Moabite woman. They arrived in Bethlehem in late spring, at the beginning of the barley harvest" (v. 22).
Naomi had compassion on the young woman and compromised what she wanted for the good of what her beloved daughter-in-law needed.
When they arrived, the harvest was beginning, their new life was unfolding before them as they lived with hearts of love.
As we face changes in our lives, we may have no choice but to process our grief, face our fears, and wrestle with loneliness.
Blaming God and pushing others away, even when we believe it's for their own good, can keep us from enjoying the harvest of new beginnings within a community.
When we let our guard down and surrender to being loved by God and others, we can experience peace as we walk through trials and victories.
We can't avoid processing our feelings. But we can avoid doing life on our own.
How has God helped you learn to embrace His love through someone who is relentless in loving you?
Loving God, thanks for reminding us that we can love because You love us first. Please give us Spirit-empowered courage as we shake off anything that hinders us from receiving Your perfect love and loving others in healthy and holy ways. Help us to see others with compassion as we learn to live day-by-day with Hearts of Love. In Jesus' name, Amen.
*
CELEBRATING GOD'S LOVE THROUGH COMMUNITY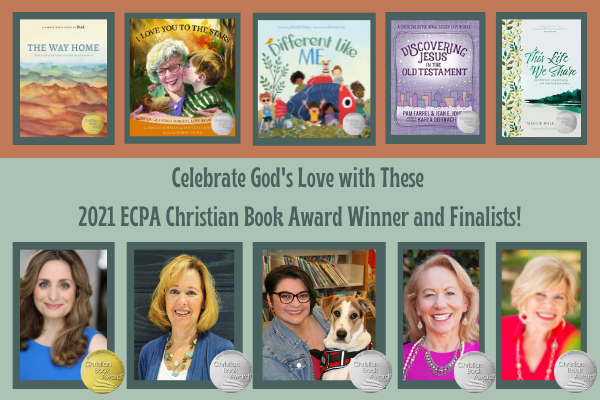 I am excited about the opportunity to celebrate God's love with three of my fellow 2021 ECPA Christian Book Award Finalists and, Tessa Afshar, the 2021 ECPA Christian Book Award Winner of the Bible Study Category.
Each week in the month of September, I will be sharing a devotion about God's love and introducing one of these authors with a short introduction to their award-winning book.
*
This week, I would like to introduce you to my  friend, award-winning and best-selling author Pam Farrel.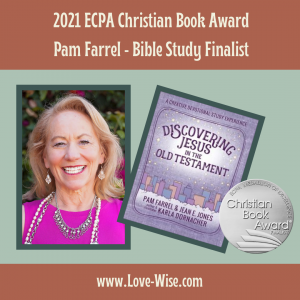 Pam Farrel is the author of 54 books including the 2021 ECPA Finalist for Bible Study of the Year:  Discovering Jesus in the Old Testament: A Creative Bible Study Experience (co-authored with Jean E Jones and Karla Dornacher). Pam is an international speaker and bestselling author. Together with her husband, Bill, they run Love-Wise ministry, helping people with their most vital relationships.
In Discovering Jesus in the Old Testament: A Creative Bible Study Experience, you will discover all God has planned since before the foundation of the earth. Through compelling instruction and motivational devotions, each chapter reveals God's redemptive plan from the beginning of creation. Explore:
-Timeline icons to help you track God's plan through the Old Testament.
– Key questions at the beginning of each section to guide your focus.
– Opportunities for creative expression, including full-page graphics and bookmarks to color.
– Sidebars that offer fascinating historical insights.
– Practical application questions to guide and deepen your walk with Christ.
– Online opportunities for connection and interactive community
As you discover new ways to engage with God's Word through this in-depth approach to studying Scripture, you will gain wisdom and understanding about his incredible, unchanging love for you.
You can also connect with Pam on her website, on Facebook, and on Instagram.
Please CLICK HERE to love your neighbors by ordering an extra copies of Discovering Jesus in the Old Testament: A Creative Bible Study Experience (co-authored with Jean E Jones and Karla Dornacher) to share as gifts.
*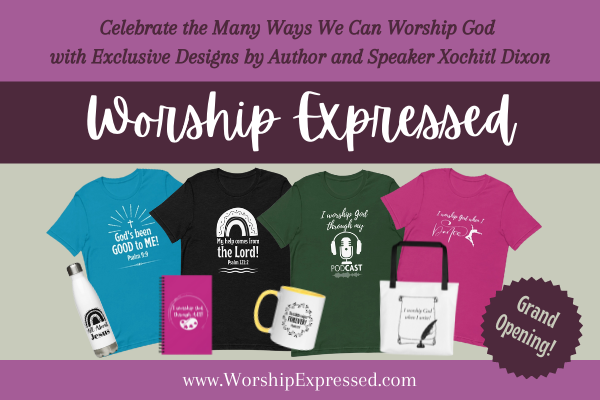 Earlier this month, I invited you to check out Worship Expressed, our brand-new family ministry. Worship Expressed is an online store where you can purchase Christian apparel and accessories that I have prayed over while designing. We even have a few designs created by our son, Xavier.
WE are adding to our product line and will be working with Christian authors to create a few special collections before the holiday season arrives.
Please help us invite others to worship God through our attitudes, our words, our actions, and the Worship Expressed apparel and accessories we choose to use and wear every day.
How can you partner in ministry with the Worship Expressed family?
Click here to "LIKE" the Worship Expressed with Xochitl Dixon page on Facebook, then "Like" and "Share" some of our posts.
Click here to "Follow" the Worship Expressed page on Instagram, then "Heart" and "Share" some of our posts.
Click here to visit, shop, or join the Worship Expressed family by creating an account.
Take photos of you enjoying your Worship Expressed apparel and accessories and tag us on social media.
Contact us through the Worship Expressed website to share your testimonies about how God used your Worship Expressed apparel and accessories to help you invite people to talk about Him, praise Him, and share the Gospel with others.
Love your neighbors by ordering extra Worship Expressed apparel and accessories to share as gifts.
*
Do you need spiritual refreshment today?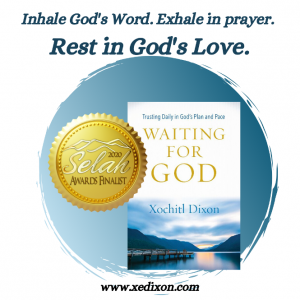 If your heart is weary and longing for answers—for healing, for provision, for miracles—Waiting for God renews your hope with strong biblical truth and encouraging Scripture-based prayer. Guided to inhale God's Word, exhale in prayer, and rest in God's love, you will be restored, able to worship the Lord even when the wait feels endless.
Love your neighbors by ordering extra copies of Waiting for God: Trusting Daily in God's Plan and Pace today!
*
Thanks for being a member of my blog family!
I hope you will connect with me in the comment section under this blog post.
If you are reading this article in your email, you can reply to this email OR join the conversation in the comment section on my website by clicking here, scrolling down to the comment section, and writing your message.
I moderate comments for the safety of our community, so your comment will not show up right away. However, I will read, reply to, and approve every comment that is appropriate to share under my blog articles.
I'm looking forward to growing with you as we remain rooted in God's Word and growing with God's people.
*
*