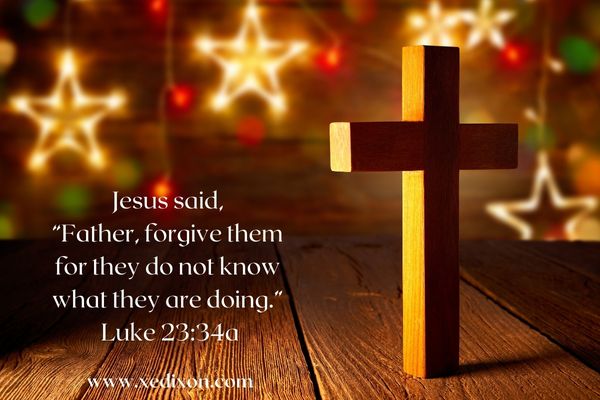 (Suggested Reading: Luke 23:32-43)
As Christmas approaches, some of us are looking forward to holiday gatherings and some of us wish we could avoid folks in our inner circle.
Even as lights twinkle and carolers sing, some people are wrestling with unresolved conflicts. Some have given up on relationships, licking old wounds and straining their backs to adjust their grudge-sacks.
The enemy doesn't have to work hard to divide God's people when we do most of the legwork for him.
It is healthy to create boundaries. It's important to accept that some relationships are not going to be . . . or should not be . . . restored. But unforgiveness disrupts peace, diminishes joy, and places us in disobedience to God.
So, how are we supposed to get right with God and celebrate Christmas if we're struggling with unforgiveness?
I had to learn the hard way.
A few years ago, at different times in the same year, two women ended their friendship with me without giving me reasons. Though I asked them several times to tell me what I'd done to make them angry enough to end our friendship, I still have no clue.
As I grieved both friendships, I asked God to reveal what I'd done.
Through mutual friends, I found out both women had gossiped about me. I didn't know what they said, but it didn't matter. In that moment, I knew they weren't really my friends.
I decided to pray for them and give them space since we didn't have to run in the same circles very often.
But when I saw both of them at an event, I started getting mad again. That's when God reminded me that my unforgiveness impacted my relationship with Him more than anyone else.
I found a quiet place on campus to pray for them and release them into God's hands. I kept on praying blessings over them, every time I saw them.
Eventually, the Holy Spirit freed me from the bondage of my unforgiveness.
How did I know I was freed?
Whenever I saw those women, I felt peace and was able to be kind . . . even when they weren't kind in return.
That freedom and peace allowed me to be ready when God blessed me with some unexpected ministry opportunities.
Though losing those friends hurt my heart, forgiving them allowed me to move forward and meet other friends as I stepped into those new ministry opportunities God provided. He's still bringing new people into my life and blessing me with more ministry opportunities. He's also helping me appreciate and nurture healthier relationships with old and new friends who want to be in my life.
BUT extending forgiveness, especially when the offender is not repentant, is hard . . . really hard!
It's easy to love kind neighbors, the neighbors who agree with us, encourage us, and understand us. Who wouldn't love neighbors who ask for forgiveness when they're wrong and who are honest about their feelings so we can seek forgiveness when we've offended them?
But Jesus calls us to love all of our neighbors, including the ones who need the most grace, the ones who are as depraved and dependent on God's mercy as we are.
No matter how many times we cry out to God, trying to justify the list of people we've tucked in the dark corners of our unforgiving hearts, the words He gave us in Scripture don't change.
"What do You want me to do, Lord?"
Forgive.
But I'm angry.
Forgive.
But I'm tired of forgiving when there seems to be no remorse.
Forgive.
But I'm still hurt.
Forgive.
But I'm afraid to get hurt again.
Forgive.
In Ephesians 4, God commands us to forgive as we've been forgiven (v. 32).
While Jesus hung on the cross, He willingly submitted to the nails that pierced His hands and feet. He paid the insurmountable debt our wickedness earned.
During Christ's earthly ministry, He had countless reasons to hold grudges, to become bitter, to seek revenge, to refuse to forgive . . . especially when He chose to endure the suffering on the cross.
But as He looked at the people who cheered for His execution‒those who mocked Him without remorse or repentance‒Jesus said, "Father, forgive them, for they do not know what they are doing" (Luke 23:34, NIV).
The people Jesus asked the Father to forgive didn't admit their wrongs or apologize.
Still, Jesus forgave.
In Total Forgiveness, R.T. Kendall states that "[asking] the Father to forgive them showed that not only had [Jesus] forgiven them and released them from their guilt, but also that He asked His Father not to punish them or take revenge on them . . ." (p. 3).
Our loving Savior intended on offering us radical forgiveness before He left His heavenly throne, put on flesh, and allowed Himself to be wrapped in swaddling cloth and placed in a manger.
When Jesus hung on the cross, bruised and bloody, He willingly paid the price for my sins . . . for your sins . . . before we could even think of repenting . . . before we even realized our need for repentance.
When we think of Jesus in the manger, we cannot forget the cost of the cross.
Jesus demonstrated selfless love and forgiveness on that cross and asks us to do the same when we're struggling to forgive others.
So this year, would you join me in asking God to help us give the gift of radical forgiveness for Christmas?
By offering radical forgiveness, we're not condoning, minimizing, or even forgetting an offense. God is righteous and just. He can be trusted to handle every situation.
In Scripture, He promises that we will all be held accountable for our actions, our words, and our attitudes. But He is also He full of compassion.
God understands our need to process and heal, but He still asks us to forgive so we can be in right relationship with Him.
He knows when it's time to take someone out of our lives, most of the time for reasons we may not know or understand on this side of eternity.
He also knows what it will take to build a better relationship after we face the conflict and trust Him to heal the rifts, beginning with our willingness to obey His command to forgive as He has forgiven us.
Forgiveness–placing the offense and the offender into God's trustworthy hands–draws us closer to God and frees us from carrying burdens that don't belong to us.
We can trust Him to work in and through their lives as He continues working in and through our lives.
We can choose victorious freedom through right relationships with God and others, instead of insisting on being right, instead of gloating in someone else's remorsefulness, instead of demanding apologies before forgiving.
As imperfect humans in desperate need of our Savior and Redeemer Jesus Christ, we will need to forgive others and ask for forgiveness all the days of our lives.
Radical forgiveness requires an ongoing commitment to surrender to the Holy Spirit, but begins with the choice to love Jesus and others like Jesus loves us.
Will you give the gift of radical forgiveness for Christmas this year?
*
Lord, thank You for forgiving us and for empowering us to forgive. Please prepare our hearts to receive and submit to Your truth and love. Show us our wickedness and lead us into the way everlasting (Psalm 139:23-24). Help us recognize, confess, repent, and turn away from our sins. Even if the restoration of a relationship isn't possible, help us forgive others as You've forgiven us so that we can experience the peace and freedom of radical forgiveness. In Jesus' name, Amen.
*
I would love to hear your story in the comment section below. I'm praying for us!
*
BOOK GIVEAWAY!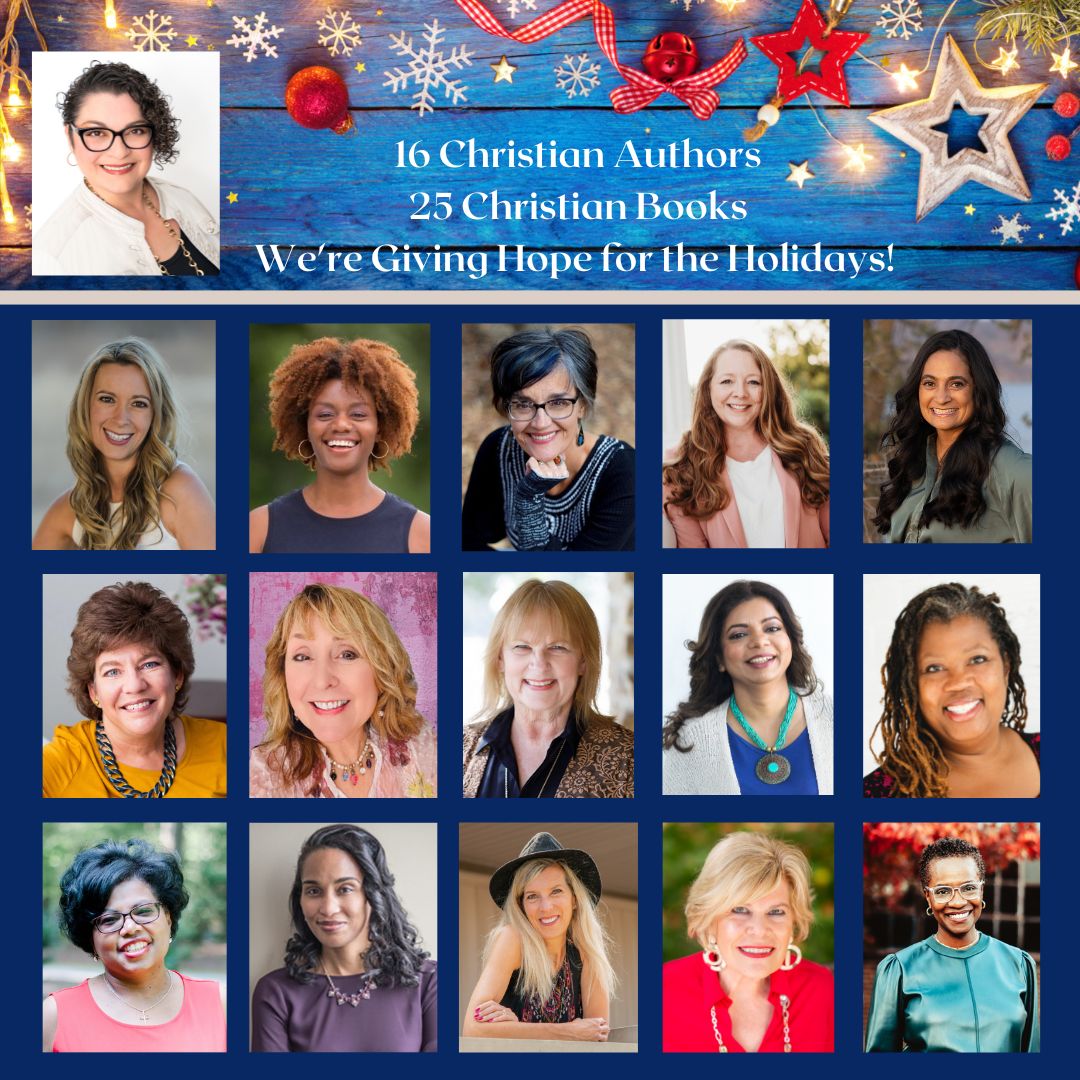 *
I'm one of 16 Christian authors participating in the 2022 Giving Hope for the Holidays Mega-Bundle Book Giveaway!
To ENTER for your chance to receive these 25 Hope-Giving Books, please visit my Instagram page today.
*
Here is the list of the 16 authors AND the 25 books we're giving away:
*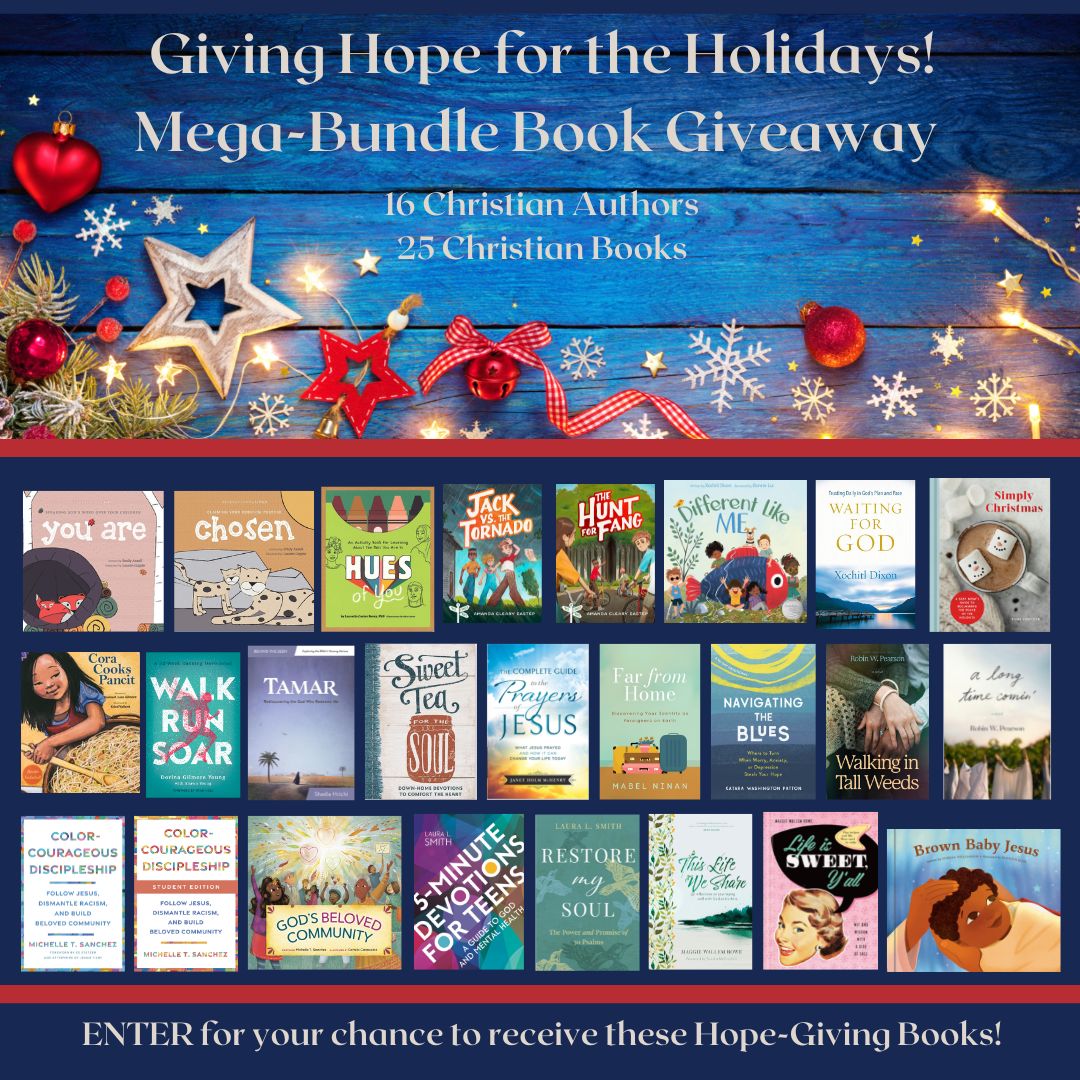 *
You Are: Speaking God's Word Over Your Children and Chosen: Claiming Your Kingdom Purpose, board books by Emily Assell, founder of Generation Claimed at @generationclaimed
*
HUES of You: An Activity Book for Learning About the Skin You are In by Dr. Lucretia Berry, founder of Brownicity at @lucretiaberry
*
Jack vs the Tornado and The Hunt for Fang, middle grade novels by Amanda Cleary Eastep at @book_leaves
*
Different Like Me, a 2021 ECPA Christian Children's Picture Book Finalist, and Waiting for God: Trusting Daily in God's Plan and Pace, a 31-day devotional by Xochitl Dixon at @xochitl.e.dixon
*
Simply Christmas: A Busy Mom's Guide to Reclaiming the Peace of the Holidays, a devotional by Tama Fortner at @tamafortnerbooks
*
Cora Cooks Pancit, a children's picture book, and Walk, Run, Soar: A 52-Week Running Devotional by Dorina Gilmore-Young and Shawn Young at @dorinagilmore
*
TAMAR: Rediscovering the God Who Redeems Me, a Bible Study by Shadia Hrichi at @shadiahrichi
*
Sweet Tea for the Soul: Down-Home Devotions to Comfort the Heart (Sequel to From Grits to Grace), a devotional by Linda Kozar at @lindakozar
*
The Complete Guide to the Prayers of Jesus: What Jesus Prayed and How It Will Change Your Life Today, a nonfiction book by Janet McHenry at @janetmchenry
*
Far from Home: Discovering Your Identity as Foreigners on Earth, a nonfiction book by Mabel Ninan at @mabel_ninan
*
Navigating the Blues: Where to Turn When Worry, Anxiety, or Depression Steals Your Hope, a 90-day devotional by Katara Patton at @katarawp **Scheduled for release on January 3, 2023.**
*
Walking in Tall Weeds and A Long Time Comin', Contemporary Southern fiction by Robin W. Pearson at @robinwpearson
*
God's Beloved Community (Children's Picture Book), and Color-Courageous Discipleship (Discipleship for Adults), and Color-Courageous Discipleship Student Edition (Discipleship for Youth/Teens) by Michelle Sanchez at @michelle_t_sanchez
*
5-Minute Devotions for Teens: A Guide to God and Mental Health and Restore My Soul: The Power and Promise of 30 Psalms by Laura Smith at @laurasmithauthor
*
This Life We Share: 52 Reflections on Journeying Well with God and Others and Life is Sweet, Y'all: Wit and Wisdom with a Side of Sass (inspirational gift book with southern humor and recipes) by Maggie Wallem Rowe at @maggiewallemrowe
*
Brown Baby Jesus, a children's picture book by Dorena Williamson at @dorenawilliamson
*
On Monday, December 19, 2022 at 8 am Pacific, we'll announce the randomly selected recipient of these 25 Christian books on Instagram.
TO BE ELIGIBLE TO ENTER this mega-bundle book giveaway, you MUST LIVE IN the Continental U.S.
The 2022 Giving Hope for the Holidays Mega-Bundle Book Giveaway is in no way sponsored, endorsed, administered by, or associated with Instagram or any other organization.
Thanks for joining the FUN!
Merry Christmas!
*
*