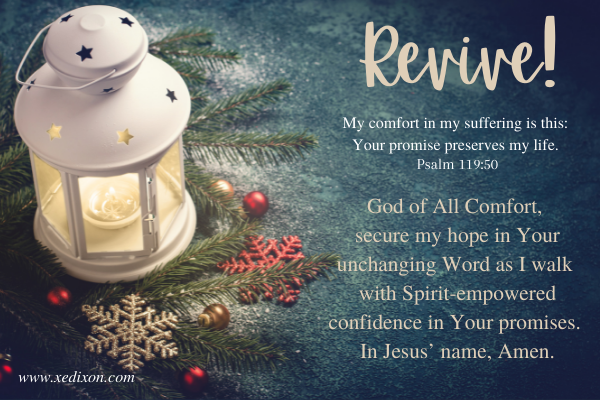 Somewhere, someone is hurting as the world around them revs up for the holiday festivities.
Someone is adjusting to life after a big transition.
Someone is struggling to pay bills.
Someone is grieving the loss of a loved one.
Someone is wrestling with fear or anxiety after an unexpected health diagnosis.
Someone is battling disease or struggling with pain management.
Someone is feeling rejected, lonely, forgotten, insignificant.
Someone doesn't know how to tell their family they just lost their job, their home, their spouse, their unborn child.
We can add so many things to this list of circumstances causing someone to suffer.
You may know that someone who is hurting this Christmas.
You may even be that someone today.
If not, we can be sure that any one of us could be that someone tomorrow.
So, how can we find the comfort we need when Christmas comes with heartache?
"My comfort in suffering is this: Your promise preserves my life." Psalm 119:50 (NIV)
As I prayed over this verse, I thought about the physical and emotional pain my family endured over the last year. Some of our heartaches and trials will roll over into the coming year.
Longing to gain a deeper perspective, I prayed over the psalmist's declaration of faith, searched other translations, and found a spirit-refreshing nugget of hope that solidified my peace.
The New Living Translation says: "Your promise revives me; it comforts me in all my troubles." Psalm 119:50 (NLT)
The English Standard Version says: "This is my comfort in my affliction, that your promise gives me life." Psalm 119:50 (ESV)
The International Standard Version says: "This is what comforts me in my troubles; that what you say revives me." Psalm 119:50 (ISV)
The Word English Bible says: "This is my comfort in my affliction, for your word has revived me." Psalm 119:50 (WEB)
God's promise is what He says . . . His Word!
Yes!
God's promise revives ̶ renews, restores back to life, makes operative again, brings back ̶ my life.
God's promise preserves ̶ keeps alive, makes lasting, keeps safe, protects, maintains ̶ my life.
God's promise assures us that He loves us and never leaves us.
His love is unconditional, "absolute, free from imperfection, pure, complete, without limits"  (Dictionary .com).
His presence is unrelenting, "not yielding or swerving in determination, not easing or slackening" (Dictionary .com).
God alone is able and available to handle anything and everything that happens to land on our list of afflictions.
Even while we are right smack in the middle of heart wrenching circumstances, we can trust God to be our strength, our peace, our enduring hope, and our constant and complete Giver of comfort.
Hallelujah!
God of All Comfort, thanks for using Your Holy Word to reveal Your unchanging character, Your unconditional love for us, and Your unrelenting presence with us. In Jesus' name, Amen.
*
REVIVE Your Prayer Life!
Pause for Prayer with Xochitl Dixon introduces Revive Your Prayer Life: An Interview with Amy Boucher Pye, Our Daily Bread writer, speaker, spiritual director, and author of the award-winning Finding Myself in Britain, The Living Cross, Celebrating Christmas: Embracing Joy through Out and Reflection, and 7 Ways to Pray.
Join me for Revive: 31-Days of Spirit-Refreshing Biblical Encouragement and Prayers on my Instagram page and subscribe to Pause for Prayer, my YouTube channel, today!
*
EXCLUSIVE BOOK GIVEAWAY FOR MY BLOG SUBSCRIBERS!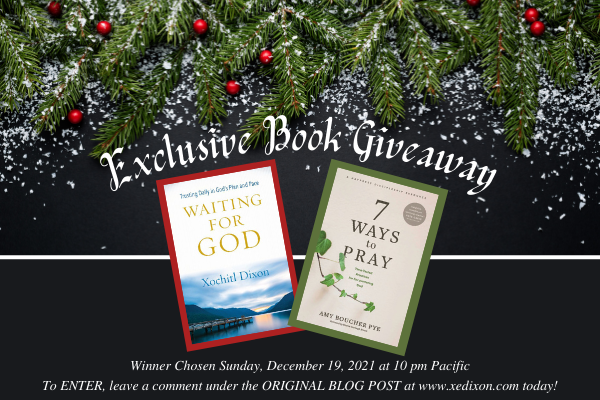 TO ENTER: Let me know where you are from when you leave a comment under this blog post and you will be entered for your chance to receive a free copy of 7 Ways to Pray: Time-Tested Practices for Encountering God, written by my fellow Our Daily Bread Writer Amy Boucher Pye, and a free signed copy of my 31-day devotional, Waiting for God: Trusting Daily in God's Plan and Pace. Must be a U.S. Resident to be eligible for this giveaway.
*
Thanks for being a member of my blog family!
If you are reading this article in your email, please join the conversation in the comment section on my website by clicking here, scrolling down to the comment section, and writing your message. (This link only works if you are reading this blog post as a subscriber via your email inbox.)
I moderate comments for the safety of our community, so your comment will not show up right away. However, I will read, reply to, and approve every comment that is appropriate to share under my blog articles.
I'm looking forward to growing with you as we remain rooted in God's Word and growing with God's people.
*
Are you looking for a gift that will have lasting spiritual impact on someone you love?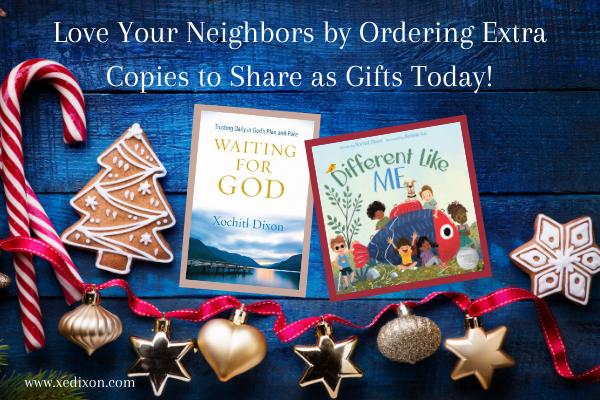 Different Like Me, one of five children's books chosen as a finalist for the 2021 ECPA Christian Book Awards, celebrates our differences and our sameness as God's beautifully diverse and purposefully connected image-bearers. In Different Like Me, a diverse group of children join forces to help a friend and discover that God created everyone to be different and special so we can serve together for His glory!
In Waiting for God: Trusting Daily in God's Plan and Pace, I will guide you through 31 days of spirit-refreshing devotions. We will inhale God's Word, exhale in prayer, and rest in God's love as we trust Him for healing, for provision, and for miracles when the wait feels endless.
*