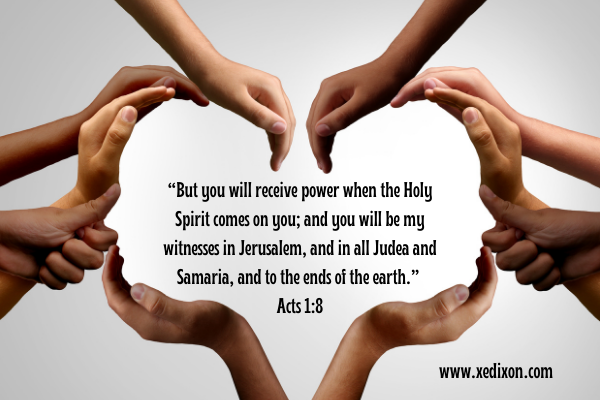 Suggested Reading: Acts 1:1-11
Have you ever had to release your grip on a dream?
When I first surrendered my life to Christ in 2001, I wanted to share His truth and love to the ends of the earth. I dreamed of serving the Lord through mission trips. My husband said mission trips were not for him, so I decided to wait until our sons grew up. I secretly prayed our sons would have missionary hearts and join me in international ministry.
After watching a video showing a group of people in China receiving Bibles smuggled into the country in suitcases and weeping as they savored the God-breathed words of Scripture, I dreamed of becoming a Bible smuggler.
In 2011, I attended a Christian writers conference and spoke with a well-known agent about using writing as a tool for ministry. He asked me if I wanted to use writing for ministry or if I wanted my name on a book.
I said, "I want to share God's truth and love to the ends of the earth and I don't care how."
He said, "Don't forget the ministry of magazine writing."
God used that conversation to lead me into a mission field I never considered possible.
But in September 2012, when I turned to pick up a paper from my desk, I ended up writhing in pain on the floor. My overcompensation to ease the pain from my 1992 upper thoracic back injury caused damage in my shoulders and neck. I had my first back procedure and shoulder surgery before the end of the year.
In January 2014, after numerous back procedures and two months before my second shoulder surgery, my mom fell while walking through a parking lot. When doctors reviewed her blood samples in preparation for her procedure, they diagnosed her with Leukemia. They placed her on bone marrow transplant list and sent her to Seattle for treatment in June, just a few weeks before our youngest son graduated from high school.
As we celebrated his achievement, I prepared to move out-of-state to serve as my mom's live-in caregiver.
I wouldn't be traveling to China that year.
A few of my aunts visited us in Seattle in September. They helped me celebrate my birthday by paying for me to attend a Christian writers conference the following year, to celebrate my mom's remission.
After my aunts left, my mom encouraged me to continue using writing to encourage others and point to Jesus. She believed in me and didn't laugh at me when I shared about my dream to become a Bible smuggler.
I started to dream again and repeated my 2001 prayer.
Lord, I want to share Your truth and love to the ends of the earth and I don't care how!
My mom danced into the arms of Jesus in October 2014.
I went to that Christian writers conference, still tender with grief, and heard Robin Jones Gunn share about how she had dreamed of being a missionary.
She shared how God kept closing doors when she took the steps enter the mission field and how, years after allowing that dream to die, a young girl from the middle east sent her a letter. The reader thanked Robin for sharing Scriptures in her teen novels. She said she would never be allowed to read the Bible and asked Robin to add more Scripture into her novels.
Then, this young girl said she had prayed to receive Christ as her personal Lord and Savior with the character in the story Robin penned.
God allowed Robin to become a missionary as He sent her words to this young reader.
Weeping, I wrote these words in my notebook: Lord, please use the words I write to share Your truth and love to the ends of the earth . . . and I don't care how!
During that conference, I received an email informing me that I'd been accepted to serve as a contributing writer for Our Daily Bread Ministries. I found that same agent and shared my news with him.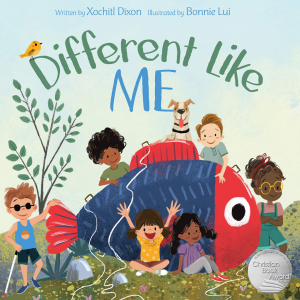 I would be smuggling Bible verses into China!
God is still allowing me to serve as a missionary, sharing His truth and love to the ends of the earth in ways I never dared to dream possible.
On July 22, 2021, two years after China banned online sales of Bibles, Our Daily Bread Publishing informed me that Different Like Me, which includes Genesis 1:27 and Psalm 139:13-14, is being published in Simplified Chinese.
To God be the glory, the honor, and the praise, praise, praise!
In Acts 1:1-13, moments before His ascension, Jesus establishes the disciples' purpose and their Power Source.
"He said to them: 'It is not for you to know the times or dates the Father has set by His own authority. But you will receive power when the Holy Spirit comes on you; and you will be my witnesses in Jerusalem, and in all Judea and Samaria, and to the ends of the earth." (Acts 1:7-8, emphasis mine)
Jesus is coming again.
Until He does, we have the pleasure and privilege of sharing His truth and love to the ends of the earth . . . however and whenever He gives us the opportunities.
AND when we work together, we can reach more people for Jesus.
Hallelujah!
*
BIG NEWS
*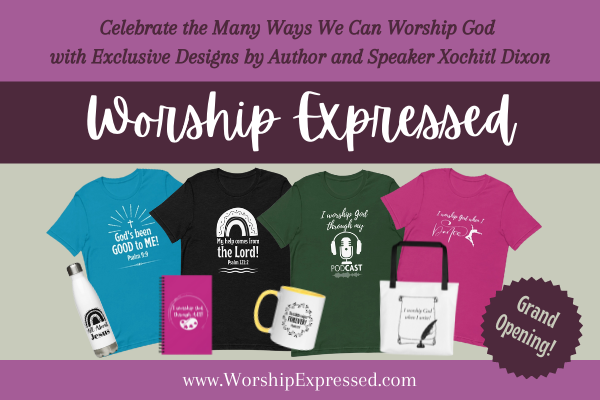 The Lord has blessed me with another wonderful ministry opportunity.
Alan, Xavier, and I are excited to announce the launch of our new family ministry.
Worship Expressed offers Christian apparel and accessories that I design.
I pray for those who will be joining me to worship God through our attitudes, words, actions, and the apparel and accessories we choose to use and wear every day.
Worship Expressed currently offers T-shirts, totes, mugs, steel water bottles, and journals in a variety of styles and colors
I'm currently designing sweatshirts and a few home décor items.
A percentage of all profits from Worship Expressed will be donated to Our Daily Bread Ministries and Compassion International.
Worship Expressed will also host periodic fundraisers to raise awareness for Muscular Dystrophy, childhood cancer, autism, and other ministries that serve children with special needs.
*
Would you like to partner with me in ministry as the Lord continues to allow me to share His truth and love to the ends of the earth?
I need Praying-Peeps and Patron Planters.
Praying-Peeps commit to praying as God opens doors for me to serve Him.
Patron Planters join me in planting seeds of God's truth in the hearts of readers by:
Loving your neighbors by ordering Worship Expressed items and extra copies of Waiting for God and Different Like Me to share as gifts.
Sharing photos of you with your Worship Expressed items and with copies of Waiting for God and Different Like Me on social media.
Host an Author Reading or invite me to share a message at your next event.
Order Worship Expressed items or contact me to inquire about designing custom items for:
* Church Events
* Bible Study Group
* Pastor Appreciation Day
* Church Staff Appreciation
* Ministry Leader Appreciation
* Family Reunions
* Ministry Teams
* Writers Groups
* Writers Conferences
* Fundraisers
* And MORE!
Donate Waiting for God and Different Like Me to public libraries, school classrooms and libraries, free little libraries, church libraries, ministry leaders, and community programs that serve children and adults in need.
I thank God for your partnership in sharing His truth and love to the ends of the earth!
*
BOOK GIVEAWAY
*
I hope you enjoyed the "Representation Matters" blog series.
That special announcement I told you about is actually a MEGA BOOK GIVEAWAY, which includes signed and personalized copies of the following 4 books:
1. Cora Cooks Pancit by Dorina Lazo Gilmore-Young
2. Different Like Me by Xochitl Dixon
3. Breakfast with Jesus by Tina M. Cho
4. The Celebration Place by Dorena Williamson
*
How do you qualify to be considered for this Mega Book Giveaway?
Follow ALL FOUR authors on Instagram by clicking on the links below:
*
This giveaway is not sponsored, endorsed or administered by, or associated with Instagram. All ages can win the giveaway if they have an Instagram account.
*
One winner will be chosen at random and announced on Instagram by noon PT/3 pm CT on Wednesday, Sept. 1, 2021. Prizes will be shipped to one winner at a U.S. address only.
*
If you received this message in your email inbox, click here to join the conversation by making a comment under the original article on my blog.
I look forward to connecting and growing with you!
*