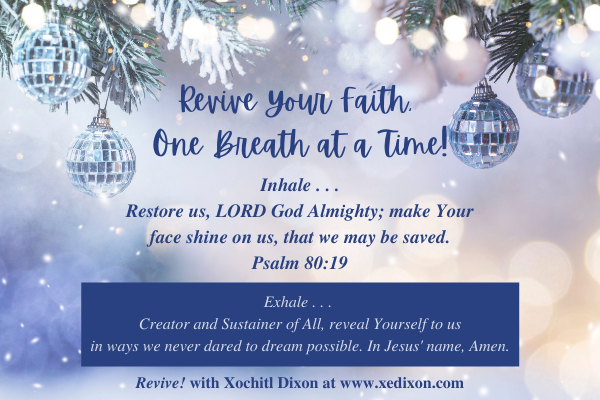 "You are not alone. That's not easy to remember, especially when we're going through difficult days that stretch into months, maybe even years. When the wait feels endless, the frustration is real and the weariness can overwhelm at times. I've tasted the bitterness of hopelessness. How long do I have to wait, God? But I've also witnessed the sweetness of the Lord's unchanging goodness and loving faithfulness as He showed me that patience has nothing to do with waiting for Him." (Excerpt from Waiting for God: Trusting Daily in God's Plan and Pace, Our Daily Bread Publishing, 2019)
Shortly after I penned those words in 2018, God planted my husband and me in an unfamiliar town right smack in the middle of the tundra and changed my perspective on waiting as an act of worship.
After our world hit pause during the pandemic, He led us from Wisconsin back to California. I would miss the new friends God sent me in the Midwest, but I couldn't wait to return home.
I never expected our first year back would deplete me physically, emotionally, mentally, and spiritually while shoving me right back into the pit of loneliness, discouragement, insecurity, and hopelessness.
My health took a downward spiral. We stayed in a hotel for almost a month because we couldn't find a rental house with a yard. Once we found a place, my husband and I quickly began dreading the three flights of stairs that led to our small apartment.
Though blow after blow of unexpected trials and disappointments hit us from all sides, God didn't hold back on His blessings during those trying months.
Since our return to California in September 2020, God led us to multiple closed doors before unlocking the bolted door to our new home, which is not yet move-in ready, and a new job for my husband.
God provided a new doctor in California who is working to improve my mobility. He gave me more opportunities to use writing as a tool to serve Him, too.
I'll share more about those praises and prayer requests later this month.
Though this year has been strained with trials, each day has been sprinkled with triumphs that make it tough not to praise the Lord.
Still, the walk hasn't been easy. A few weeks ago, I couldn't even walk from my bathroom to the bedroom. I'm still recovering from my last procedure.
So, here I am again . . . waiting for God and trusting daily in His plan and pace . . . . again . . . one painful step at a time . . . and sometimes . . . one strained breath at a time.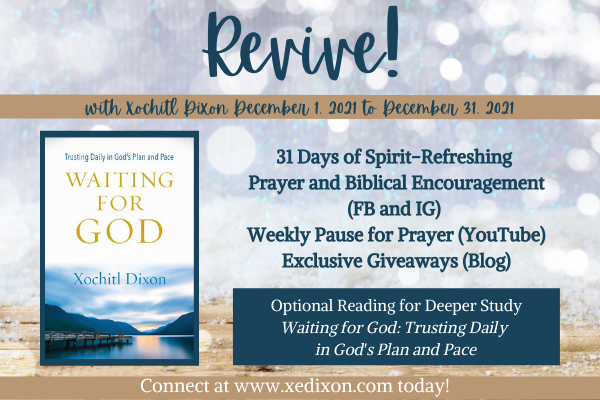 As I wait for God expectantly, submit to Him completely, and rely on Him intimately, I am practicing the art of rejoicing as He restores me through each moment of surrender.
I'm asking Him to help me draw nearer to Him and open up to Him with courageous honesty and confident faith.
I'm looking forward to sharing this journey with you.
Through the month of December 2021, I will be reading one chapter a day of Waiting for God.
I hope you will join me for this special time of reflection as we explore keeping in step with the Spirit when our strength is depleted.
Connect with me on Facebook, Instagram, YouTube, and here on my blog December 1-31, 2021 for Revive: 31-Days of Spirit-Refreshing Biblical Encouragement and Prayer.
I look forward to growing with you!
Merciful Creator and Sustainer, thanks for being my strength, my peace, and my enduring hope as I walk with You when I feel like I have nothing left to give. Revive my faith with Your God-breathed words of Scripture and Your promised presence in all circumstances. In Jesus' name, Amen.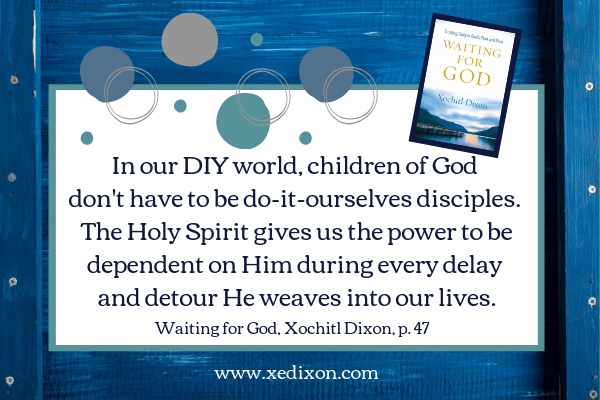 If your heart is weary and longing for answers—for healing, for provision, for miracles—Waiting for God: Trusting Daily in God's Plan and Pace renews your hope with strong biblical truth and encouraging Scripture-based prayer. Guided to inhale God's Word, exhale in prayer, and rest in God's love, you will be restored, able to worship the Lord even when the wait feels endless.
I share personal stories and the experiences of others to help you reclaim your peace and joy, knowing God has not forgotten you.
You can love your neighbors by ordering extra copies of Waiting for God: Trusting Daily in God's Plan and Pace to share as gifts. To God be the glory!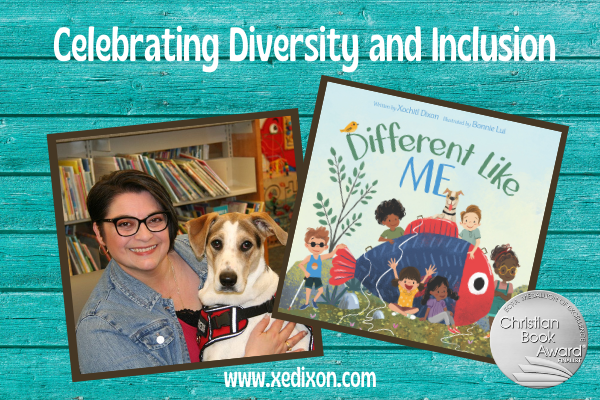 If you are looking for the perfect story to show your child that being different is okay, Different Like Me is what you need.
Take a fanciful, colorful journey with a diverse group of children as they collectively work to bring a large fish balloon toward a surprising conclusion in Different Like Me. While encountering the differences that could divide them, they also discover what brings them together.
Different Like Me, one of five books nominated as a 2021 ECPA Christian Book Award Finalist in the children's book category, is perfect for children ages 3 to 7 and shows children with physical disabilities, communication limitations, and cultural distinctions coming together.
Empower young readers to embrace their uniqueness and rejoice in God's beautiful and intentional diversity.
You can love your neighbors by ordering extra copies of Different Like Me to share as gifts!
Endorsements
Written with whimsical rhyming text, this book celebrates and embraces diversity and uniqueness, yet emphasizes the ways we are all alike. It's relatable to all ethnicities and belongs in every home and school library.  ̴ Crystal Bowman, award-winning, best-selling author of more than 100 books for children 
*
Different Like Me is just the book to help children understand the value of each and every child of God. Its powerful message will help children of all ages embrace their own God-given uniqueness and that of other children around them.   ̴ Elisa Morgan, Author, Speaker, Media Host Our Daily Bread Ministries
*
Do they like me? Are they like me? Could we be friends?
This lyrical book gently invites readers to recognize that we are each God's beautifully unique image-bearers. He Hand-crafted us for His pleasure and glory, for friendship, and to love one another. Every child will find themselves on the pages of Different, Like Me. I look at my bookshelf, what do I see? Sweet affirmation, of you, and of me.   ̴ Sandra Byrd, author of the best-selling, The One Year Be-Tween You and God: Devotions for Girls 
*
*