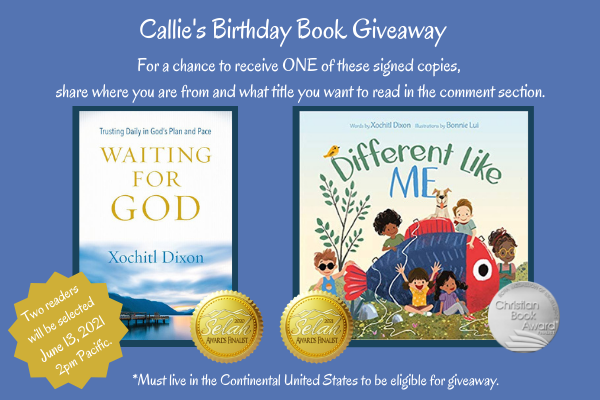 *
Thanks to my blog family members who left comments and birthday wishes for Callie.
*
Congratulations, Roxanne Baker from Keewatin, MN (Waiting for God) and Barb Dawson from Smithville, OH (Different Like Me). I'll be contacting you via email.
*
Original Blog Article with Giveaway Details from June 12, 2021 is Posted Below
*
BOOK GIVEAWAY: To celebrate Callie the Service Dog's birthday, I'm giving away one signed copy of Different Like Me and one signed copy of Waiting for God: Trusting Daily in God's Plan and Pace.
*
To enter for your chance to receive one of the signed giveaway books, please share your city, your state, and what title you want to read in the comment section.
*
If you already have a copy of both of these books, thanks for your support. You can STILL ENTER and, if you're chosen to receive a signed copy, donate the book to your local library, an afterschool program, a classroom, a Sunday School teacher, or your neighborhood Little Free Library.
*
Recipients must live in the continental United States to be eligible for this giveaway.
*
Different Like Me
celebrates our differences and our sameness as God's beautifully diverse image-bearers. My first children's picture book is a 2021 ECPA Christian Book Award Finalist, the 3rd place winner in the 2021 Selah Awards' children's book category, and has been placed into the hands of over 4,300 readers between August 2021 and March 2021.
*
Waiting for God
empowers readers with hope and an eternal perspective. Each chapter invites readers to inhale God's Word, exhale prayers and praises, and rest in God's love while He works in and through life's inevitable waiting seasons. My first full-length devotional won 2nd place in the 2020 Selah Awards' devotional category, was a 2020 Cascade Awards Finalist, and has been placed into the hands of over 25,200 readers between August 2020 and March 2021.
*
To God be the glory, the honor, and the praise, praise, praise!
*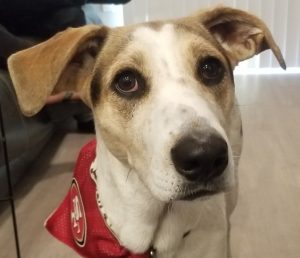 Do you enjoy fun dog photos and videos?
*
Are you interested in learning more about life with a service dog?
*
For exclusive updates on events, special giveaways, and lots of fun photos of Callie the Service Dog in action,
please join us on
Facebook
and on
Instagram
.
*
I look forward to connecting with you on Callie the Service Dog's social media pages.
*
Thanks for celebrating Callie's birthday with us!
*