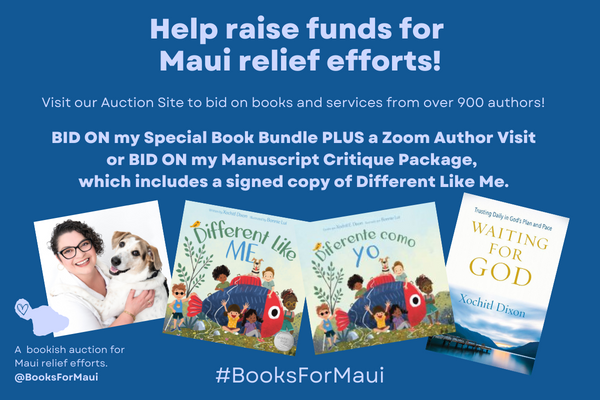 "You are the light of the world. A city set on a hill cannot be hidden. Nor do people light a lamp and put it under a basket, but on a stand, and it gives light to all the house. In the same way, let your light shine before others, so that they may see your good works and give glory to your Father in heaven." (Matthew 5:16, ESV)
As I prayed for the residents of Hawaii, especially the Native Hawaiians, I asked God to show me how I could help in a practical way. I found out about Books for Maui on Instagram. I signed up right away and shared the opportunity with other authors. However, as soon as I posted the invitation for authors to donate books and services, I received notification that the auction had to close its call for donations early.
They had over 900 authors signed up for the program!
To God be the glory, the honor, and the praise!
I praised God for allowing me to participate.
I'm inviting you to help in one of two ways.
Bid on the auction site between Monday, August 21, 2023 and Friday, August 25, 2023 at midnight Hawaii Standard Time. (link below).
If you aren't interested in bidding, donate to the reputable organizations on my list (links below).
I donated two packages that you can bid on for yourself or for a friend as a gift.
My Book Bundle Package includes signed copies of Different Like Me, Diferente como yo, and Waiting for God: Trusting Daily in God's Plan and Pace. This package also includes an Author Visit via Zoom.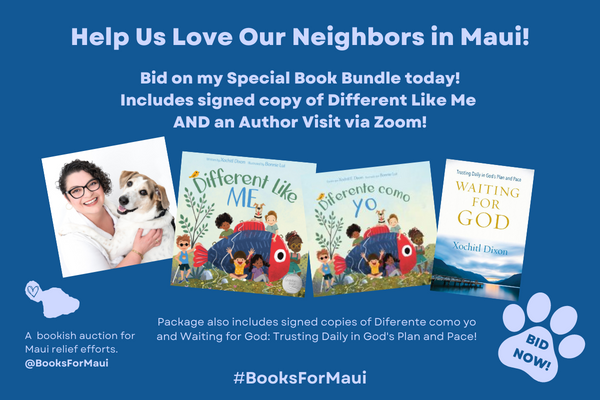 The Author Visit can be used on 1 of 3 different ways.
You can invite me to read Different Like Me for a school classroom, for a children's ministry event or Sunday morning class, a MOPS group meeting, or any group event that includes readers who would enjoy an engaging reading of Different Like Me.
If you are an aspiring children's book writer, you can also use the Author Visit as a one-on-one meeting to discuss your writing. You would have the opportunity to share a sample of your work with me (1,000 words or less) for general feedback via a live Zoom chat.
If you are interested in reading Waiting for God: Trusting Daily in God's Plan and Pace, the Author Visit can be used for a Bible Study Group, a book club, or any group of readers who enjoy the devotions I write for Our Daily Bread.
My Manuscript Critique Package includes a signed copy of Different Like Me, a critique of one manuscript for children, and a one-on-one Zoom meeting to discuss my feedback and your writing journey. Though I have decades of experience and publishing credits in prose, my specialty for children's books is writing in rhyme.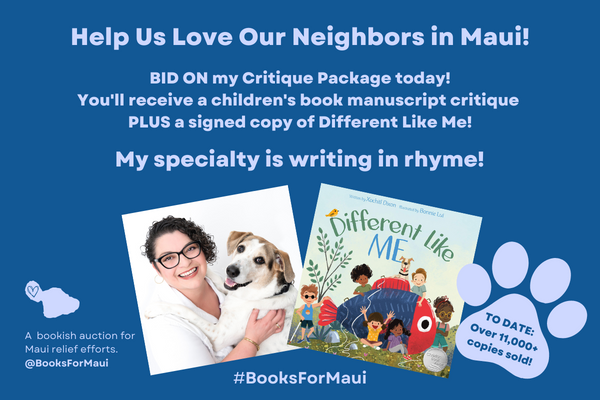 What is the Books for Maui Auction? 
On Tuesday, August 8, 2023, a wildfire swept through Lāhainā on the island of Maui. It quickly consumed hundreds of structures and destroyed families.
Although seen by some as a tourist destination, Lāhainā has deep ties to Native Hawaiians as the former capital of the Hawaiian Kingdom and a place of great political power, history, and cultural significance. It is home to a vast number of Native Hawaiians, who are currently in great need and are leading much of the disaster relief efforts.
Due to gentrification of Lāhainā, there are clear disparities between residents and we want to support those with familial connections to this `āina (land).
This auction is designed to raise money for Maui relief efforts.
If you want to bid, please use this link to visit the Auction Site for Book for Maui:  https://www.32auctions.com/BooksforMaui
*
If you do not want to bid on any of the over 900 books or services BUT WOULD LIKE TO DONATE to help the Native Hawaiian people through this relief efforts, please use the following links and donate directly to these reputable organizations.
Hawaii Community Foundation – Maui Strong: https://www.hawaiicommunityfoundation.org/maui-strong
Kamehameha – Ho'ōla Maui: bit.ly/3DXIMMY
Council for Native Hawaiian Advancement Kāko'o Maui https://www.hawaiiancouncil.org/
Maui Food Bank: https://mauifoodbank.org/
*
Please join me in praying for the Books for Maui team as they serve in this unique way and continue praying for those who have been effected by the fires in Hawaii, especially the Native Hawaiians who are leading much of the relief efforts.
Thanks for helping me make a difference as we love our neighbors in Hawaii.
*