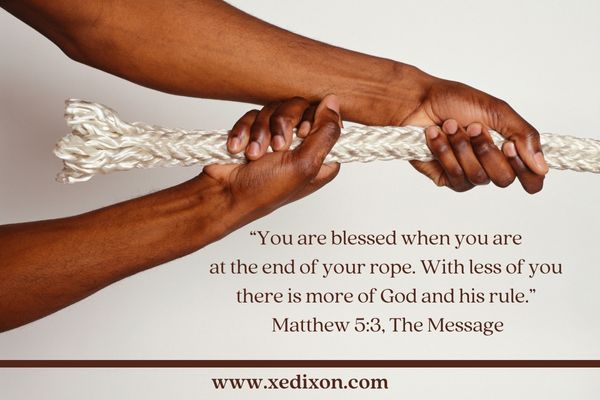 Suggested Reading: Matthew 5:1-12 (The Message)
During a conversation at a local coffee shop, my friend shared that she'd been struggling with pain after an injury that required months of physical therapy.
"I'm sorry," I said. "I'll pray for you."
"I know I'm going to get better," she said. "But I don't know how much longer I can take the pain." She sighed heavily as she stirred a packet of sugar into her coffee cup. "How do you do it?"
"Do what?"
"How do you stay happy? How do you stay strong? Why aren't you falling apart?"
I shook my head as I gently slapped my hands, palms down, on the table. "You haven't read my book yet, have you?"
She raised her eyebrows and smirked as she tilted her head. "Are you really plugging your book now, when I'm losing it . . . right in front of your face?"
I laughed, leaning back into my chair. "No," I said, lifting my cup of coffee in the cheers-position. "But if you had read my book, you would know that I do fall apart. I call those moments my wah-baby-meltdowns. And I don't 'stay happy' or 'stay strong." The only way I make it through each day is by giving up."
She picked at her blueberry muffin, sniffed, and narrowed her eyes. "That makes no sense."
I exhaled. "When I say 'giving up,' I mean surrendering to the Holy Spirit."
She wrapped both hands around her drink container. "What?"
"I mean refusing to try to do what God never asked me to do. When I quit striving to do the Holy Spirit's job, I'm ready to invite Him to do what He promised."
The truth lingered in the silence between us.
I reached across the tables, nodding an invitation to place her hands in mine. "Let's pray."
We didn't care who was listening as we approached God's throne of grace from our small corner table in that crowded coffee shop. After I whispered a grateful Amen, I shared some of the ways God helped me through one of the toughest seasons in my healing journey ̶ the months during which He empowered me to write Waiting for God.
My friend stood to give me a gentle hug. "Okay," she said, "maybe I need to order your book."
"Maybe?"
We enjoyed the rest of our visit wrapped in God's peace.
A few months later, my friend called to let me know that she has completed her physical therapy and was no longer struggling with daily pain. She committed to praying for me regularly. "I still don't know how you do it," she said.
"You still haven't read my book, have you?"
She laughed. "You just don't give up, do you?"
"Wrong again," I said. "I give up daily, Sis. And the Holy Spirit never lets me down."
After we prayed, I hung up the phone. Callie, my service dog, approached me with her tail wagging low. She nudged my hand with her snout and looked at me with her droopy hound-eyes. When I smiled, she placed her front paws on the edge of my seat and leaned in for a hug.
I wiped away the tears God had used to refresh my weary spirit.
Though my healing journey remains hard and often feels overwhelming and unending, I still believe that giving up and relying on the Holy Spirit is the best answer.
This year, as I read the Bible in a year with the Our Daily Bread reading schedule, I'm enjoying meeting God daily using The NIV and The Message Parallel Study Bible. (More details on how you can join me below.)
In Matthew 5:1-12, I discovered ten blessings we can find when we're worn out and whipped up and barely hanging on to the end of our ropes. Those blessings are only attainable when we give up and invite the Holy Spirit to do what only He can do.
Jesus noticed those who committed to walking with Him, especially when the path of faith required uphill and undeniably hard paths. Scripture says that Jesus "sat down and taught his climbing companions" what is now known as the Beatitudes.
As I listened to the familiar teaching in this unfamiliar translation, the Holy Spirit affirmed these blessings:
'You're blessed when you're at the end of your rope. With less of you there is more of God and his rule."
When we realize we can't go on or we have nothing left to offer, we're ready to receive God as our only hope. This position of submission prepares us to step aside, to stop striving, to stop trying to do God's job so we can experience the wonderful things God has already planned for us.
"You're blessed when you feel you've lost what is most dear to you. Only then can you be embraced by the One most dear to you."
Instead of hanging on the false hope of self-help or clinging to things we have falsely believed would fulfill us and keep us on steady ground, we can let go and trust God to hold us close. As we free-fall by faith, God will remind us why we need to remember that He is always with us, always working, always enough, and always all we need.
"You're blessed when you're content with just who you are ̶ no more, no less. That's the moment you find yourselves proud owners of everything that can't be bought."
Though we should enjoy growing, serving the Lord with excellence, and using the gifts He's entrusted to us for His glory, the idolatry of self-reliance and self-worship can sneak up on us. Being self-focused leads us into attitudes that breed divisive competition and self-defeating comparison. With our value secured in Christ alone, we can experience complete and lasting contentment.
"You're blessed when you care. At the moment of being 'care-full,' you find yourselves cared for."
Though self-care is biblical and important, the purpose of biblical self-care is to be replenished by the Holy Spirit so we can serve Him and others more and more effectively. When we're generous in loving others, we'll discover that God always meets our needs and often blesses us more through the moments we thought He was using us to bless others.
"You're blessed when you get your inside world ̶ your mind and heart ̶ put right. Then you can see God in the outside world."
Realizing the depth of our depravity helps us recognize the depth of our endless need to depend on God's life-transforming love and mercy. As the Holy Spirit makes us more like Jesus, from the inside out, He gives us an eternal perspective. We can see God's fingerprints in the world. We can praise Him as we acknowledge His continual work in the small miracles we once considered ordinary moments in this extraordinary God-given gift we call life.
"You're blessed when you can show people how to cooperate instead of compete or fight. That's when you discover who you really are, and your place in God's family."
When we discover the beautiful complexity of God's intentional design for the interdependence of His image-bearers, we can embrace our purpose as one uniquely created and unconditionally loved member of the Body of Christ. As the Holy Spirit empowers us to live like we truly believe we are better together, we can become peacemakers devoted to God's purpose. With our confidence rooted in Christ, the Holy Spirit empowers us to value of each person God made as we celebrate our connectedness in His Kingdom-Mission.
"You're blessed when your commitment to God provokes persecution. The persecution drives you even deeper into God's kingdom."
As Believers in Jesus surrender to the Holy Spirit, we begin to look like Jesus, love like Jesus, and live for Jesus. As He affirms His life-changing love for us, He will change the desires of our hearts and align our wills with His. He deepens our devotion to Him and His purposes, so we can stand firm on His infallible and unchanging Word. Though those who oppose and reject Jesus will oppose and reject us, we will continue to speak His truth with Spirit-empowered boldness and fierce faith.
"Not only that ̶ count yourselves blessed every time people put you down or throw you out or speak lies about you to discredit me. What it means is that the truth is too close for comfort and they are uncomfortable. You can be glad when that happens ̶ give a cheer, even! ̶ for though they don't like it, I do!"
Our Kingdom-Purpose reaches beyond our personal space or comfort. We can rejoice in the victory we know Christ has already won, as He empowers us to love those who mock, reject, or deny Him. When we embrace Jesus' love for us, we can live to express our love for Jesus. The cost of discipleship ̶ the prices we pay for following Him ̶ is higher than we dreamed possible but worth every bit of struggle as we celebrate the ones who step out of the darkness and into God's glorious light.
"And all heaven applauds."
As long as there are people in this world who have not heard the Gospel and accepted Jesus as their personal Lord and Savior, the Holy Spirit will equip us to fulfill the Great Commission and the Greatest Commandment. When we share God's truth and love to the ends of the earth, the cheers from heaven will drown out the jeers from those who reject Jesus. We can praise God for loving and saving us, but we can't stop sharing the Gospel or praying for those who don't know Jesus' life-transforming truth and love intimately.
"And know that you are in good company. My prophets and witnesses have always gotten into this kind of trouble."
Believers in Jesus who came before us, stand with us, and are being prepared to join our faith-walk are intertwined with one another. We thrive when we realize we are always at the end of our ropes, because we can do nothing without Jesus. We need Him and each other as we move forward by faith, in victory, embracing out dependence on the Holy Spirit with joyful shouts of praise.
To God be the glory, the honor, and the praise, praise, praise!
(Scripture in bold, Matthew 5:1-12, The Message)
*
Loving Savior of the World, thank You for always being with us, always working, and always being all we need. Please make us more like You so we can love like You. Empower us to surrender to the work of the Holy Spirit, one breath at a time, as we fulfill the Great Commission and the Greatest Commandment. Please give us opportunities to share Your truth and love to the ends of the earth, proclaiming the Gospel and praising Jesus as Lord wherever You lead us. In Jesus' name, Amen.
*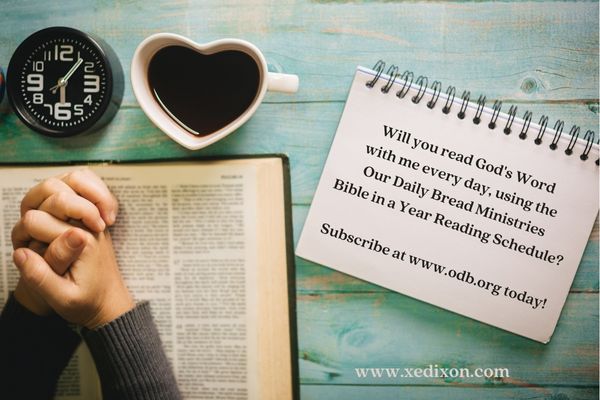 *
To join me in reading God's Word every day, using the Our Daily Bread Bible in a Year Reading Schedule, please subscribe to receive the daily devotions from Our Daily Bread.
The daily Bible reading is below each devotion, which you can choose to receive via email or the Our Daily Bread app. (To subscribe to Our Daily Bread, Click here!)
I plan to post a reflection or a prayer every week on my blog. If you are not a member of my blog family yet, please subscribe today.
I have been struggling with increased pain and fatigue, so please pray for me and extend me a bit of grace if am not able to post weekly on this blog. God has been blessing me with all I need to complete the wonderful writing and speaking ministry opportunities He's been sending my way. Your prayers have been priceless gifts!
I am reading the daily Scriptures, following the Our Daily Bread Bible in a Year reading schedule. I am also praying for those of you who are joining me.
If you are reading this post in your email, please click the title and visit my blog to make a comment under this post. DO NOT REPLY TO THIS EMAIL.
I'm looking forward to being rooted in God's Word and growing with God's people. That means YOU!
Thanks for being a member of my blog family and for supporting Callie the Service Dog and me as we serve the Lord together.
*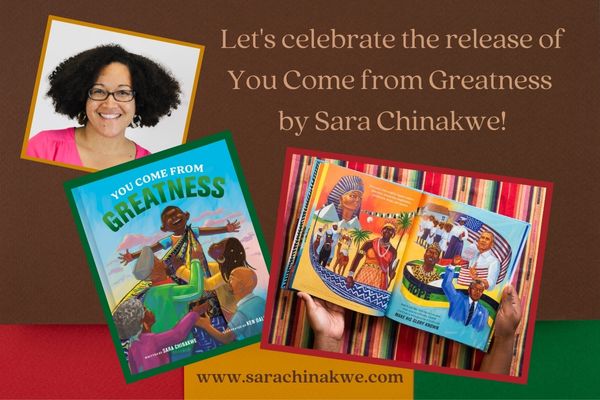 You Come from Greatness by Sara Chinakwe releases on January 17, 2023, BUT you can PRE-ORDER YOUR COPIES TODAY and help support one of my favorite children's picture book authors! Stay tuned for more details about Sara's book launch party and special book giveaways!
I met Sara Chinakwe during an online workshop for Christian writers. When she told me about her book, I said, "We have to be friends!"
It is my pleasure and privilege to introduce you to my sister in Christ and fellow author, Sara Chinakwe, as we celebrate the release of her first children's picture book, You Come from Greatness.
Sara is a wife and mother, life-long learner and educator found her passion in early childhood education. A God-breathed vision led Sara to start writing professionally. She started Faithful Life Ministries to help women pursue their Godly purpose. She has created several self-published devotionals and resources to help women and children grow in Christ. You can connect with her on Facebook, Instagram, and on her website.
In You Come from Greatness, a young boy learns that he is walking in the footsteps of greatness through a vibrant, lyrical retelling of Black history—both a love letter to Black children and an anthem empowering them to know their God-given worth.
You Come from Greatness celebrates family and historical change makers and status shakers, from inventors, engineers, astronomers, and doctors to philosophers, storytellers, and world leaders. Empowering readers to step into their own God-given greatness, each page of poetic prose and vibrant illustrations honors the legacy and impact of Black ancestors whose determination, strength, dedication, creativity, and leadership contributed to making the world better.
The twenty short biographies at the end of You Come from Greatness can be used in curriculum that prioritizes the value of diversity and inclusion.
I am so excited about this beautiful children's picture book. I have multiple copies on the way, one for my personal library and two for my grandbabies.
Please help me support Sara by ordering your copy of You Come from Greatness and a few extra copies to share as gifts today!
Thanks for celebrating diversity and inclusion as we show the world that representation matters in God's beautifully and intentionally diverse Kingdom.
To God be the glory, the honor, and the praise!
*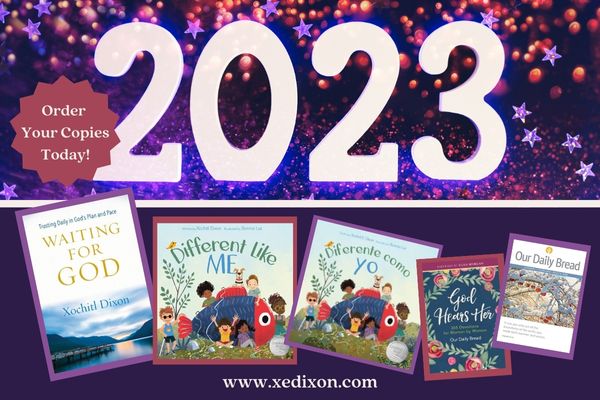 *
Thanks for all of you who have been supporting the ministry God has entrusted to me by loving your neighbors and ordering extra copies of Different Like Me, Diferente como yo, and Waiting for God: Trusting Daily in God's Plan and Pace.
Your prayers and encouragement are priceless gifts that God uses to help me press on by faith, especially when I'm struggling with pain and fatigue management. I can do nothing without God or your ongoing prayers, encouragement, and support.
*
SHOUT-OUT to those of you who have written reviews on Amazon.
Every review makes a difference and helps Amazon know that they need to share my books with more readers. So when you write a review, you're helping me share God's truth and love to the ends of the earth. To God be the glory!
We need more current reviews, so if you haven't yet, please take a moment to write a review on Amazon.
You are making a difference!
I thank God for you and am praying for you as I type these words.
*