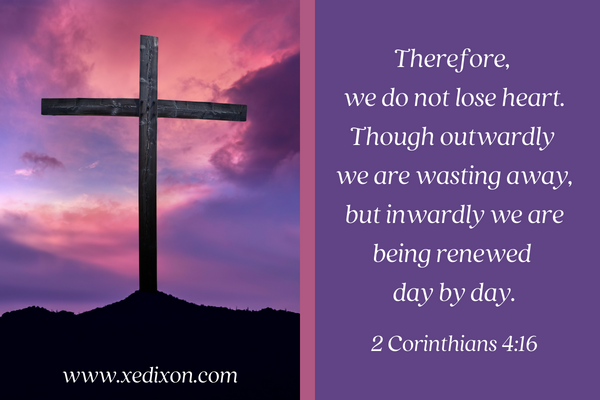 Suggested Reading: 2 Corinthians 4:1-18
Some of you noticed I've been MIA (Missing in Action) ever since I posted "Can I Be Sad and Still Have Strong Faith?" on March 2, 2022. Thanks to those who reached out to check on me.
I'm back! Praise the Lord! I can hardly wait to share all that God has been doing in what looked like my stillness or absence. Hallelujah!
Over the last seven months, God blessed me with nine incredible ministry opportunities that have kept me busy, along with my monthly contributions to Our Daily Bread.
I was invited to join a diverse team contributing to a brand-new The Message Devotional Bible for women.
My first children's picture book, the 2021 ECPA Children's Book Finalist Different Like Me, is now available in Spanish, Dutch, and Simplified Chinese.
In 2024, WaterBrook & Multnomah Kids will be releasing TWO of my children's picture books that, like Different Like Me, celebrate diversity and inclusion through representation.
I'll be hosting a new series and sharing interviews with some of my favorite Christian authors on my Pause for Prayer YouTube channel, starting Sunday, November 13, 2022. Subscribe to my blog and order your copies of Waiting for God: Trusting Daily in God's Plan and Pace.
I've been invited to join the diverse group of women contributing to the God Hears Her Blog and have devotions included in God Hears Her (2017), God Sees Her (2020 ), and God Loves Her (2022).
I signed the contract with Our Daily Bread Publishing for my second devotional, which will release in 2024. No spoilers!
I've been invited to write a few extra articles for Our Daily Bread special editions, including a book on Ecclesiastes for women.
8 & 9 are secret projects that God entrusted to me. I'm still working, praising God, and praying for readers as He leads me on these incredible adventures. To God be the glory, the honor, and the praise!
If you're connected with me on Instagram or Facebook, you may know that I've had a few health setbacks that have limited my mobility more and increased my chronic pain and fatigue.
My husband, who serves as my caregiver, has also had a few unexpected health issues. And Callie the Service Dog has had two operations. By God's grace, her tests came back cancer free.
Our transition from Wisconsin back to California in September 2020 has been difficult, but we've seen God working in amazing ways through the trials on this side of eternity. Hallelujah!
We're in our new home, a miracle story I'll be sharing in an upcoming devotional. Oh, I hope you're ready to praise God!
Our son Xavier got married and had a beautiful baby boy this year! My stepson, AJ, is engaged to a young lady with three lovely girls. They had a son together. So, that means I'm a grandma to five! My grandbabies call me Lolli and my husband Pops.
To God be the glory, the honor, and the praise, praise, praise!
With all of this going on, I've kept on writing and making deadlines through the power of the Holy Spirit.
My awesome editors extended grace when needed, too. But over the last week, I've been struggling. I knew I had work to do, but I couldn't get up from the sofa. I didn't want to get up. I didn't want to do anything. I felt . . . empty.
I couldn't deny my physical, emotional, or mental weakness. As I asked God what He wanted me to share, besides giving an update to explain where I've been since March, He led me to the following verse:
"Therefore, since through God's mercy we have this ministry, we do not lose heart." 2 Corinthians 4:1
As the pain and fatigue increased, God nudged me deeper into His Word to consider what came before and after that "Therefore" in verse 1.
"Now the Lord is the Spirit, and where the Spirit of the Lord is, there is freedom" (2 Corinthians 3:17). Amid that freedom, the Holy Spirit transforms us to reflect the image of Christ (v. 18). God expects us to fulfill the great commission and greatest commandment in different ways, using the variety of gifts He's entrusted to each of us. However, God has never said we need to be strong enough on our own.
True freedom and strength requires submission to the Holy Spirit, who is always working to make us more like Jesus.
After we've "renounced," or confessed, our "secret and shameful ways," aka our sins (v. 2), we can stand firm in the freedom of Christ that is only possible when we build on God's infallible truth and live in surrender to His Holy Spirit.
"For God, who said, 'Let light shine out of darkness,' made his light shine in our hearts to give us the light of the knowledge of God's glory displayed in the face of Christ. But we have this treasure in jars of clay to show that this all-surpassing power is from God and not from us" (2 Corinthians 4:6-7, NIV, emphasis mine).
The treasure, the light of the gospel, is the Good News that we're commissioned to share to the ends of the earth, the message of Jesus that changes lives through the power of the Holy Spirit.
Yes, the Holy Spirit dwells in us so we can shine for Jesus! So why would Paul compare our earthly bodies to jars of clay that were common, of minimal value, and easily broken into useless pieces? Because he is affirming where we derive our strength. In our self-centered pride and fear, we often hinder the Holy Spirit from working by claiming we just need a little help from Him instead of admitting we can do nothing without Him.
God knows we'll be stretched to our limits and acknowledges the sufficiency of His presence and power.
We will be "hard pressed on every side, but not crushed; perplexed, but not in despair; persecuted, but not abandoned; struck down, but not destroyed" (vv. 8-9). The tension of surrendering and accepting God's grace never ceases (vv. 10-14).
"All this if for your benefit, so that the grace that is reaching more and more people may cause thanksgiving to overflow to the glory of God" (v. 15).
It's all about Jesus and sharing His Good News as we love God and each other! Hallelujah!
"Therefore, we do not lose heart. Though outwardly we are wasting away, yet inwardly we are being renewed day by day" (v. 16).
Our weakness doesn't surprise God or make us ineffective in His Kingdom.
Rather, when we embrace that weakness, we're ready to admit we need God to be our everything. When we can't get up, when we can't handle one more thing, when we can't even imagine taking one more step . . . that moment is when we can experience the promised freedom of surrender to the Holy Spirit.
"For our light and momentary troubles are achieving for us an eternal glory that far outweighs them all. So we fix our eyes not on what is seen, but on what is unseen, since what is seen is temporary, but what is unseen is eternal" (vv. 17-18).
Even the strongest believer is limited by human frailty.
Before we're running on fumes, God invites us to place our trust in Him alone.
We can't, BUT by God's mercy and faithful goodness He continually affirms that He can, He always could, He always has and He always will.
"Therefore, in order to keep me from being conceited, I was given a thorn in my flesh, a messenger of Satan, to torment me. Three times I pleaded with the Lord to take it away from me. But he said to me, 'My grace is sufficient for you, for my power is made perfect in weakness.' Therefore I will boast all the more gladly about my weaknesses, so that Christ's power may rest on me. That is why, for Christ's sake, I delight in my weaknesses, in insults, in hardships, in persecutions, in difficulties. For when I am weak, then I am strong." (2 Corinthians 12:7-10, NIV, emphasis mine)
Hallelujah!
Holy Spirit, please empower us to surrender to You so that we can experience the freedom of total reliance on You today and every day. In Jesus' name, Amen.
*
SPECIAL EVENT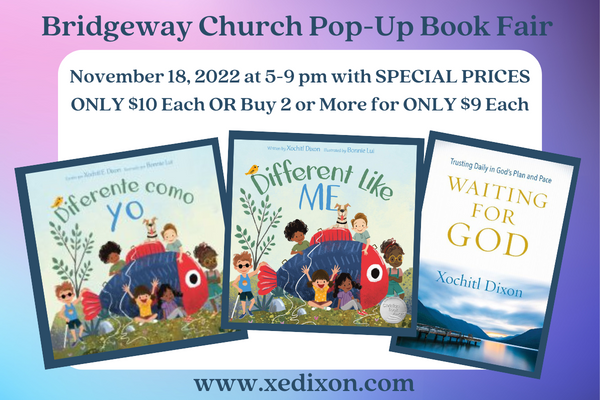 I'll be joining over 40 authors at the Bridgeway Church Pop-Up Book Fair on November 18, 2022 at 5-9 pm at Bridgeway Christian Church, 8150 Industrial Blvd., Roseville, CA 95678. For more information, please click here.
I'll be selling and signing copies of Different Like Me, Diferente como yo, and Waiting for God: Trusting Daily in God's Plan and Pace.
I'll be doing a special reading with Callie the Service Dog and will have lots of exclusive giveaways at my table. I look forward to seeing you there! To check out my Special Event Author Page with details about prices and giveaways, please click here.
*
*