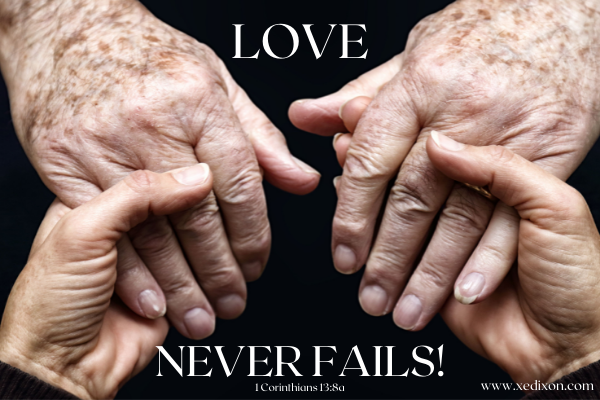 Suggested Reading: 1 Corinthians 13:1-13
I walked into the senior living center with my son, then a kindergartener. Breathing a prayer, I entered the password that would open the locked door that kept the Alzheimer's patients safe inside. Visiting my mother-in-love after church had become a regular part of our Sunday schedule.
Xavier didn't notice his grandmother couldn't remember his name. He just enjoyed her company. She seemed interested in everything he showed her. She listened to his stories and responded in animated ways. She laughed at his jokes. And she hugged him.
We never stayed long. I didn't want him to realize that she thought we were just some nice people who had dropped in for a visit.
The weekly trips weren't always easy or enjoyable for me.
She'd served as an elementary teacher for decades and used to tell me stories about her students. I missed her witty sense of humor, the glint she'd get in her eye when she dropped knowledge to help me navigate life as a wife and mother.
I missed the way she said she was proud of me, that she believed in me when I shared my dream of being a writer one day. I missed hearing her talk about Jesus, even though I'd brushed off her attempts to share the Gospel and rejected her invitations to church. I missed knowing she was praying for me, for years before I surrendered my life to Christ, even though I pretended I didn't care.
She wouldn't understand if I told her that God had answered her prayers, that I was finally head over heels in love with Jesus.
She'd faithfully given me copies of the Our Daily Bread quarterly booklets and invited me to church, even though I mocked her and asked her to keep her God out of our relationship.
I often imagine how excited she would be to read my Our Daily Bread devotions, if she was still alive. I imagine how she would tell her friends at church that I was her daughter-in-law, invite me to her church events, and tell everyone to buy my books. I would go.
Alzheimer's took my mother-in-law away from us years before she entered the loving arms of Jesus.
When I think about those weekly visits, how hard it was for me to go when I knew she wouldn't remember me . . . how I eventually stopped going every week . . . I wish I would have loved her more like Jesus.
I wish I would have worried more about how hard the situation was for her, instead of griping about how hard the visits were for me.
I wish I would have told her how much I loved her, how much I appreciated her . . . before and after the disease started tugging her away from our family.
I wish I would have known what Jesus-love . . . selfless love . . . really looked like.
The apostle Paul gives us a clear picture of love in 1 Corinthians 13.
Paul tells the church of Corinth that their abilities, their knowledge, their kind deeds or good intentions were worthless if not motivated by, executed in, and saturated with love (1 Corinthians 13:1-3).
He gave them, and us, a clear and concise definition of love.
"Love is patient, love is kind. It does not envy, it does not boast, it is not proud. It does not dishonor others, it is not self-seeking, it is not easily angered, it keeps no record of wrongs. Love does not delight in evil but rejoices with the truth. It always protects, always trusts, always hopes, always perseveres." (vv. 4-7, emphasis mine)
The love Paul speaks of in these verses is the kind of love God has for the people He has created, selfless love rooted in choice and commitment not fleeting and unreliable feelings.
Agape love doesn't demand anything in return, but instead gives generously and sacrificially.
Agape love isn't conditional or used to manipulate.
Agape love never fails (v. 8a).
Paul affirms the futility of our gifts, talents, and knowledge when they are not firmly established and generously extended toward others as sacrificial expressions of love.
The apostle acknowledges that we can't possibly understand this depth of love in all its completeness on this side of eternity or while we're spiritually immature (vv. 8b-10).
But he gives us hope in our ability to grow in the way we experience and express sacrificial love (v. 11). With a bold confidence, the apostle proclaims we will know agape love when we "see face to face" . . . when Jesus returns or calls us home (v. 12).
Agape love can be seen and felt on this side of eternity when we look at Jesus and use the love-barometer found in 1 Corinthians 13:4-7.
So, how can we tell if we're loving like Jesus?
Are we patient?
Are we kind?
Are we free of envy?
Do we refuse to boast?
Do we live without pride?
Do we avoid dishonoring others?
Do we serve others selflessly instead of being self-seeking?
Do we avoid being easily angered?
Do we refuse to keep a record of wrongs?
Do we refuse to delight in evil?
Do we rejoice with the truth?
Do our attitudes, words, and actions always protect?
Do we always trust, always hope, always persevere?
Can we answer "yes" to all of these questions when we're giving generously and getting nothing in return, when someone is gossiping about us, when someone betrays us, when someone reject us?
Love does.
The apostle John reminds us that we cannot love this perfectly on this side of eternity without the supernatural power of God in us, without constant and intimate connection with God.
"God is love, and whoever abides in love abides in God, and God abides in him. God is love and all who live in love live in God, and God lives in them." (1 John 4:16)
John is speaking of an ongoing relationship, a never-ceasing acknowledging of God, dependence on God, a living and breathing intimacy that transforms the way we think, the way we speak, the way we interact with God and others.
Agape love cannot be contained or experienced apart from community.
Agape love cannot help but overflow into our relationships.
Agape love doesn't demand or even consider deserving accolades or reciprocation.
What would happen if all of God's people loved all of our neighbors, all those God created, loved, and died for on the cross at Calvary with agape love?
 How does knowing God loves us with agape love change us and inspire us to love Him and others?
God, thanks for loving us, for loving the world, so much that You sent Your one and only Son, Jesus, to save us. Thanks for loving us so much that You gave us the Holy Spirit, who loves us as we are but loves us too much to allow us to remain the same after we experience the transforming power of agape love. Help us love like Jesus every day because we are loved every day in every way. In Jesus' name, Amen.
*
I hope you enjoyed the Representation Matters blog series.
Congratulations to Rachel Cho, who will be receiving a copy of Cora Cooks Pancit by Dorina Gilmore-Young, My Breakfast with Jesus by Tina M. Cho, The Celebration Place by Dorena Williamson, and Different Like Me by me (Xochitl Dixon).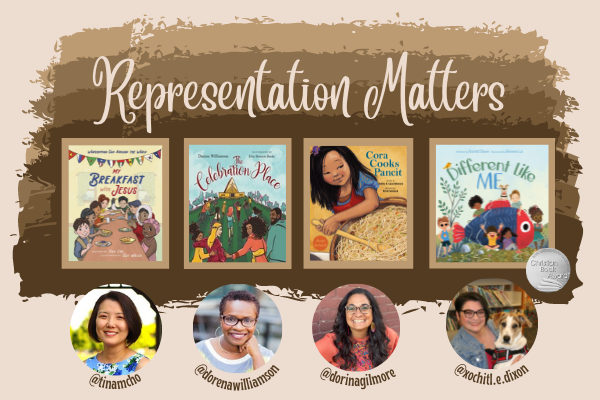 We appreciate every person who entered by following our pages on Instagram.
If you haven't connected with us on Instagram, I hope you will do so today. We all have some great books already out and some wonderful projects to be released soon.
If you don't want to miss the book updates and any other giveaways we'll be hosting, please connect with us by clicking the following links to our websites and Instagram pages.
Dorina Gilmore-Young @dorinagilmore
Dorena Williamson @dorenawilliamson
Xochitl Dixon @xochitl.e.dixon
AND if you want to enjoy lots of adorable service dog photos, please follow Callie on Instagram @callie.the.service.dog today
*
ANOTHER GREAT SERIES?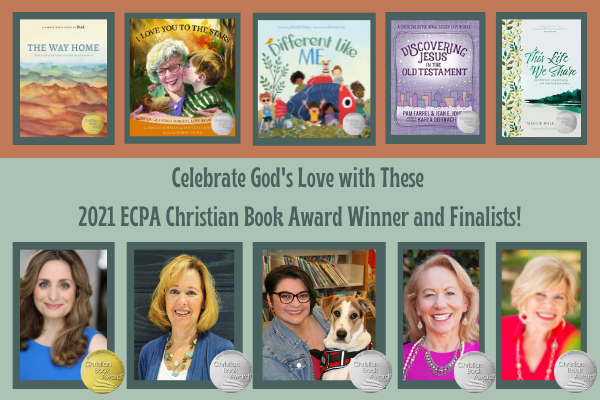 I am excited about the opportunity to celebrate God's love with three of my fellow 2021 ECPA Christian Book Award Finalists and, Tessa Afshar, the 2021 ECPA Christian Book Award Winner of the Bible Study Category.
Each week in the month of September, I will be sharing a devotion about God's love and introducing one of these authors with a short introduction to their award-winning book.
*
This week, I would like to introduce you to my mentor and friend, award-winning and best-selling author Crystal Bowman.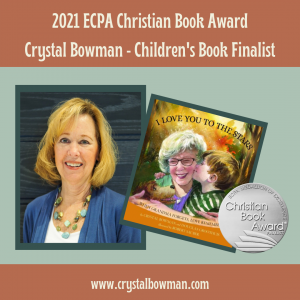 Crystal Bowman is a bestselling, award-winning author of more than 100 books for children and families. She is the creator and co-author of Our Daily Bread for Kids, M is for Manger, and the 2021 ECPA Christian Book Award Finalist I Love You to the Stars—When Grandma Forgets, Love Remembers. She is also a conference speaker, freelance editor, and contributor to several blogs.
More than 3 million copies of her books have sold internationally, and her books have been translated into more than a dozen languages. She is a regular contributor to Clubhouse Jr. Magazine and writes lyrics for children's piano music. She and her husband enjoy spending time with their grown children and seven huggable grandkids.
In I Love You to the Stars ̶ When Grandma Forgets, Love Remembers, a young boy is happy when his grandma comes to live with them, but when she starts forgetting things and acts differently, she needs to move to another home. The boy learns that their love continues even though her memory is fading.
I interviewed Crystal for the Pause for Prayer series on my YouTube channel. We laughed. We cried. We praised God. And we prayed together. We discussed selfless love and how God's love impacts the way we love others. Crystal also shares a story that inspired me to persevere when I was feeling depleted and discouraged. Click here to watch the video.
You can also connect with Crystal on her website, on Facebook, and on Instagram.
Please CLICK HERE to love your neighbors by ordering an extra copy of I Love You to the Stars ̶ When Grandma Forgets, Love Remembers to share as gifts.
*
Thanks for celebrating God's love with me, Blog Family! I am grateful for each and every one of you!
*
To join the conversation, please leave a comment below.
If you received this blog post in your email inbox, I would love for you to join the conversation on my website.
Please CLICK HERE and scroll down to the comment section to leave your reply. I am looking forward to connecting with you!
*