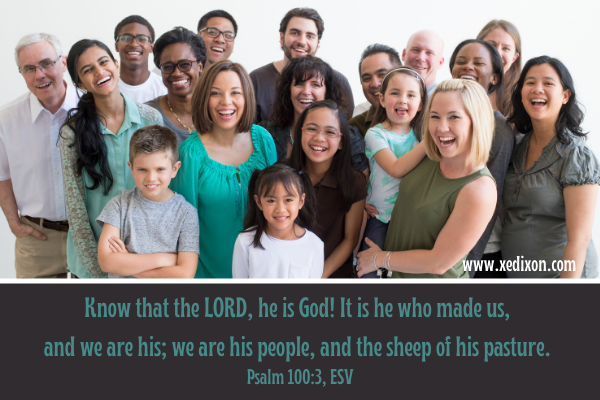 Suggested Reading: Psalm 100
"Know that the LORD, he is God! It is he who made us, and we are his; we are his people, and the sheep of his pasture." Psalm 100:3, ESV
As a teen, I got one pimple on the tip of my nose once a month. Only one. Only once a month.
God had blessed me with a clear complexion, so that one pimple would go away in a few days. Yet, no matter how hard I tried, I couldn't stop dreading the arrival of that flaw I was certain everyone would be staring at when talking to me.
Over the years, I learned how to focus on other flaws, other failings, other things that made me feel insecure.
I truly didn't understand what it meant to feel accepted and acceptable, until I discovered my place in the heart of God.
When I realized I belonged to God, I began to understand and believe that He created me with love, on purpose and with purpose, that I was accepted and acceptable simply because I was His . . . and that He called me good because He made me in His image.
This realization didn't lead to arrogance. Instead, this truth brought me to my knees in gratitude and taught me how to see others through eyes cleared by God's grace.
Belonging to God empowered me to love Him, the only perfect One, and to love His imperfect creations ̶ others and myself ̶ with a full appreciation of God's sovereignty in designing every person, place or thing in His glorious creation.
How did we lose sight of celebrating the creativity of God?
Why did we begin defining normal, determining a standard for beauty, doubting our worth as God's image-bearers?
As I explored this question, God led me to Psalm 100.
"Shout for joy to the LORD, all the earth. Worship the LORD with gladness; come before Him with joyful songs." Psalm 100:1-2
The psalmist invites God's people to celebrate Him, to worship or serve Him with gladness . . . with contentment.
God is beckoning us to honor and acknowledge Him as we approach Him, draw near to Him, with joy.
This display of closeness hints at an established relationship developed enough to be rooted in trust.
"Know that the LORD is God. It is He who made us, and we are His; we are His people, the sheep of His pasture." Psalm 100:3
The psalmist turns our attention away from self to God and His unchanging character and role as our Creator.
By establishing we are created by the one we belong to, the psalmist declares we are acceptable, valuable, and intimately tended to as followers of God.
After affirming the surety of our belonging, the psalmist reminds us of our purpose, our inherited gift of intimate and mutual relationship.
We can rejoice in all circumstances because we have access to the One True God at all times.
"Enter His gates with thanksgiving and His courts with praise; give thanks to Him and praise His name." Psalm 100:4
Hallelujah!
God gives us an open invitation to a victorious life of celebrating Him with gratitude for who He is and always will be, for all He's done and will do.
Why?
"For the LORD is good and His love endures forever; His faithfulness continues through all generations." Psalm 100:5
God is good and His love, His kindness, His steadfastness lasts beyond our personal space, through the lives of those yet to come.
We are acceptable and accepted simply because we belong to God and have value based on His qualifying traits not our own.
Embracing these truths causes sparks to fly as our love for God is ignited.
Hallelujah!
*
Loving God, please help us love You completely and trust You courageously as we settle into our place as Your beloved children.
Help us accept that we are valued because of Your unchanging goodness as our loving Creator.
 Help us see others in the same light of this truth, especially when we struggle with the differences that threaten to divide us as Your precious and purposed family.
 In Jesus' name, Amen.
 *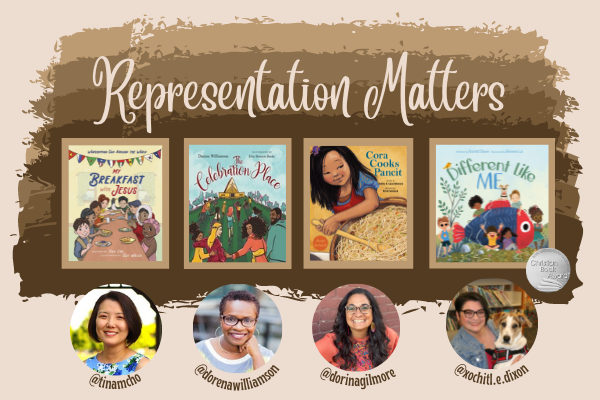 In this week's article for the Representation Matters Series, Dorena Williamson affirms the power of belonging and realizing the extent of our worth as God's beloved created ones.
She shares a personal story about her sweet little girl who picked up a book that God used to help her see herself as He saw her . . . likeable, acceptable, purposed and perfectly placed in this world He designed with His limitless creativity.
If you've ever doubted your value or struggled with insecurities, if you've ever faced others who deemed you as less-than, seen others as inferior or felt unseen or inferior, please take a moment to thank God for creating you and loving you . . . for creating and loving those who are different from you.
When we feel like we belong, we will begin to understand that God intended all of us to belong and to be represented in light of His truth and love.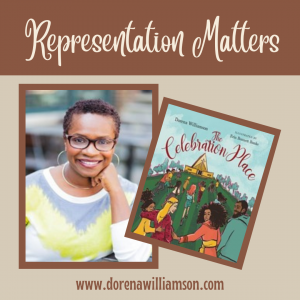 ColorFull, GraceFull, and ThoughtFull are three of Dorena's first children's picture books that celebrate diversity through inclusion and positive representation.
In October, Dorena will be releasing The Celebration Place, a story that will "give children a window into the beauty of diversity in our church experiences."
To check out Dorena's article, "The Impact of Representation," and to subscribe to her blog, please click here. To connect with Dorena on Instagram, please click here.
The Representation Matters writers will be sharing a special announcement and hosting a giveaway at the end of this August series, so please stay in touch.
*
If you have received this article in your email inbox, please DO NOT REPLY. Instead, CLICK HERE to leave a comment below the original article on my website and join our conversation as we seek to be more rooted in God's Word while growing with God's people.
*
I'm looking forward to growing with you, Blog Family!
*