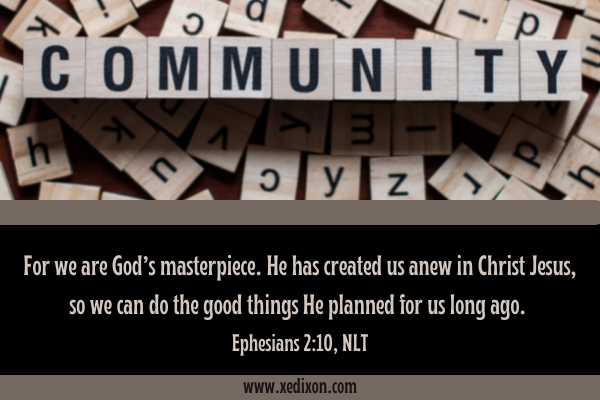 Suggested Reading: Ephesians 2:1-18
As I celebrated my 51st birthday, I reflected on how my life has gone nothing like I'd planned!
I'm also admitting that God's plan is way better than anything I could have imagined. And I have a pretty active imagination.
Though some seasons have seemed a bit too-stormy and some roads have felt a bit too-long and too-hard, God has always brought me through.
He's never wasted an experience, good or bad. He's refined me in ways I never realized I needed. And, oh how He's blessed me beyond what I dared to dream possible.
Still, sometimes, I don't live like I believe what He says about me.
If you've ever struggled with believing what God says about you, please check out the Worship Expressed God Says I Am . . . Collection today.
Then, check out Ephesians 2, where the apostle Paul explores the benefits of being made alive in Christ.
Paul writes: "Once you were dead because of your disobedience and your many sins. You used to live in sin, just like the rest of the world, obeying the devil ̶ the commander of the powers in the unseen world. He is the spirit at work in the hearts of those who refuse to obey God." (Ephesians 2:1-2, NLT)
I can imagine the apostle grabbing his fellow believers by their shoulders and giving them a good shake.
"Why are you insisting on living as if you're still dead in your sins?"
Paul reminds us that none of us can escape the reality of being dead in our own muck before Jesus.
"All of us used to live that way, following the passionate desires and inclinations of our sinful nature" (v. 3, emphasis mine).
Then, Paul uses one of the most powerful declarations in the Bible: But God!
"But God is so rich in mercy, and He loved us so much, that even though we were dead because of our sins, He gave us life when He raised Christ from the dead. (It is only by God's grace that you have been saved.)" (vv. 4-5, emphasis mine).
Paul reveals the link between life and death is our wholehearted belief in who Jesus was and is and always will be, as well as what Jesus did when He died on the cross and rose from the tomb three days later.
Our complete dependence on God the Father secures our ability to live like we believe the reality of our new-life status through our intimate connection with God the Son, Jesus Christ, which is only possible through God the Spirit.
"For He . . ." signifies a reliance on God, not self.
The pressure to live for God with loving obedience and faith is not on us, in our weakness, but on our willingness to surrender to God and rely on the strength of His Spirit who dwells in us.
Because of God ̶ of who He is and what He accomplished through the cross and the resurrection of Jesus, as well as from before He created the world and into all eternity ̶ Paul's following statements stand on firmly established truth.
"For He raised us from the dead along with Christ and seated us with Him in the heavenly realms because we are united with Christ Jesus. So God can point to us in all future ages as examples of the incredible wealth of His grace and kindness toward us, as shown in all He has done for us who are united in Christ Jesus." (vv. 6-7)
God's work is finished.
God's plan is, always has been, and will always be in motion, but His destination has already been reached.
We already have a secured spot, a place at His table, a guaranteed reservation that impacts our lives on this side of eternity.
The life-transforming power of Paul's message is clear.
"God saved you by His grace when you believed. And you can't take credit for this; it is a gift from God. Salvation is not a reward for the good things we have done, so none of us can boast about it. For we are God's masterpiece. He has created us anew in Christ Jesus, so we can do the good things He planned for us long ago." (Ephesians 2:8-10, NLT, emphasis mine)
We received God's gift of salvation because we are His masterpiece . . . "we" being plural.
In our me-centered world, it's tempting to take these verses to encourage ourselves, build up our self-esteem, pep-talk our way into not giving up. When we do this, we miss one vital aspect of Paul's main point.
Paul draws our attention to our union in Christ and with one another when he affirms that we, as the community of believers ̶ the Church ̶ are God's masterpiece.
Once singular and self-centered, we are now made "anew" as an interdependent body of cherished children. God has entrusted each of us individually and us collectively with gifts intended for us to steward with Spirit-empowered wisdom, courage, and commitment to Kingdom-Building.
God planned our paths long ago and has been guiding our steps, molding us through refining fires, and empowering us to live like a masterpiece ̶ connected to Him and others through Christ's life and sacrificial love shown on the cross and as He rose from the tomb.
"Together as one body, Christ reconciled both groups to God by means of His death on the cross, and our hostility toward one another was put to death." (v. 16)
Because the fruit of the Spirit cannot help but be evident in the life of believers in Jesus, those who truly place their faith in Christ simply cannot be hostile toward one another or toward nonbelievers.
"We are carefully joined together in Him, becoming a holy temple for the Lord." (v. 21)
We are a masterpiece . . . together.
We can ask God to help us believe what He says about us in the God-breathed words of Scripture.
We can ask God to help us surrender to Him as we rely on the power of the Holy Spirit.
God is waiting for us to lift our arms high with confidence in His ability to empower us to live like a masterpiece ̶ each one dependent on God and interdependently serving God and others.
As active members of the Church, dedicated to bringing Him glory, we can fulfill His greatest commandment and the great commission.
What can you do this week to live like a masterpiece ̶ as a loving member of the Church God loves and uses for His glory?
How has God changed your perspective on your need for Him and the Church over the last year? 
*
Last month, I served alongside three talented Christian Children's picture book authors to explore why representation in children's literature matters.
This month I am celebrating God's love with these wonderful Kingdom-Builders who have been honored, along with me, as 2021 ECPA Children's Book Award Finalists and a Winner.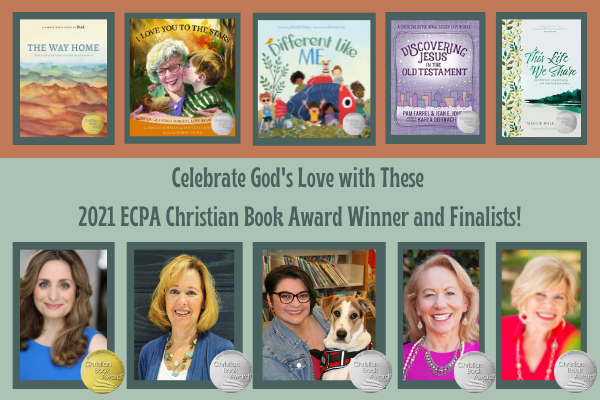 This week, I have the privilege of being the highlighted author as these phenomenal women of God lift me up, encourage me, and help me reach more people for Jesus by helping me spread the word about Different Like Me.
I need your help, too.
If you have read Different Like Me, would you please write a short review on Amazon?
Reviews can help Amazon place Different Like Me in front of more readers.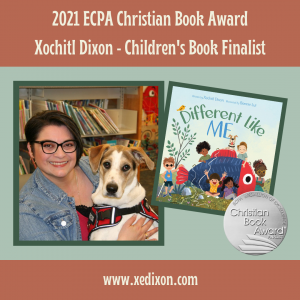 To write an Amazon review, please click here, sign in, and answer the following questions:
Why do you like Different Like Me?
Would you recommend Different Like Me to others?
How have you shared Different Like Me with others?
(Optional) How has God used Different Like Me to encourage you or your little readers?
You can also partner with me in ministry by helping reach readers in your personal sphere of influence in the following ways:
Invite me to an in-person or Zoom author visit, during which I will read Different Like Me and visit with the children at your church, school, homeschool group, afterschool program, and kids' event (i.e. Vacation Bible School, MOPS meeting or event, AWANA, Harvest Festival, Angel Tree Party, etc).
Connect with me to gather sponsors who will donate signed copies of Different Like Me to give away to all the children who participate in your kids' event (i.e. Vacation Bible School, MOPS meeting or event, AWANA, Harvest Festival, Angel Tree Party, etc).
Love your neighbors by ordering extra copies of Different Like Me to share as gifts.
Keep an extra copy of Different Like Me in your car and ask God to show you who He wants to receive your gift.
Donate copies of Different Like Me to your local libraries, Little Free Libraries in your community, local churches, local schools, individual classrooms, afterschool programs, foster care centers, children's hospitals, and more.
*
God is working in amazing and surprising ways this year as I team up with more folks who are dedicated to sharing God's truth and love to the ends of the earth!
My husband, Alan, our youngest son, Xavier, and I have said "yes" to an wonderful outreach ministry opportunity.
In September we launched Worship Expressed, an online store where you can purchase Christian apparel and accessories that I have prayed over while designing. We even have a few designs created by our son, Xavier.
Worship Expressed is adding to our product line and will be working with Christian authors to create a few special collections before the holiday season arrives.
Please help us invite others to worship God through our attitudes, our words, our actions, and the Worship Expressed apparel and accessories we choose to use and wear every day.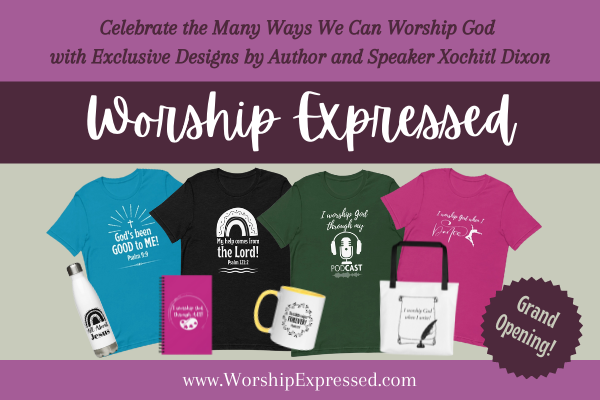 How can you partner in ministry with the Worship Expressed family?
Click here to "LIKE" the Worship Expressed with Xochitl Dixon page on Facebook, then "Like" and "Share" some of our posts.
Click here to "Follow" the Worship Expressed page on Instagram, then "Heart" and "Share" some of our posts.
Click here to visit, shop, or join the Worship Expressed family by creating an account.
Take photos of you enjoying your Worship Expressed apparel and accessories and tag us on social media.
Contact us through the Worship Expressed website to share your testimonies about how God used your Worship Expressed apparel and accessories to help you invite people to talk about Him, praise Him, and share the Gospel with others.
*
Thanks for being a member of my blog family!
I hope you will connect with me in the comment section under this blog post.
If you are reading this article in your email, you can reply to this email OR join the conversation in the comment section on my website by clicking here, scrolling down to the comment section, and writing your message.
I moderate comments for the safety of our community, so your comment will not show up right away. However, I will read, reply to, and approve every comment that is appropriate to share under my blog articles.
I'm looking forward to growing with you as we remain rooted in God's Word and growing with God's people.
*