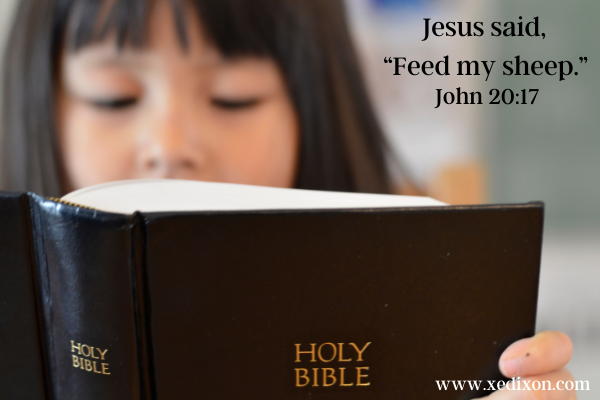 Suggested Reading: John 20:30-21:25
For most of my life, my family spent holidays with people who weren't related to us by blood. If we found out someone didn't have a place to go, we invited them to join us.
After my husband and I got married, we continued the tradition. Our sons became accustomed to enjoying fellowship over food with others.
When we became Christians, we even rang in the New Year at church with a family game night.
My Bible study groups worked the same way. We always added an empty chair to the circle, as a reminder for everyone to invite and welcome new people.
We learned to consider making room at the table a pleasure and a privilege, as well as acts of obeying and worshipping God.
Life happened over the years. We moved out of our close-knit neighborhood, experienced our first heartbreak within the Church, and followed God's leading to a new church family.
In 2018, we moved out-of-state and, two years later, returned to our home state to live in transition . . . for over a year . . . during a pandemic.
I can't pinpoint when we stopped being as committed to being intentional about making room at the table.
But as we wait for our new home to be ready for move-in, I'm asking God to help us connect with the people He chooses to be our neighbors as we settle into a new community.
I'm asking God to help us commit to being intentional about connecting with our family and with people in all areas of our lives.
Having a full life as a believer in Jesus requires nurturing intimate relationships with Him and others.
These relationships will look different for all of us, since we are uniquely designed to function and fellowship with God and others in different ways.
For these same reasons, these relationships will also be complicated and sometimes include conflict.
However, the apostle John gives us four things we can do to help us navigate these relationships so we can live as Kingdom-Builders, people committed to living and loving for Jesus in every aspect of our lives.
Engage with Purpose (John 20:30-31)
In John 20:30-31, the apostle defines his purpose in writing what we now know as the Gospel of John.
"Jesus performed many other signs in the presence of His disciples, which are not recorded in this book. But these are written that you may believe Jesus is the Messiah, the Son of God, and that by believing you may have life in His name." (John 20:30-31, emphasis mine)
Believing in Jesus becomes the foundation that anchors us when we're navigating through the various seasons of life. This belief also secures our purpose . . . our calling.
According to Jesus, we are called to obey the Greatest Commandment ̶ to love God and others ̶ and to fulfill the Great Commission ̶ to share God with others (Matthew 22:36-40; Matthew 28:16-20).
When we engage with purpose, we will approach our relationships with hearts committed to love and expanding the Kingdom of God.
We won't have time for comparison, jealousy, or unforgiveness because our purpose will become more important than anything that can threaten Kingdom advancement.
Embrace Obedience (John 21:1-14)
After Jesus' resurrection, the disciples went back to using all of their own resources and coming up short. When they were ready to give up on their fishing day, Jesus approached with a simple command. After the disciples obeyed Him, they experienced the power of His provision (John 21:1-6).
Jesus connected with them over food, demonstrating a deep intimacy and willingness to remain present in their lives (vv. 7-14).
As disciples who are commissioned to live as fishers of men (Matthew 4:19), we can be tempted to use our own resources. We will come up short. Only God can save people. Only God can transform people. Only God!
But we have hope because He has empowered us with the Holy Spirit.
God promises to remain close to us, to connect with us intimately, and to provide as we rely on Him to help us live out the purpose He's entrusted to us as Kingdom Builders ̶ those committed to loving God and others as we share His truth and love to the ends of the earth.
Empower with God's Truth (John 21:15-17)
Jesus checks our hearts to ensure that our motives are rooted in love for Him and others as He trusts us to fulfill our mission to lead others to Him (John 21:15-17).
He warns us to avoid comparing ourselves with others as we follow Him, individually and collectively (vv. 18-23).
When we engage in our purpose and embrace obedience, we won't have to be concerned about what God is doing in and through the lives of others because we'll be so excited about what He's doing in our lives.
This perspective won't make the journey easy or short, though.
Endure with Perseverance (John 21:18-25)
"Jesus did many other things as well. If every one of them were written down, I suppose that even the whole world would not have room for the books that would be written" (v. 25).
We have been given the gift of time to share God's truth and love to the ends of the earth. We can't do this great task without God or each other.
Each of our stories will make a difference in the lives of those within our sphere of influence. God will give us opportunities to fulfill the Great Commission and the Greatest Commandment in our day-to-day living.
As we encourage one another and remember that we are better together, we can reach more people with the life-saving message of the Gospel of Christ.
With Spirit-empowered boldness and complete reliance on Him to serve as He created us to serve, we will be able to endure with perseverance.
There will always be room at God's table, an empty chair waiting to be filled by a person He has placed in our lives and entrusted us to love.
*
How have you made room at the table for someone else who is committed to Kingdom Building?
How have you invited someone to the table and shared God's truth and love this week?
*
Mighty God, please help us live for You as we learn to love You and others with Spirit-empowered and Spirit-refreshing faith and compassion and Kingdom-building commitment. In Jesus' name, Amen.
*
There are so many ways we can make room at the table, building others up as we serve the Lord together.
During the month of August 2021, I have had the privilege of serving with three talented BIPOC children's picture book authors as we've shared our personal stories through the Representation Matters Series.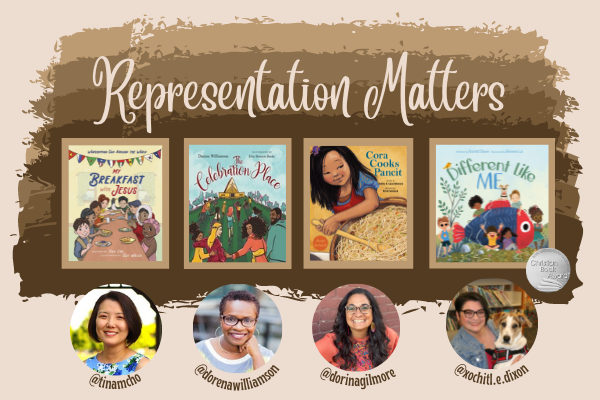 Today, I'd like to introduce you to Tina M. Cho.
Tina is the author of Rice from Heaven, a picture book from Little Bee Books August 2018, Korean Celebrations, a nonfiction picture book from Tuttle, August 2019, My Breakfast with Jesus, a nonfiction picture book from Harvest House June 2, 2020, The Ocean Calls: A Mermaid Haenyeo Story from Kokila, an imprint of Penguin Random House August 4, 2020, and her first middle grade graphic novel in verse, The Other Side of Tomorrow by Harper Alley Fall 2023.
Her book, My Breakfast with Jesus, invites readers to travel the world and explore the different ways God's image-bearers eat breakfast.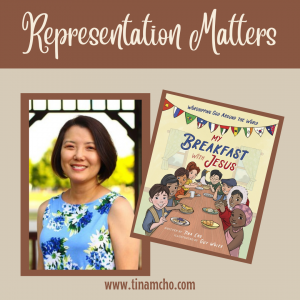 "For more than 2,000 years, people have started their day with a delicious meal in their bellies and the love of Jesus in their hearts. From bacon and eggs in the heart of North America to fresh baked bread in Antarctica, believers from each continent gather in the morning to share good food and conversation, giving thanks to God for all the wonderful things He's done."
You can check out Tina's other books on her website and encourage her in the comments under this original article, "Making Room at the Table."
Tina shares a snippet of her personal testimony in her article, "Stories Shape Who We Become." You can read the entire article and leave an encouraging comment under the post if you click here.
If you are reading this article in your email inbox, please  CLICK HERE and scroll down to the comment section to join the conversation.
I'm looking forward to connecting with you, hearing from you, and growing with you as we celebrate how God is using each of us to build one another up in love as we share His truth and love to the ends of the earth.
*