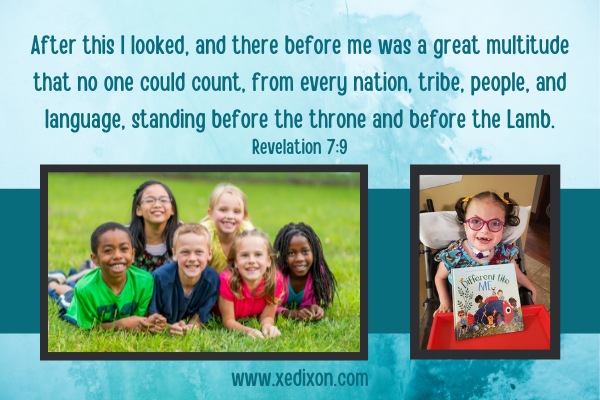 I still remember the expression on my mom's face when she caught me holding the scissors and black Sharpie.
Her eyes widened as she looked at the blonde Barbie dolls splayed on the floor in front of me and then stared at me. "Why?"
Picking up one of the dolls, I stroked her freshly cut and dyed Sharpie-black hair. "I wanted them to look like me."
My mother, a few shades darker than me, pressed her lips together and sighed. She remained silent as she gathered my dolls and confiscated my cosmetology supplies.
At that time, I didn't understand why she hugged me so tight.
I didn't understand when or why I started thinking I was ugly.
I didn't understand why I felt caught between two worlds that didn't want me. I wasn't "really Mexican." I wasn't "Mexican enough." And I was "light but not white."
I didn't understand why I avoided speaking my native tongue after a woman told me to stop speaking "dirty Spanish" because she didn't approve of my accent or occasional dips into Spanglish.
I still don't understand why I have to endure the repeated punch-in-the-gut question: What are you?
And I still don't understand why I wanted to assimilate into a world that rejected me and lacked positive representation of people who were different like me . . . until I became a mom.
As a first-generation Mexican American married to a Black man, I didn't want my sons to share my struggle with identity or to begin hating their reflection.
I packed our personal library with books that celebrated Black and Mexican history, though we had limited selections. I explained negative stereotypes and exposed our sons to BIPOC inventors, scientists, activists, and other great leaders. Almost every nationality was represented in our friend circle.
Determined to empower our youngest son with a strong sense of identity, I convinced my husband that we had to enroll him in a Dual Immersion Kindergarten.
Through the pilot program, designed to integrate Spanish and English speakers, Xavier would learn about the culture I didn't have a chance to embrace. He would study the culture I couldn't find when I surfed channels on television or scoured shelves in the library.
My son would have a chance to become fluent in the "proper dialect" of the language I had been convinced I should only speak when absolutely necessary and definitely not with confidence.
That same year, in 2001, I surrendered my life to Jesus.
I began a journey to discover my true identity as God's child ̶ an identity that included and celebrated the culture that my parents' well-intentioned desires for assimilation erased.
Old scars became fresh wounds when my kindergartener told me a fellow student called him a racial slur.
How could I teach my sons to respond to racism with confidence in their value as God's image-bearers when I still struggled with insecurities?
How could I teach them to respect others who were different from them and rejoice in the ways we were the same?
As I continued learning and teaching them about our identities in Christ, I negated the lies and the images that screamed they weren't worth enough to be seen or known.
Then, one day as I was praying for my sons, I wrote my first picture book.
Different Like Me celebrates our differences and our sameness as God's beautifully diverse and purposefully connected people, a message I was still learning to live out with bold faith.
Eighteen years later, God placed Different Like Me into the hands of editors at Our Daily Bread Publishing. Two years after that, He began using the message to empower readers internationally.
The lack of BIPOC representation and rejection stunted my confidence as a child. Deep-rooted insecurities distorted my view of myself and others, twisting my thinking with lies that followed me into adulthood.
As readers continue responding to the message in Different Like Me, a 2021 ECPA Christian Book Award Finalist, I'm beginning to understand I'm not alone in my struggles.
Growing more secure in my identity as a child of God increased my desire to empower others with God's truth and love.
What am I?
I am a Child of God, fearfully and marvelously made, purposed to fulfill the Greatest Commandment and the Great Commission ̶ to go and make disciples of all nations (Matthew 28:19, emphasis mine).
But I couldn't love God with all my heart and soul and mind (Matthew 22:37) until I could see the face of Jesus, get to know Him in His Word illuminated by His Spirit.
The more I fell in love with God, the more my love for people grew, and the more I wanted to obey His command to love my neighbor as myself (Matthew 22:39).
The journey proved to be a bit more difficult than I thought it should be.
I couldn't truly love myself or anyone else until I saw myself, my true identity in Christ and my reflection in the world around me.
Children who see themselves represented in positive ways in the world around them are affirmed as a whole person who is worth knowing and loving.
Accurate representation that destroys negative stereotypes honors God and gives readers a glimpse of heaven.
The apostle John wrote: "After this I looked, and there before me was a great multitude that no one could count, from every nation, tribe, people, and language, standing before the throne and before the Lamb" (Revelation 7:9, emphasis mine).
 I pray all my children's books can paint this beautiful image of God's intentional diversity and unifying love in the hearts and minds of His image-bearers.
As I continue to advocate for diversity and inclusion, I want to share this message with Spirit-empowered courage and confidence:
God made everyone different and special . . . like me.
*
Loving God, thanks for creating each of us intentionally and purposefully. Thanks for choosing to make each person different and special. Please help us to love You and one another, as we serve You together. In Jesus' name, Amen.
*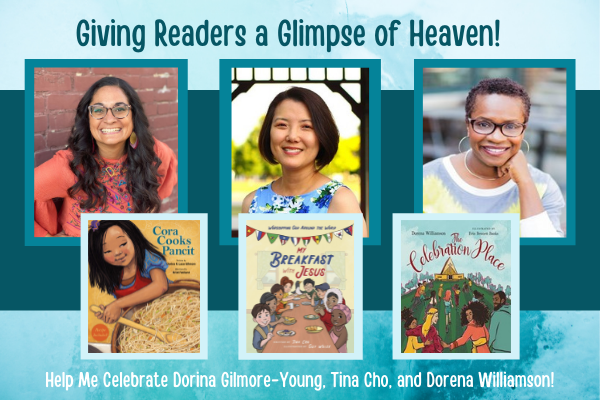 During the month of August, I will be teaming up with three of my favorite Christian picture book authors for a MEGA BOOK GIVEAWAY.
Join us as we celebrate diversity and explore why representation gives us a glimpse of heaven and makes a difference on this side of eternity.
The MEGA BOOK GIVEAWAY will include one copy of each of the following books:
Cora Cooks Pancit by Dorina Lazo Gilmore-Young
Cora loves being in the kitchen, but she always gets stuck doing the kid jobs like licking the spoon. One day, however, when her older sisters and brother head out, Cora finally gets the chance to be Mama's assistant chef. Cora and Mama work together to cook up pancit for the family in this celebration of Filipino heritage and foods.
My Breakfast with Jesus by Tina Cho
For more than 2,000 years, people have started their day with a delicious meal in their bellies and the love of Jesus in their hearts. From bacon and eggs in the heart of North America to fresh baked bread in Antarctica, believers from each continent gather in the morning to share good food and conversation, giving thanks to God for all the wonderful things He's done.
The Celebration Place by Dorena Williamson
The Celebration Place shows children that church is not just a building; it's a place where we come together to celebrate God with our different expressions of worship. Coming October 26, 2021.
Different Like Me by Xochitl Dixon
Take a fanciful, colorful journey with a diverse group of children as they collectively work to bring a large fish balloon toward a surprising conclusion in Different Like Me. While encountering the differences that could divide them, they also discover how God designed them to be better together.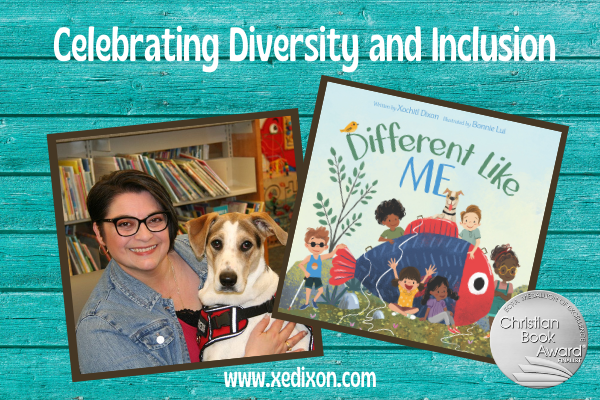 I'm looking forward to introducing you to these talented authors and their beautiful books throughout the month of August.
Check back HERE on my BLOG and keep in touch with me on Instagram for details about the MEGA BOOK GIVEAWAY at the end of this series.
To God be the glory, the honor, and the praise!
*