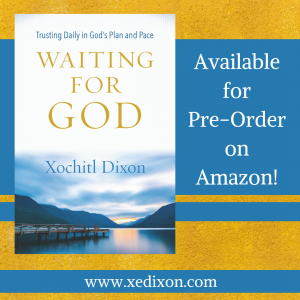 My first full-length devotional, Waiting for God: Trusting Daily in God's Plan and Pace, is available for Pre-Order on Amazon!
To God be the glory, the honor, and the praise, praise, praise!
I used to be toe-tapping impatient when standing in lines. I would get irritated when I made a phone call and was left on hold. My inability to embrace the act of waiting when juggling life's small frustrations became more evident when I faced heart-wrenching delays.
Waiting was not a welcome part of my life, especially when the wait was accompanied by physical or emotional pain.
When I first surrendered my life to Jesus, a friend warned me not to pray for patience. So what was I supposed to do? How was I going to deal with the inevitable waiting seasons in life if I couldn't be honest and ask God for help?
After my battle with chronic pain became overwhelming, I longed for comfort, for peace, for revitalized strength and realized patience has nothing to do with trusting God in the wait.
Patience requires us to suppress rather than process feelings and is reliant on our ability to control our actions and attitudes in our own strength.
Over the years, I've learned the futility of self-help and will-power.
So, instead of trying harder, I admitted my weaknesses.
Sick of being burdened by anxious thoughts and tired of feeling stuck, I cried out to God. With Spirit-empowered strength, I looked for Bible verses to help me trust the Lord when the wait felt endless. I reflected on how other faith-warriors leaned on God while facing difficult situations.
My search for enduring hope revealed unexpected answers.
I didn't need more patience. I needed a new perspective on the Maker of Time's purpose of waiting.
As I inhaled God's Word, I exhaled in prayer and experienced the power of resting in God's love.
Now, I have the privilege of sharing my journey with you.
—–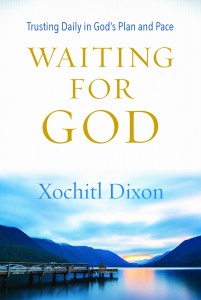 What others are saying about Waiting for God?
"If your heart is weary and longing for answers—for healing, for provision, for miracles—Waiting for God renews your hope with strong biblical truth and encouraging Scripture-based prayer.
Conquer your fears and frustrations as you inhale God's Word, exhale in prayer, and rest in God's love. Live a life of deeper connection and immediate communion with God that can lead to contentment in His constant presence, no matter what your days hold or how long God's deliberate delays may last.
Xochitl Dixon writes each chapter with heart-touching transparency and vulnerability, as she shares her own story as well as the stories of others who are trusting God through waiting seasons with no apparent end in sight. As a woman who lives with chronic pain, Xochitl understands constant struggle yet chooses to put God on the throne of her life."
—-
Waiting for God: Trusting Daily in God's Plan and Pace is available for pre-order on Amazon and scheduled for release on August 7, 2019.
I'm looking for readers willing to join me for this pre-order party and to prayerfully consider reading through one chapter a day with me after the book is released.
I'll be offering exclusive giveaways to readers who join the conversation as we discuss the end-of-chapter reflection questions, which are designed for personal and group study.
Please take a moment to follow my Amazon Author Page and pre-order your copy of Waiting for God: Trusting Daily in God's Plan and Pace.
Please also leave a comment below to share how I can pray with you as you continue waiting for God and trusting daily in His plan and pace . . . one breath at a time.
I look forward to growing with you!
—–