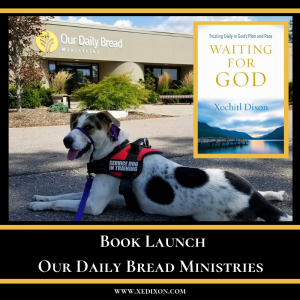 "My heart rejoices in the LORD; in the LORD my horn is lifted high. My mouth boasts over my enemies, for I delight in your deliverance. There is no one holy like the LORD; there is no one besides you; there is no Rock like our God." 1 Samuel 2:1-2 (NIV)
So much has happened since I've the last time we met here, Blog Family.
I've wrestled with God and my jumbled emotions through prayer after my doctor said, "This could be your life. Pain management may be all we can do."
I pouted with pity-party sobs and praised Jesus from wah-wah-whining to worship-filled tears as He lifted my eyes toward hope and breathed a little faith into my prayers.
My last test procedure intended to help manage my severe back, neck, and shoulder pain worked better than my doctor expected, so we submitted a request to the insurance. In hopes of a successful treatment, I planned to enroll Callie into the service dog training program with Jacob Guell at Tails for Life.
Within weeks, reality dashed my high hopes.
The insurance refused to pay for the procedure that had given me more pain relief than any other procedure I endured over the last seven years. The treatment fell under what they dubbed as experimental. So, I would have to pay out of pocket.
Imagining six-figure bills in my mind, I feared calling to find out how much the procedure would cost.
To my delight, the money we'd earmarked for Callie's training would cover the costs. Hallelujah!
But I would not be able to pay for Callie's program with Tails for Life.
Disappointment stirred in my heart as I surrendered the situation to the Lord and called to cancel Callie's training. But Jake encouraged me to consider a fundraiser.
I requested help through my blog and social media on May 26, 2019.
Within four days, sponsors paid for Callie's training in full.
 Thank You, Jesus!
I'd like to give a shout-out to the generous sponsors who have joined me as ministry partners by investing in Callie's service training.
Callie started training at Tails for Life on July 9, 2019 and she already did a fabulous job at her first official ministry event.
On Wednesday, August 7, 2019, we celebrated the release of Waiting for God: Trusting Daily in God's Plan and Pace and shared a message at the Our Daily Bread Ministries chapel.
You can join us for worship and watch the video at Behold: The Power of Living with Holy Vision (Facebook).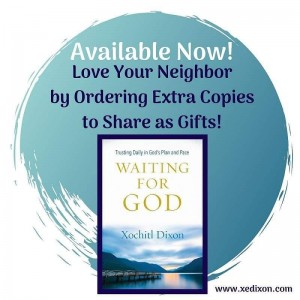 Through this awesome launch party and the help of my wonderful group of Praying-Peeps who have shared Waiting for God online and through in-person encounters, the Lord has been placing copies of Waiting for God into the hands of readers.
God's wonderful people have pre-ordered so many books that Amazon was out of stock the day after we launched the Waiting for God!
And at 4 pm on August 11th (four days after our release date), Amazon posted this message under Waiting for God: Only 16 copies in stock (more on the way).
Thank You, Lord!
Please join me in spreading the word about Waiting for God so that Amazon will place multiple orders for more books.
Waiting for God is also available at Barnes and Noble, ChristianBook, and Discovery House Publishers.
And you can bless this writer by leaving a review of Waiting for God on one or more of these sites. Reviews make a difference!
Rejoice! Rejoice! Rejoice in the Lord! The good news is not over.
 I'm excited to announce that I've been working with a talented designer who has given my website a makeover. After the reveal, scheduled for next week, this website will look different . . . better . . . and be easier to navigate!
Current subscribers will continue automatically receiving new posts and will be invited to request the free gift I'm offering new subscribers.
I'll be posting new encouragement devotions and prayers weekly and will add a quarterly newsletter that will include exciting updates, upcoming events, and exclusive new projects that will not be available online.
For the first thirty-three days after we reveal the new website, I'll release behind-the-scenes stories, photos, and reader testimonies as I share my answers to the end-of-chapter questions and invite you to join the conversation.
Subscribers will receive special invitations during this celebration month to participate in fun giveaway opportunities exclusively designed to show my appreciation for you‒my blog family.
In my next post, I'll invite you to return to this cyber-spot and explore the new website.
I hope you'll join me for the adventure as we rejoice with Spirit-empowered courage and confidence while Waiting for God: Trusting Daily in God's Plan and Pace.
 But today, I want to thank you for being a part of my blog family.
BOOK GIVEAWAY: I'm giving away one copy of Waiting for God to one person in the continental U.S. on Wednesday, August 14, 2019 at 8 p.m. (CST).
To participate in this giveaway, leave a comment under this blog post. I'd love to hear more about your waiting season so we can pray together as we trust daily in God's plan and pace.
I'll randomly choose one person who lives in the continental United States to receive a signed copy of Waiting for God: Trusting Daily in God's Plan and Pace.
Even if you already have a copy or have already ordered copies of Waiting for God, don't worry.
After reading a few chapters of Waiting for God, some readers have emailed me to let me know they are loving their neighbors by ordering extra copies to give as gifts.
 To God be the glory, the honor, and the praise, praise, praise!
I'm looking forward to growing with you!
—–
Congratulations, Rebecca Grabill! I'm looking forward to sending you a signed copy of Waiting for God: Trusting Daily in God's Plan and Pace. Please email me your mailing address.
I appreciate everyone who took time to leave a comment. I'll be sharing more giveaway opportunities soon!
—–