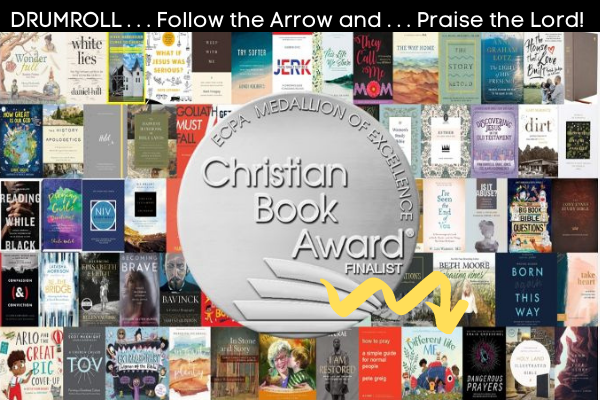 Different Like Me (Our Daily Bread Publishing, August 2020) is a 2021 ECPA Christian Book Award® Finalist in the Children's book category.
To God be the glory, the honor, and the praise, praise, praise!
The Evangelical Christian Publishers Association is an "international non-profit trade organization comprised of member companies that are involved in the publishing and distribution of Christian content worldwide. Since 1974, ECPA has strengthened Christian publishing by building networking, information, and advocacy opportunities within the industry and throughout multiple channels so that our members can more effectively produce and deliver transformational Christian content."
"The Christian Book Award® program recognizes the highest quality in Christian books and Bibles and is among the oldest and most prestigious awards program in the religious publishing industry. Presented annually to the finest in Christian publishing since 1978, the Christian Book Award® program honors the best of the year in twelve categories."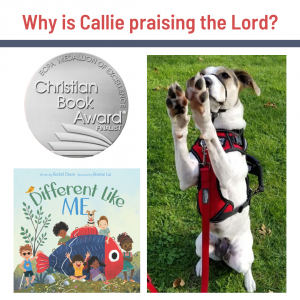 Different Like Me is one of the five children's book finalists. Hallelujah!
I would like to thank all of the ECPA and Christian Book Award members who organized and participated in the selection process, as well as those who are faithfully serving in various roles within these organizations each year.
I'm excited to announce that my mentor and friend Crystal Bowman, the author of I Love You to the Stars: When Grandma Forgets, Love Remembers, is also a finalist in this category.
Praise the Lord!
Crystal wrote a beautiful endorsement for Different Like Me and has offered me wise counsel, encouragement, and prayers as I continue following God's leading through the wonderful world of children's book writing.
I'm thanking the Lord for every person who helped me prepare Different Like Me to be placed into the hands of readers.
Special thanks to Bonnie Lui, the amazing illustrator who put the heartbeat in Different Like Me, to my Our Daily Bread Publishing family, and to my Credo family.
I'm grateful for every book reviewer, bookstore, public and church library, teacher, children's ministry leader, nursery leader, little free library steward, and patron of the arts.
Thanks for helping me spread the word about Different Like Me on your social media pages, for writing reviews on Amazon and any other platforms you enjoy, and for loving your neighbors by ordering extra copies of Different Like Me to share with God's little image-bearers.
Please continue helping me spread the word about Different Like Me by sharing photos on your social media pages, writing reviews, letting people know what you enjoyed about the book, and considering Different Like Me whenever you need a gift for a little one.
Every review makes a difference and helps place Different Like Me in front of potential readers.
The Children's Book Award® ceremony will be hosted by Max Lucado on May 6, 2021 at 1 pm Central (11 am Pacific).
I'll share an update on my blog and on social media as soon as I receive the results.
No matter what happens, I'm grateful to be included on a list alongside so many respected partners in ministry.
I am especially excited to share this honor with some of my personal friends who I have learned from and served alongside over the years.
Congratulations, Crystal Bowman (I Love You to the Stars), Michelle Medlock Adams (They Call Me Mom: 52 Devotions for Every MOMent), Pam Farrel (Discovering Jesus in the Old Testament), and the beautifully diverse writers of the (in)courage ministry (Take Heart: 100 Devotions to Seeing God When Life's Not Okay).
Please join me in praying for every author and publisher on this list and for those who are not on this list but are faithfully sharing God's truth and love through Christian publishing. It is a pleasure and privilege to serve with you all!
You can pray over the complete list by clicking here.
I thank the Lord for you, Blog Family!
I can do nothing without God or without your ongoing support, encouragement, prayers. I thank God for the opportunities He gives us to be rooted in His Word while growing with His people.
*****
Click here to write a review or order your copies of Different Like Me today!
*****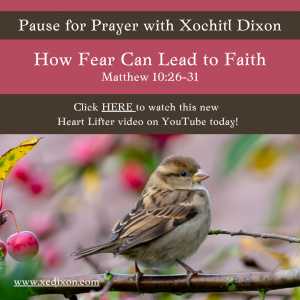 What's NEW?
Join Me for a New Pause for Prayer Video Available on My YouTube Channel!
In "How Fear Can Lead to Faith" (Matthew 10:26-31, CSB), I shared how God used His definition of fear and the reputation of the sparrow to help me understand the extent of His love for His children.
If you haven't already, please take a moment to subscribe to my YouTube channel.
*****
Thanks for being a member of my blog family.
*****