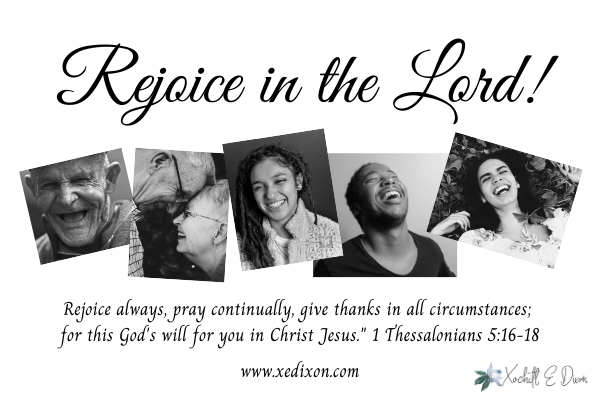 I didn't even notice when the complaints started overtaking my thoughts.
Expected stress accompanied our move from Wisconsin back to California, but unexpected disappointments increased my grumbling capacity.
After hunkering down in a hotel for the first three weeks as we searched for a rental, we finally found a new apartment. Third floor. No elevators. Community living definitely required a few adjustments, physically, mentally, and emotionally.
The furniture dealer didn't deliver our recliners on the promised date. My struggles with pain management escalated as I adjusted to working with a new doctor. The perfect Thanksgiving feast I expected with both of our sons ended up being a quiet meal with our youngest son and his fiancé.
As the list of things that went wrong and things that did not go as I expected grew, my negativity nourished my complaining spirit.
I snuggled Callie and pouted as I prayed.
Can we catch a break from the hardships, Lord?
In His loving patience, God gently turned my eyes back to His Word.
"Rejoice always, pray continually, give thanks in all circumstances; for this is God's will for you in Christ Jesus." (1 Thessalonians 5:16-18)
How am I supposed to rejoice or give thanks in these difficult circumstances, Lord?
On the surface, rejoicing felt impossible and giving thanks felt fake.
Until I took a closer look at what the apostle Paul was saying to the church of Thessalonica.
When I read each phrase separately, I missed the point.
I couldn't rejoice always unless I prayed continually, which would lead to giving thanks in all circumstances.
When I focused on God, not myself or the temporary circumstances that affected me on this side of eternity, I could experience the biblical meaning of joy.
Acknowledging God's constant presence helped me recognize the ways He was working in and through my life, in and through my relationships, and even in and through my trials and suffering.
My prayers became more focused on God, on His promises and His faithful goodness.
As His truth cleared my vision, I remembered all the Lord had done during my transition.
God had answered my prayers by allowing us to move from Wisconsin back to California.
He provided the funds for us to hunker down in a hotel with excellent customer service and given me plenty of opportunities to share His truth and love with the staff and fellow patrons.
Though many families were displaced by the fires and the pandemic, God led us to a gated community that would be safer for me to walk Callie when I wasn't feeling well. My service dog learned how to navigate those three flights of stairs quickly.
Our furniture didn't arrive before the holiday, but the Lord provided two temporary chairs that I could use for video interviews after the pandemic.
My struggles with pain management didn't improve, but my family and countless prayer warriors continued supporting me.
On Thanksgiving, I video chatted with my amazing niece and nephew (Eliza and Emmett) before enjoying a tasty meal with our youngest son and his fiancé.
As the list of things that went wrong and things that did not go as I expected took back-seat to the blessings God showered over me, my capacity for rejoicing increased.
I stopped pouting and practiced the privilege of interceding for friends who were hurting, which helped me view my complaints with an eternal rather than an internal perspective.
Life isn't going as any of us expected in 2020. But not one moment surprised God or threw him off His game plan.
Though we may not always feel like smiling or cheering, we can experience joy that supersedes our ever-changing circumstances when we rest in the center of God's will for us ̶ an unceasing and intimate connection with Him, our unlimited source of strength, peace, hope, and joy.
Counting our blessings as we wait on God may sound trite, but I've learned it's hard to keep grumbling when my heart begins bubbling up with gratitude.
Faithful Father, please help us to recognize and rejoice over every blessing that comes through being intimately connected with You.
***
What is the hardest part about viewing life with an eternal perspective when faced with difficult circumstances?
How has God blessed you in the midst of a tough season or situation?
***
For more biblical encouragement and Scripture-based prayers, check out Pause for Prayer: Thriving through the Wait, a video series on my brand-new YouTube channel. Here is the link to Episode 1: God Holds Us.