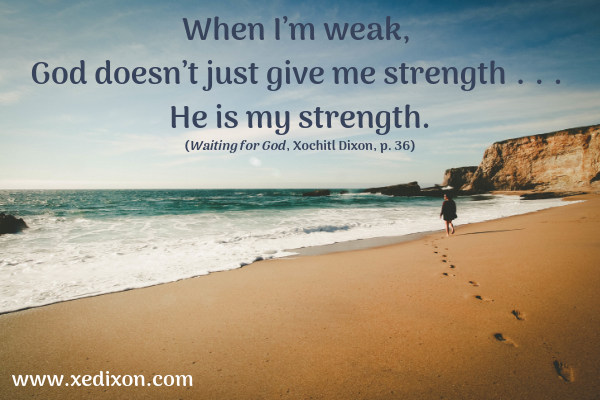 Over the years, I've met several people on the brink of death. Though it's natural to fear the unknown or struggle with grief and worry about leaving loved ones behind, those who had deep and personal relationships with Jesus and were well-seeped in Scripture seemed to handle facing death with a supernatural peace, like Ms. Patricia, Mr. Charles, Kim, and my mom.
My friend Louise, a new believer who wasn't that familiar with God's Word, became fearful during her cancer treatment and on her death bed. By God's incredible grace, I was able to assure her that her feelings were proof of her humanity, not a lack in faith.
I pointed her to Scripture and affirmed God's faithfulness as we prayed together in the hospital. Though I wasn't with her the moment Jesus welcomed her into His loving arms, I'm sure He made His presence known.
Still, it's hard to deal with loss, to face trials in life on this side of eternity, to come to terms with our frailty as humans, to admit our desperate need for total dependence on God, our Maker and Sustainer.
When life feels unbearable, when the pain feels impossible to endure, we can rest in the certainty of God's sufficiency. But we can't do this in our own strength, so it would be wise for us to learn to live and breathe this simple prayer: Oh, how we need You, Jesus!
I'm looking forward to reading your responses to today's reflection questions.
Reflection Questions
When is it hardest to remember that being in Jesus's presence is enough?
When my loved ones are hurting. When I feel helpless to lift their burden or stop their pain. I've been asking the Lord to help me remember He is more enough for me, so He is definitely more than enough for anyone else.
Why is it often hard to admit we need God?
When we admit we need God, we're admitting our weaknesses and our total lack of control. It's scary to feel vulnerable, to confess our desperate needs, to risk rejection or disappointment. When I'm afraid or hurt, I tend to puff up and pretend I'm stronger than I truly feel. Instead, I can ask the Lord to be my strength, to be my peace, to guide me and empower me to walk by faith and face my real emotions . . . and to help my loved ones do the same.
Whose testimony has God used to help you place one more rock-solid stone of truth in the foundation of your faith?
Every single testimony I've read in the Bible, every snippet of a story I shared in Waiting for God, and every testimony a person shares with me becomes a rock-solid stone of truth in the foundation of my faith.
—–
Please share your thoughts in the comment section below.
If you're just joining the conversation and would like to share your thoughts on the previous chapters, I've posted the links below.
 End-of-Chapter Questions
Chapter 1 – The Weight of Waiting
Chapter 2 – It's Not All About Me
Chapter 5 – Resting in God's Refuge
***
Thanks for joining me to discuss the Waiting for God end-of-chapter questions. Please remain focused on what God is doing in and through your life and refrain from sharing full names or personal information (yours or anyone else's) so we can keep this blog family a safe place to share. All comments will be monitored and modified to maintain a loving and encouraging atmosphere that is glorifying to the Lord and Savior Jesus Christ. I look forward to growing with you.
—–
On September 25, 2019, I'll return to sending you weekly encouragement and prayers. But to fulfill a commitment to readers of Waiting for God, from August 19, 2019 to September 20, 2019 I'll be sharing daily posts with my answers to the Waiting for God end-of-chapter questions. I hope you'll join the conversation at your own reading pace. I'm praying for you and looking forward to growing with you as we trust daily in God's plan and pace.
—–