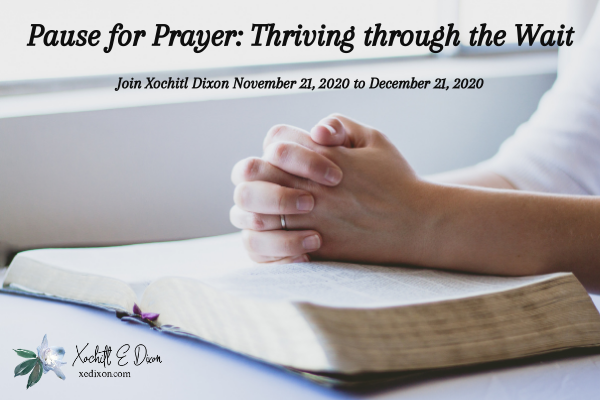 I'm excited to announce the second season of Pause for Prayer: Thriving through the Wait, which you can find on my new YouTube channel.
I need 100 subscribers before I can receive a custom YouTube channel.
If you enjoy my videos, please help me beat that goal by subscribing to my YouTube channel and encouraging others to do the same. Thanks in advance for your prayers and support. I can do nothing without God or your ongoing encouragement.
From November 21, 2020 to December 21, 2020, I'll be sharing new videos daily on YouTube that can stand alone or be used as you read the thirty-one chapters of Waiting for God: Trusting Daily in God's Plan and Pace.
During each Pause for Prayer video (5-15 minutes each), we'll dig deeper into God's Word, seeking to know Him and trust Him with every moment of the wait.
I'll be reading selected Bible verses, offering biblical encouragement, and leading a Scripture-based prayer as I explore the challenges, the purposes, and the rewards of waiting.
As we continue trusting God with every moment of our lives, we can walk with confidence in His character, His truth, and His love as we thrive through the wait.
To watch Pause for Prayer: Thriving through the Wait Day 1, November 21, 2020, please click here.
To watch Time to Grow, a message I shared during an Our Daily Bread Ministries chapel time on May 20, 2020, please click here.
***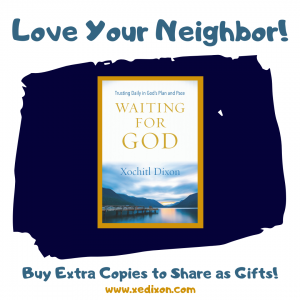 I have wonderful news to share, too.
Waiting for God: Trusting Daily in God's Plan and Pace was awarded second place in the Selah Awards, hosted by the Blue Ridge Mountains Christian Writers Conference, and placed as a finalist in the Cascade Awards, hosted by the Oregon Christian Writers Conference.
To God be the glory!
I enjoyed a wonderful time of fellowship with the sisters who joined me for Flourish: Thriving through the Wait.
I'm thanking God for every person who participated.
Special thanks to my fellow author and speaker Mabel Ninan, who facilitated the chat and organized the giveaways, and my wonderful sister in Christ, Amy, who took Callie for her morning walk so I could reserve my strength.
Congratulations to the recipients of the five exclusive giveaways I offered during the event: Becky Heartsfield, Kathryn Robinson, Tamara Glover, Dora Jean Benson, and Carmen Perez.
Some of you have asked how you can pray for me and how you can support me as I continue sharing God's truth and love to the ends of the earth.
I'll need your help spreading the word so I can keep spreading God's Word.
How can you serve alongside me?
PRAY and praise the Lord with me daily!
Subscribe to my blog (link on my home page) and my YouTube channel.
Connect with me on Instagram, Facebook, and Twitter (links on my home page).
If you enjoy a blog post, a graphic, a social media post, or a video, please share those links on your social media platforms.
When you share a post, tag me so I can give you a shout-out and interact with your family and friends in the comment section.
If you've read Waiting for God or Different Like Me, please write a short review on Amazon then share the link to purchase Waiting for God and/or Different Like Me.
If God encouraged you through any of my speaking events or writing workshops, please let me know so I can share your testimony/comments on my speaker page.
I'm looking forward to being rooted in God's Word as we grow closer to Him and each other over the next few weeks.
*