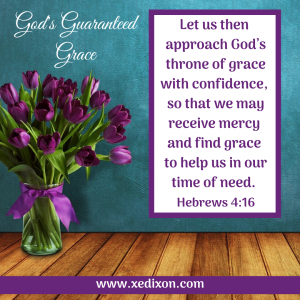 My heart ached as I recalled a friend saying, "I know my pain isn't as bad as yours, but would you please pray for me?"
I grieved when I remembered the various apologies and fear-filled prayer requests.
 I'm so sorry to bother you with this prayer request.
 I know others are worse off than I am, but do you think God will help me?
 Is it okay to ask God for help when so many others are hurting around me?
 Is my request too small, too personal, too self-centered to bring to God?
How many precious children of God fear or avoid asking for intercessory prayer because they feel their needs are not as important as someone else's?
How many beloved brothers and sisters in Christ keep quiet, ashamed of wanting to ask for their needs to be met because their neighbors' problems seem bigger, more severe?
God cares about every single detail of our lives.
Our compassionate Creator wants us to come to Him, whether we're suffering from illness, trudging through seasons of grief, or battling discouragement, fear, insecurities, or doubt.
How often have I been afraid to be accused of whining before God's throne of grace instead of being confident in God's amazing grace?
What would it take for me to be assured of God's limitless love, perfect faithfulness, and immeasurable mercy?
Would the Lord care if I'm weary when someone else is fighting for their lives?
Yes.
Would He care if I'm discouraged when someone's family is falling apart?
Yes.
Would God care if I need courage to work towards a dream when someone's struggling to make ends meet?
Yes.
The Lord doesn't minimize or neglect any of His children.
He doesn't compare us to one another, because He knows He created us as unique individuals.
He orchestrated every twist and turn, every mountain-top moment and every step through the dry and lush valleys.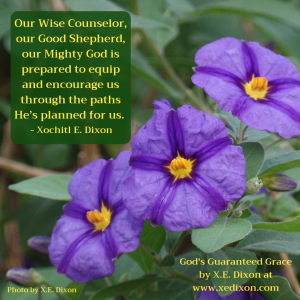 Our Wise Counselor, our Good Shepherd, our Mighty God is prepared to equip and encourage us through the paths He's planned for us.
He uses His unchanging Word to arm us with courageous and persevering faith.
"For the Word of God is alive and active. Sharper than any double-edged sword, it penetrates even to dividing soul and spirit, joints and marrow; it judges the thoughts and attitudes of the heart." (Hebrews 4:12)
God changes us as He challenges us when we walk with Him daily.
He purifies our hearts and minds and motives, aligning our thoughts and adjusting our longings until we mirror Him, by the power of His beautiful grace.
We can't trick our Father, pretending we're mature just because we're good at looking polished and presentable.
He knows when we're broken, when we can barely breathe.
"Nothing in all creation is hidden from God's sight. Everything is uncovered and laid bare before the eyes of Him to whom we must give account." (Hebrews 4:13)
He knows about our sins, our selfish thoughts, our self-centered jealousy.
He knows about our wants, even when we're afraid to admit them.
He knows about our struggles, even when we're drowning in denial.
He knows about our joys and our pains, our hopes, our dreams, and our greatest fears.
Because Jesus is the great High Priest, who has ascended into heaven, we can hold unswervingly–without fear, without hesitation, without a single doubt–to the hope we profess (v. 14).
Our mighty Lord understands everything we're going through, as He showers us with compassion and magnifies His loving perfection and limitless power in the midst of our weaknesses (v. 15).
With these truths anchoring our faith to His promises, we can trust Him, surrender to Him, walk with Him, and embrace the freedom of His forgiveness when we repent and turn away from our sins.
"Let us then approach God's throne of grace with confidence, so that we may receive mercy and find grace to help us in our time of need." (Hebrews 4:16)
When we need rescue, relief, or rest, God cares.
When we need encouragement, God cares.
When we need a miracle, God cares.
In our personal time of need, God cares enough to promise us that He's approachable and abundant in grace.
God's plentiful love for us gives us the confidence we need to come before Him with our needs, to pray for others and for ourselves as an act of worship and a brave display of our trust in our Savior.
—–
Thanks for assuring us that You are our Great Physician, our generous Provider, our gallant and good Shepherd, our Almighty King.
Thanks for never comparing our circumstances to the circumstances of others, Lord, for never minimizing our feelings, for never belittling us for struggling.
Thanks for reminding us that You care equally about every little detail of our day-to-day living and every overwhelming burden that weighs heavy on our minds.
Good Father, please give us courage to come to You for all things. Help us know You're not randomly picking or choosing one concern over another.
Empower us to trust Your timing and Your plans are perfect in every way.
Please help us rely on Your ability to love without limits, to extend immeasurable grace without running low, and to be fully present and caring with each of us without neglecting any of us.
 Thank You, Lord Almighty, for the privilege of loving You as we learn to accept the unconditional life-changing love You have for each of us.
In Jesus's name, Amen.
—–
Have you ever been hesitant to bring your prayers to God when you compare your requests with the requests of others?
How does knowing God never compares us with others increase your gratitude for His loving care, your courage in prayer, and your depth of faith?
—–