During our first full year in Wisconsin, Alan and I met wonderful people and missed the wonderful people we'd left on the West Coast. We celebrated great news and grieved great losses. We struggled with adjusting to the extreme winter temperatures and enjoyed watching my service dog, Callie, romping in the snow.
As my health declined, I struggled to finish writing, editing, and spreading the word about my first full-length devotional, Waiting for God: Trusting Daily in God's Plan and Pace. (Click here to find out what readers are saying about Waiting for God.)
Alan got tired of caregiving and I grew weary of struggling with pain management and fatigue. We stuck together and picked each other apart as frustrations continued to overwhelm us.
I praised God with steadfast faith and reacted with a complaining spirit when the days felt too-long and too-hard.
After one of my difficult days, Callie licked away my tears and snuggled next to me until we fell asleep.
Why was I so exhausted?
After much prayer, I realized I was in a spiritual drought.
Although I had been studying the Bible for my writing and speaking ministry, I wasn't communing with God when I read Scripture. Instead of listening for His voice, I worked to understand everything I read. I craved the structured and often lengthy quiet time I used to enjoy before our move and before my health declined, instead of enjoying His loving and powerful presence.
I knew I wasn't physically able to do the things I used to do, but became upset when what I could do didn't seem like enough.
As I wrote that sentence, I finally understood that God had been allowing me to embrace my weakness and rely on His strength.
He was helping me internalize the message He helped me share through Waiting for God!
My loving Lord reminded me that the struggle was a good thing . . . a necessary thing that helped me realize I needed to surrender to the slowness as I saturated my heart with God's Living Word.
Still, I missed God!
I enjoyed pouring into others each day and supporting people in prayer. God continued to deepen my faith as I watched Him working in and through the lives of others, and in and through my life as I practiced relying on Him one breath at a time. I still thanked God each time He encouraged me through notes from readers.
But I missed Him!
So, I made the commitment to read through the Bible in a year again.
I started using the Our Daily Bread Ministries Bible in a Year reading schedule on January 1, 2020. (You can find the Bible in a Year daily readings under the titles of the articles you receive when you subscribe to the Our Daily Bread encouragement devotions, which are available in multiple languages via email or print.)
I invited others to join me, too.
God is refreshing my spirit as I read portions of the Old and New Testaments for familiarity each day.
Sometimes, it's tempting to stop and dig deeper. But the Lord keeps reminding me that I need to remain in listening mode. I'll have plenty of opportunities for deeper study as He leads me through writing and speaking messages.
But for now, I'm savoring the pleasure and the privilege of sitting in His presence . . . opening my heart to hearing His voice.
I'm saying, "Here I am, Lord." And I'm waiting with a listening spirit . . . expectantly.
How do we avoid a spiritual drought?
We can surrender to the Holy Spirit, who Jesus refers to as Living Water in John 7:37-39, every moment of every day. He will be our strength, our peace, our hope, as He illuminates the meaning of Scripture and empowers us to live in courageous obedience and faith.
During my spiritual drought, I missed God. But I am so grateful He never gave up on me, never left me, and never stopped revealing Himself to me.
In many ways, 2019 was one of the toughest years in my faith-journey. But now, I can understand why the writer of Psalm 119 can sing with confidence: "It was good for me to be afflicted so that I might learn your decrees. The law from your mouth is more precious to me than thousands of pieces of silver and gold." (v. 71-72)
If you're interested in joining me as I read through the Bible in a Year using the Our Daily Bread Ministries reading schedule, please comment below.
I will be sharing what God is doing through this adventure on my blog.
I'm looking forward to hearing what the Lord is doing in and through your journey, too.
I'd also like to invite you to join me for another adventure.
To celebrate the new year, I decided to continue a tradition I've enjoyed since 2005.
I love buying Bibles and asking God who He wants me to bless with the gift of His Holy Word.
This year, Callie helped me choose a Bible and a pack of Bible tabs for the person God placed on my heart to receive the first Bible giveaway of 2020. I'm excited to say that she is reading through the Bible in a year with me. Hallelujah!
Would you prayerfully consider starting or continuing this tradition with me?
How many Bibles can we give away this year?
What would happen if we prayed for the recipients of these Bibles together?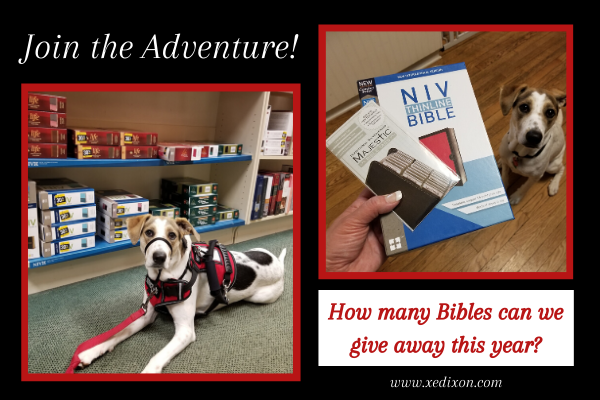 I look forward to hearing from you and growing closer to God with you this year.
Thanks for being a part of my blog family!
—–
If you haven't read Waiting for God: Trusting Daily in God's Plan and Pace, you can order copies on Amazon, at Barnes and Nobel, from Christian Book, and through Our Daily Bread Publishing.
Love your neighbors by ordering extra copies to share as gifts!
If you have read Waiting for God, I would appreciate it if you would write a short review on Amazon and the Our Daily Bread Publishing website.
Reviews make a difference in so many ways.
You can write a review by answering these questions:
What did I like about this book?
What did I not like about the book? (optional)
Would I recommend this book to others?
Thanks for your prayers, encouragement, and ongoing support, Blog Family! It is my pleasure and privilege to pray for you!
—–