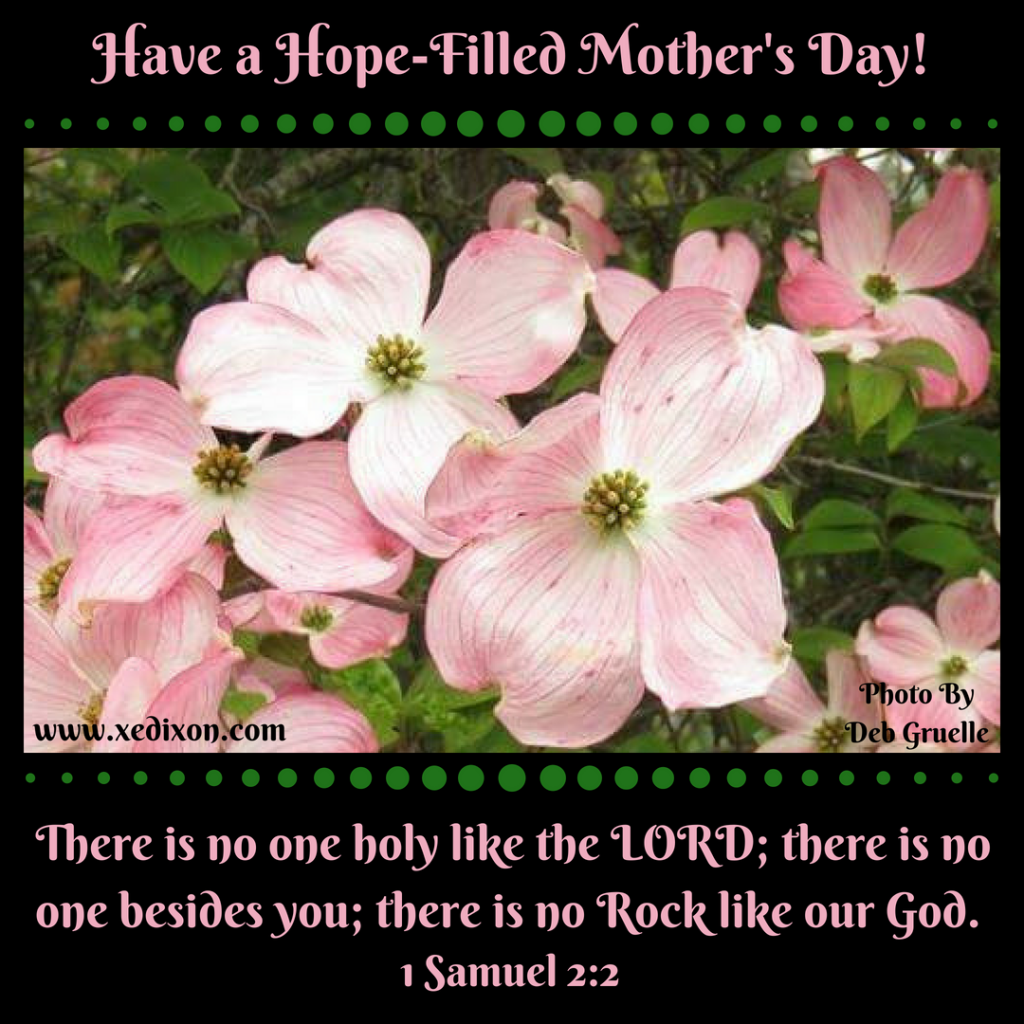 Suggested Reading: 1 Samuel 1-2
On Mother's Day, some of us will enjoy quality time with our mothers. Some won't have that privilege. Others won't even want to speak to their mothers.
People will be rejoicing over the wonderful relationships shared with their mothers, while others will grieve over broken bonds.
Moms will feel loved and appreciated.
Moms will feel neglected and rejected.
Some mothers will be elated and in love as they celebrate the children God has entrusted to them, whether biological, step, fostered, or adopted.
There will be mothers who willingly sacrifice for their children, while other moms leave their children to fend for themselves.
Happiness. Heartache. Gratitude. Grief.
Life doesn't just stop because a national holiday pops up on the calendar.
This year, I'm still missing my mother after her yearlong battle with Leukemia in 2014.
I'm at peace as I grieve and celebrate the child I never got to hold, as my wonderful husband and I prepare to announce the name we should have chosen when we lost our first child to miscarriage in 1995.
I'm praising God for blessing me with my loving, compassionate, hard-working son, Xavier, who is now almost twenty-two.
And I'm grateful for the ways the Lord is now restoring a relationship with my stepson, who is loving and kind to me . . . though he prefers not to have his name mentioned in my writing.
Happy and sad. Laughter and tears. Sobs of wailing and songs of worship.
Crying out to God. Relying on God. Praying and believing God is with us.
Even though Mother's Day won't be a happy day for everyone, it can be a hope-filled day for those who place their trust in the Lord.
Elkana's wife, Hannah, understood the desire to be a mother and the complexity of motherhood.
Her husband loved her, cared for her, and provided for her. But he couldn't heal he infertility (1 Samuel 1:1-5). Hannah was ostracized and endured great sorrow as she longed for a child (vv. 6-8).
"In her deep anguish Hannah prayed to the LORD, weeping bitterly." (1 Samuel 1:10)
She didn't mask her pain or approach the God's throne of grace with a superficial thankfulness or praise. She acknowledged her suffering. She begged and bartered with the One who she knew could help her. She showed no concern over those who would witness her display of desperation (vv. 11-12).
"Hannah was praying in her heart, and her lips were moving but her voice was not heard." (1 Samuel 1:13)
She poured out her soul to God and refused to pretend everything was "fine" (vv. 13-16).
After Eli, the priest, encouraged her, Hannah moved forward in faith . . . "her face no longer downcast." Her situation didn't flip overnight, but her attitude certainly did an about-face (vv. 17-20).
In God's perfect timing, Hanna was blessed with the baby she prayed for and loved, cared for and dedicated to the LORD. She cared for Samuel and never gave up on him (vv. 21-28).
If God's people would have celebrated Mother's Day back then, Hannah would have experienced joy and grief jumbled into a big lump of hope-filled heartache.
Motherhood includes a mesh of emotions and moments worth celebrating and mourning.
Hannah's prayer reminds me how much more appropriate it feels to wish people a hope-filled Mother's Day.
Though her scars of sorrow ran deep, Hannah sang: "There is no one holy like the LORD; there is no one besides you; there is no Rock like our God." (1 Samuel 2:2)
She prepared a gift for the son she would embrace and release, celebrate and grieve, visit and leave . . . year after year after year (1 Samuel 2:18-20).
With our eyes on the Lord and our hearts completely surrendered and secured by the surety of God's proven faithfulness, we can move forward in faith when life can't be explained by pat answers.
"The LORD brings death and makes alive; He brings down to the grave and raises up." (1 Samuel 2:6).
Motherhood, a beautiful yet complicated and priceless gift, wraps us in an array of feelings we never realized we could experience.
Thankfully, the Lord remains unchanging, sovereign in power and unlimited in love and grace.
God was enough for Hannah. God is enough for us.
When Mother's Day or any day doesn't feel very happy, we can rejoice in Christ's sacrificial love for us. We can rest in the peace of His constant and almighty presence.
We can thank the Lord, our Rock and our Redeemer, for empowering us to move forward in faith with hope-filled hearts today and every day.
Lord, thanks for loving us, for knowing our names, and for caring about our deepest needs. Please bless the women who are longing for children, mourning children, and trusting You with their wandering children. Please bless the women who are at peace with Your decision for them to be childless, for women who have adopted or fostered children, and for those of us who are doing the best we can to love the children You've entrusted to us. Please be our peace, our strength, and our joy, as we lean into Your endless grace and spread Your truth and love with hope-filled hearts today and every day. In Jesus's name, Amen.
—–
Please join me in sharing this post and praying for those who need to experience a Hope-Filled Mother's Day.
To God be the glory, the honor, and the praise!
—–