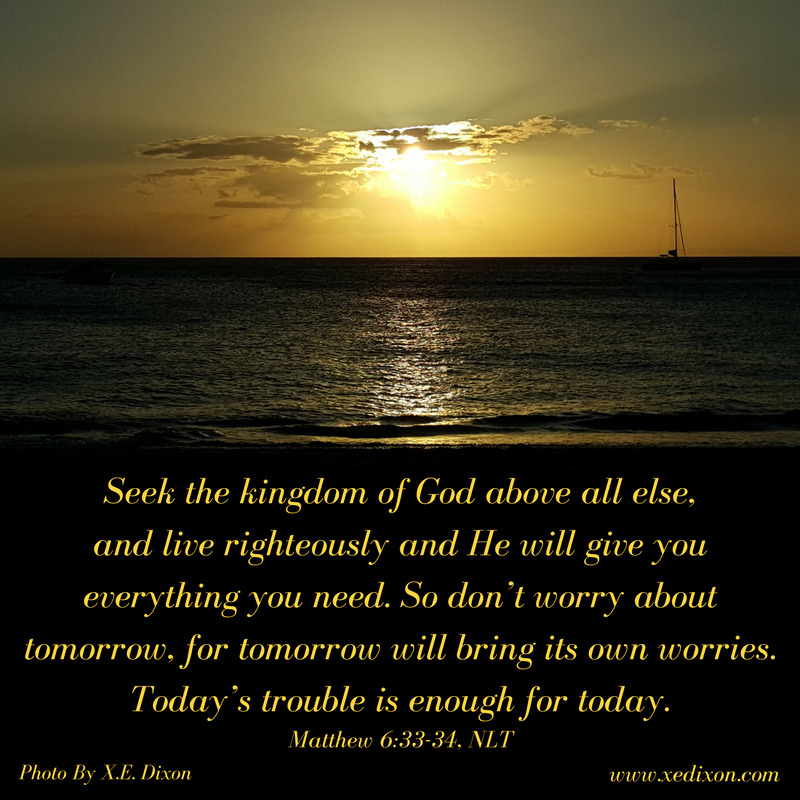 Over the years, people have asked for prayer and apologized as they admitted struggling with worry, which usually stems from doubt and fear. Scripture affirms we have no reason to feel guilty or be ashamed in our weak moments.
We're only in week two of the Our Daily Bread Bible in a Year reading schedule and we've watched quiet a few worry-warts processing their feelings and then persevering under God's care.
Eve worried the Lord was holding back on her, while Adam feared taking responsibility for his actions (Genesis 3).
Abram worried God wouldn't protect him if the Egyptians found his wife attractive (Genesis 12:10-20), and later, she doubted the Lord would keep His promises (Genesis 16:1-6).
The name changes didn't stop them from wrestling with worry. Abraham claimed Sarah was his sister . . . again . . . when he had a run-in with Abimelech (Genesis 20:1-3). Their son, Isaac, followed their fearful footsteps and lied about his wife being his sister when he settled in Gerar (Genesis 26:9-11).
The line of worriers didn't end there. Isaac's son, Jacob, feared he wouldn't have enough and deceived his father while stealing from his brother . . . with his mom's help (Genesis 27).
We could claim these folks straddled the line between faith and fear-based worry because they hadn't met Jesus face-to-face. But the disciples wrestled with a fair share of worrying, too.
They walked and talked with Him every day. Yet, Jesus still found it necessary to teach about the anxious, fearful worries that often stemmed from unbelief.
Why? Because our Lord and Savior knew we'd need assurance of His sovereign goodness and loving care.
Though Jesus warned about placing prosperity on the tippity-top of our priorities list (Matthew 6:19-26), His red-flag led to a comforting promise of His ongoing provision and protection.
When my husband lost his job a few years ago, these verses took on a whole new meaning. Sure, it's easier to proclaim our trust when we've got a safety net in a savings account and a steady income. But when we can't save ourselves, when we can't fix a situation, God is still able to do above and beyond all we can imagine. Hallelujah!
While God provides for our needs and affirms His power as Creator and Sustainer of all, He also assures us that life isn't centered around what we can consume or wear (v. 26).
He invites us to consider the futility of anxiety, the wastefulness of allowing worry to dominate our thoughts.
"Can all your worries add a single moment to your life?" (Matthew 6:27, NLT)
In my experience, the answer is nope-not-a-chance-and-in-your-dreams.
Obsessive worry can actually steal our peace, smother our joy, and even cause health and relational problems.
When we experience hard times, when situations work out in ways that seem unfair and sad in this world, worry has a way of sneaking up on us.
It's tempting to fret, especially when we or the people we love seem to be buried under the growing burden of financial strife, physical suffering, or emotional trials.
What about the homeless and those who suffer in other countries?
If we start listing all the things beyond our control, of course we'll be whacked over the head with worry.
Focusing on our endless limitations and inability to fix everything, may lead us to a form of idolatry when we shove God into the margins of our lives and become obsessed with excessive worry, anxious thoughts, and fear.
This is much different from being concerned and planning to be a good steward of our finances and health, as a responsible adult.
Don't worry! God knows we're weak and has planned accordingly.
He knows we'll worry, fear, doubt Him, and have anxious thoughts. But in our weakness, our loving Lord and Savior remains strong.
He invites us to seek Him first when we're in need (v. 33), living in this moment as we walk by faith and hear His voice assuring us, guiding us, and eventually washing our worries away.
When we come to the Lord honestly, He can bring us peace, even when we don't get relief.
Lord, thanks for the empowering us to trust You'll carry us through every moment in our lives, as we remember You ordained our days before one of them came to be. In Jesus's name, Amen.
"Seek the kingdom of God above all else, and live righteously and He will give you everything you need. So don't worry about tomorrow, for tomorrow will bring its own worries. Today's trouble is enough for today." (Matthew 6:33-34, NLT)
—–
To receive daily encouragement devotions from Our Daily Bread and join me in reading the Bible in a year, using ODB's reading schedule, please click here.
—–