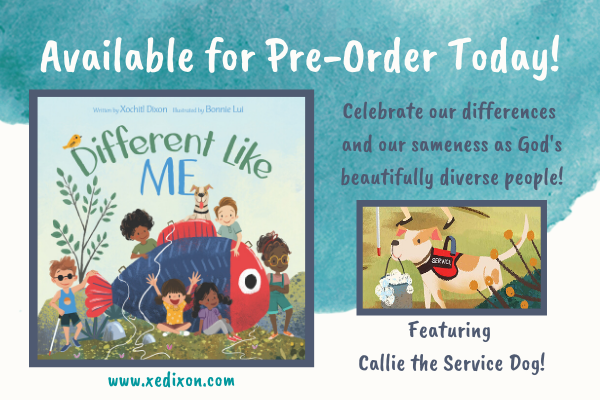 On August 4, 2020, Our Daily Bread Publishing will be releasing my first children's picture book.
Different Like Me celebrates our differences and our sameness as God's beautifully diverse and purposefully connected people.
I prayed for an illustrator who would create diverse characters, avoid stereotypes, and include special needs children as heroes not just sideline characters.
The talented Bonnie Lui did a fabulous job!
She even used photos of Callie to create the service dog in the book. Yep. That's Callie on the cover.
Recently, a friend asked me why I wrote Different Like Me.
My reasons for writing the book brought up some painful memories and a question that had caused deep resentment and contributed to my identity-crisis as a young adult.
What are you?
As a Mexican American with a light-but-not-white complexion, I struggled with poor self-image.
Even though our diverse extended family accepted and loved me without judgement, I never felt like I fit in or resembled the stereotypes some people had accepted as truth.
My parents had done everything they could to erase our culture at home, not intentionally or maliciously. They simply wanted their first-generation American children to assimilate into the dominant culture.
They never considered that some people in that dominant culture wouldn't accept me or that some in my own culture would call me a sell-out because I didn't meet their expectations.
It took me decades to understand my parents' predicament and their regrets for some of the decisions they'd made.
They had no idea that their choices would thrust me into an ongoing battle with feelings of worthlessness, self-hatred, and loneliness.
When I married Alan, we received full custody of his seven-year-old boy.
It didn't take us long to discover we didn't fit the stereotypes that came with being an interracial couple or a blended family.
Our growing family faced subtle and blatant racism daily in our predominately white world.
Instead of reciprocating with hate or bitterness, we chose to love and encouraged our sons to love all people.
After our youngest son got slapped in the face with a racial slur shouted directly at him when he was in kindergarten, I knew something had to change on a deeper and wider level.
As I prayed, the Lord revealed I was part of the problem.
I was not living out my desire to raise my children in a diverse environment.
Our family grew closer to God and each other in a church that was predominately white.
We had white friends and colleagues.
But the close friends and family we spent the most time with were predominately people of color.
I repented and made a conscious effort to nurture deeper and more authentic relationships with people from all backgrounds.
We still faced racism, subtle and blatant, even within the church and at our son's Christian school.
We still had to prepare our sons for life in America as black men.
And we still appreciated the gift of being a part of God's intentionally diverse family.
Standing on the firm foundation of the Bible ̶ the trustworthy and unchanging God-breathed words of Scripture ̶ I can now answer that question with a renewed confidence.
What are you?
I am a Child of God!

We are beloved children of God. Hallelujah!
The Lord knows, cares for, and remains with all of His beloved children (Psalm 139:1-12).
He intentionally designed each of us to be unique with a unified purpose (vv.13-14).
He remains reliable and intimately involved in the lives of all His children (vv. 15-18).
God affirms people are not our enemies (vv. 19-22).
And He accepts our invitation to reveal our sinful attitudes, our biases, and the ungodly expectations we place on ourselves and others as He helps us live for Him (vv. 23-24).
What are we?
We are beloved children of God!
When we struggle, stray, or slip into believing the enemy's lies about our worth and our purpose, when we don't fit in or feel like we belong, God reminds us we belong to Him.
I thank God for our differences and our sameness as God's beautifully diverse and purposefully connected people.
I'm grateful you are special and different like me.
Today, I want to celebrate you, and every other amazing person God created and uses to work together for His glory and our good, by giving away one copy of Different Like Me.
—–
How can you enter for your chance to receive the giveaway copy of Different Like Me?
Share something about yourself that God has helped you see as special, something that helps you serve Him and others in a way that is unique to you.
If you are a parent, I would love to know how you have intentionally equipped and encouraged your children to celebrate diversity?
I'll be announcing the recipient of this giveaway copy of Different Like Me on Wednesday, July 8, 2020.
—–
I cannot do anything without God or your ongoing prayers, encouragement, and support.
How can you help?
You can spread the word about Different Like Me.
You can love your neighbors and buy extra copies of Different Like Me to share as gifts.
You can donate copies of Different Like Me to your local schools, libraries, children's ministry leaders, or foster care organizations.
You can pre-order your copies of Different Like Me for only $9.99 each on Amazon today!
And if you enjoy reading Different Like Me, you can write a short Amazon review.
—–
To write an Amazon review, all you have to do is answer three questions?
1. What did you like about Different Like Me?
2. What didn't you like about Different Like Me? (optional)
3. Would you recommend Different Like Me to others?
—–
Thanks for joining me in this exciting ministry outreach as we celebrate our differences and our sameness as God's beautifully diverse and purposefully connected people.
—-
CONGRATULATIONS, Karen Foster! You have been selected to receive a signed copy of Different Like Me. I will email you with details. I am thankful for every one of you who showed courage by sharing your story.
—-