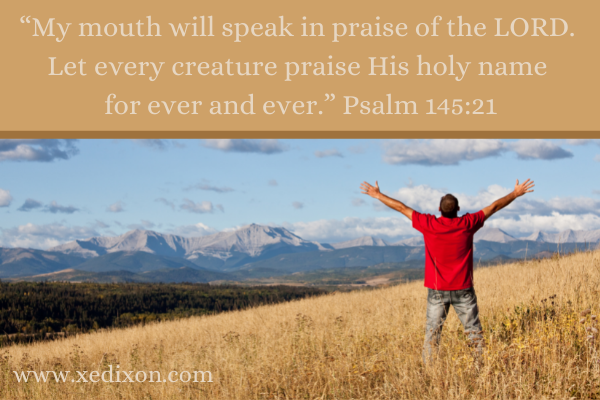 Suggested Reading: Psalm 145
"Why should I trust God when He doesn't seem to care about me?"
When my friend asked that question, I understood her struggle. I had asked the same question before. I had grappled with accepting the goodness of God when His actions or His inaction resulted in grief. I had cried out, "It's not fair." I had sobbed prayers filled with variations of disbelief: Why, God? Why not, God? When? How long? Do You hear me? Do You care?
My friend didn't need encouraging platitudes. She didn't even need answers or a plan of action.
She simply needed to know she wasn't alone.
So, I led her to one of the psalmists who understood the pain of waiting, the frustration of not knowing which way to turn, the discouragement of wondering how much longer the rough waters would last, and the heartache of dealing with the negative consequences of his own poor choices.
In Psalm 145, the psalmist David demonstrates the reasons we can trust God.
We can trust God because He is worthy of all our praise.
David begins Psalm 145 with an intimate prayer, speaking directly to the Lord. His first utterance is not a list of demands or complaints. He starts off praising God as King, declaring a commitment to praising the Lord "for ever and ever" (v. 1).
"Every day I will praise You and extol Your name for ever and ever" (v. 2). Extol, to worship, to praise, to lift up, and revere. And with his next breath, David exalts the Lord.
"Great is the LORD and most worthy of praise; His greatness no one can fathom" (v. 3).
We can trust God because He has a reputation of faithfulness.
David says God's generations will be talking about His mighty acts (v. 4).
He will not allow anyone to worship God alone. When they speak of "the glorious splendor" of His "majesty," he will "meditate" on God's "wonderful works (v. 5). When they "tell of the power" of His "awesome works," David will "proclaim" His "great deeds" (v. 6).
Together, they will "celebrate" God's "abundant goodness" and "joyfully sing" of His "righteousness" (v. 7).
We can trust God because He is gracious and good.
"The LORD is gracious and compassionate, slow to anger and rich in love. The LORD is good to all' He has compassion on all He has made" (v. 8-9).
David had experienced God's mercy time and again. He had been wrapped in God's loving patience, overwhelmed by God's forgiveness, and comforted by God's all-sufficient grace.
We can trust God because He is always working in the lives of ALL His children.
The testimonies of God's goodness and faithfulness in the lives of others penetrate our present struggles with an aroma of enduring hope.
So that "all people may know of [His] mighty acts and the glorious splendor of [His] kingdom" (vv. 10-12), His "everlasting kingdom" and sovereign reign that will endure "through all generations" (v. 13).
We can trust God because He is consistent.
David declares God is trustworthy in all [He] promises and faithful in all [He] does" (vv. 13-17).
God holds us up, lifts us up, and provides "at the proper time" (vv. 15-16).
He hears us and cares for us, even when we feel unheard and left to fend for ourselves.
We can trust God because He is intimate.
 David had been on the run, hiding from Saul and trying to deceive himself after falling prey to temptation through idleness.
He had wept bitterly, felt abandoned, grown weary, and seen his own wickedness destroy those he loved dearly. Still, God remained close and comforting.
"The LORD is near to all who call on [Him], to all who call on [Him] in truth" (v. 18). He knows our deepest needs and transforms our greatest desires to align with His heart as we draw nearer to Him each day.
We can trust God because He is just.
 Though God doesn't rescue us from the consequences of our deliberate sins, His compassion and forgiveness transforms our wounded hearts and even uses our past to draw others closer to Him.
David sings a final prayer and testimony that inspires others to praise the Lord.
"My mouth will speak in praise of the LORD. Let every creature praise His holy name for ever and ever" (v. 21).
Like David, we can trust God because He is . . . God.
Mighty and merciful Jesus, for remaining the same and being with us yesterday and today and forever.
 Please help us praise You, simply because You are God.
 Transform our minds and our hearts so that we will want to live in alignment with Your flawless Word. Empower us to love You and others with our words, our actions, and our attitudes.
 Thanks for blessing us with the privilege of praising You and proclaiming the goodness and faithfulness of Your mighty name.
 In Jesus' name, Amen.
*****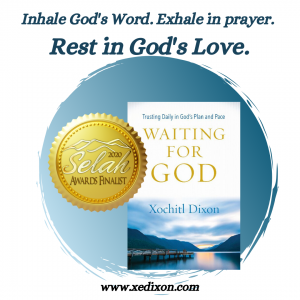 If you need a burst of enduring hope as you continue waiting for an answer to prayer, for a trial to pass, or for a door to open or slam shut, join me for 31 devotional readings filled with biblical truth and Scripture-based prayers that will empower you to trust daily in God's plan and pace.
Invite a friend and meet with me as we inhale God's Word, exhale prayers and praises, and rest in God's love through each chapter in Waiting for God: Trusting Daily in God's Plan and Pace.
If you've already read Waiting for God, please help me spread the word and reach more readers with God's truth and love by writing a short review on Amazon today.
Pause for Prayer with me by subscribing to my YouTube channel today.
I'm looking forward to growing with you!