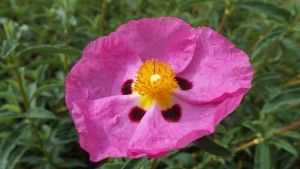 (Suggested Reading: John 1:35-51)
"'Nazareth! Can anything good come from there?' Nathanael asked. 'Come and see,' said Philip." (John 1:46, NIV)
Come. A command, a calling out, a beckoning requiring risk and commitment. An invitation to join, to commune with, to walk alongside the Lord.
See. A challenge to witness firsthand, to experience through intimate relationship.
Whatever the disciples saw when they first came and encountered Jesus must have impacted them deeply. They left everything behind to follow Him.
Andrew, Simon Peter's brother, heard John the Baptist's testimony and immediately went after the Lamb of God.
What happened when he stepped into Jesus' personal space? What did he hear? What did he see that made him so adamant about finding his brother and bringing him to Jesus, too? (John 1:40-42)
Andrew said, "We have found the Messiah (that is, the Christ)" (v. 41).
Without a doubt, he declared Jesus was the one they'd been waiting for.
But, like him, his brother would need to experience Jesus firsthand.
To believe with unshakable faith, one must bask in the Lord's presence, hear the Messiah's voice, and feel the power of His personal touch.
Still, something about Andrew's confidence caused Peter to want to come and see Jesus, too.
Another disciple, Philip, also saw something when he came to Jesus, something that made him drop everything, commit to following the Lord, find Nathanael, and announce that Jesus was "the one Moses wrote about in the Law, and about whom the prophets also wrote" (v. 45).
What did they see that made them believe with such conviction?
The prophet Isaiah wrote: "He had no beauty or majesty to attract us to him, nothing in his appearance that we should desire him." (Isaiah 53:2b)
Jesus had nothing that should have made the first disciples want to follow him. But, oh, they did follow him. And their confidence and excitement caused others to come and see the God-Man.
These disciples connected the dots between the Scriptures of old to the One toward whom the Scriptures pointed, though not all of these men believed immediately. When Nathanael approached Jesus, wariness picked at the corners of his response.
"'How do you know me?' Nathanael asked. Jesus answered, 'I saw you while you were still under the fig tree before Philip called you.'" (v. 48)
In that moment, the sovereign goodness and merciful imminence of the Lord collided.
I can just imagine Nathanael's expression of disbelief, amazement, maybe even fear.
But, the Lord's calm words in verse 51 make me smile. It's as if He's saying, "You ain't seen nothing yet!"
Jesus painted promise and hope as He claimed the coming fulfillment of the Scriptures.
This was news worth talking about! But who would believe them?
Mere words aren't enough when we testify about God.
Yes, our stories are a powerful witness. But nothing can replace a life transformed inviting others to come and see Jesus for themselves.
I made this error with my children.
I told them about Jesus. I shared evidence about how He changed my life. I read the Bible out loud with them. But I failed to invite them to come and see Jesus for themselves, to experience their own relationship with Christ, to make their faith personal.
I failed at this simple task many times with people I love. But in His mercy, God's taken my numerous failures and demonstrated His limitless power.
God knows it's His job to save people. He hasn't forgotten one name on our prayer lists.
He didn't give up on us. And He won't give up on those we're praying for.
But, will we give up?
Will we stop praying for the salvation of our family members, friends, coworkers, neighbors? Will we stop praying for the salvation of the clerks at the grocery store, the servers at our favorite restaurants, the community servants who risk their lives for us?
Or will we pray with fervor as we confidently invite people to come and see Jesus, to experience the security of His love, the freedom of His forgiveness, the joy of the abundant life He promises, and the peace of His constant presence?
The Lord has given us the privilege to pray through the power of the Holy Spirit, proclaim truth with gentleness and confidence, and share His love through authentic relationships with others.
God wants to draw near to those who don't yet know Him and those who want to know Him more.
He positions us to be His representatives in our little neck of the woods.
He wants to use our testimonies to glorify His name. But testifying can't be the end of our commitment to Christ.
We all need a personal encounter with Jesus because, no matter how amazing someone else's testimony is, God wants to work intimately in and through each and every one of our lives.
And we ain't seen nothing yet!
Hallelujah!
Lord, thank you for inviting us to come into Your personal space, for opening our eyes to see You, and softening our hearts so that we can receive You. Thanks for strengthening our faith so we can believe You and infusing us with wisdom and courage so we can share You with others. In Jesus name, Amen
—–
Please share the first name or initials of the people you're praying will receive Christ as their personal Lord and Savior, or someone you're praying will deepen their personal relationship with Jesus.
Let's unite with intercessory prayer and ask God to give us opportunity and courage to we invite them to come and join us as we see Jesus face to face in the gospel of John.
—–
Thanks for joining me for this week's installment of "Meeting Jesus Face-to-Face in the Gospel of John." If you don't know Jesus, yet, or if you want to know Him and trust Him more, I encourage you to join me next week for "Watching for Miracles," and ask God to meet us where we are and transform us from head to heart.
—–