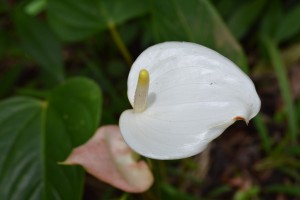 The words thudded onto the bottom of my deep well of disbelief.
I promise.
I give you my word.
Trust me.
How many times have people said those words, only to disappoint me, hurt me, or deliberately betray me?
The thought of trusting people made me flinch, so how could I learn to trust a God I couldn't see?
That pesky part of my human nature triggered a defense mode after I inventoried scars from a lifetime of let downs.
Just about every time I let my guard down, put my trust in someone, or opened my heart to hope, I got used and abused. When things were going well, I adopted the hurt-them-before-they-can-hurt-me mantra.
Some would explain my response as a natural reflex, as wisdom, as boundaries, or a survival skill. I call it a plain ol' case of fear.
Sure, wisdom is necessary when living in a fallen world.
Boundaries are healthy and holy tools.
Fear, on the other hand, imprisons God's people and creates a distorted view of faith that will never help us nurture relationships with God or others.
How can we stop fear from controlling us?
Scripture gives us a glimpse of how we can start living in freedom instead of fear.
In John 4:46-54, a man approached Jesus. He didn't seem to know the Lord personally.
He simply acted on a hunch that what people were saying about Jesus was true.
This "certain royal official" came to Jesus with nothing to offer but a raw and desperate belief that Jesus could help him, right where he was in the moment.
It wasn't his own life at stake, though. This man interceded in a face-to-face prayer on behalf of his son.
He begged Jesus to travel over twenty miles on foot and heal his son (v. 47).
Secured in the belief that Jesus was able, he opened himself up for ridicule and rejection.
Though short, this wasn't a drive-by-prayer or an over the shoulder afterthought on the way to the next place prayer. He wasn't praying while distracted by multitasking.
His son was dying.
His need had a deadline.
One curt request became an on-your-knees-Lord-please sob of a prayer. Maybe even a prostrate-before-God prayer.
I've been there.
Begging for a breakthrough. Pleading for peace. Crying out for relief. Clawing to the fading edge of hope.
Wanting. Waiting. Wondering if God heard the prayers whispered in the dark, if He realizes the depth of desperation.
Jesus' response doesn't really seem directed at the royal official. It's almost as if the Lord's looking this broken father in the eyes and clumping the bystanders into the conversation.
"Unless you people see miraculous signs and wonders," Jesus told him, "you will never believe." (v. 48)
The royal official appears to notice he might be losing the Lord's individual attention and offers a quick redirect.
"Uh, hello. Just in case you forgot about me, I'm the one with the dying kid. Would you, like, move a little quicker?" (interpretation totally mine)
He actually says, "Sir, come down before my child dies."
How many times have we watched God working wonders all around us, while seemingly ignoring the fact that we're held together with strings of cotton candy?
We compare our circumstances, our pain and our problems, against those of others, as if ranking importance of severity would get God's attention or make Him pick up the pace.
When we fuss and pout, demanding our need take priority on God's Must-Fix List, we risk missing out on the Lord's hints of promises He intends to keep.
In verse 48, Jesus announced He was about to do something epic.
The royal official, caught up in his own moment, missed the promise.
"Open your eyes, people. I'm about to give you one of those miraculous signs and wonders." (translation mine, verse 48)
Jesus says seven words to the fearful father in verse 50a: "You may go. Your son will live."
And the man goes.
Wait. What?
"The man took Jesus at his word and departed." (v. 50b)
Reading the rest of the story, we discover the sick child was healed the moment Jesus spoke those seven words in the "seventh hour" (v. 52).
The whole household must have buzzed with praise when the man filled each room with his side of the story: "Thank You, Lord." "I can't believe this just happened." "Did you hear what Jesus did?"
They believed and put their faith in God.
Some would assume the miraculous sign and wonder Jesus told them they were about to witness was the long-distance healing. But Scripture never says those who witnessed the man's pleading ever received an update on the child's condition.
What they did witness was the royal official's wondrous act of faith rewarded by unexplainable peace.
Jesus spoke.
The man believed.
The testimony welcomed more people to believe.
The royal official didn't rely on his status. He didn't question the Lord or hesitate before leaving. He didn't start on the road and flip a U-Turn so he could run back and clarify if Jesus meant what He said.
He didn't walk slowly, thinking about all the other promises that had been broken in his life.
This man didn't even stop to pick up a few self-help books, just in case the faith thing didn't work out.
He didn't race home with anxious thoughts, looking back and wondering if he'd heard Jesus correctly.
The man simply believed.
Totally.
Jesus, in a beautiful act of glorious grace, kept His word.
Completely.
Lord, thank You for affirming us that You are the Word, speaking truth in Your Word, and faithfully keeping Your Word. You are our unchanging, trustworthy, powerful, and merciful living God. Please help us live like we believe every word You ever say to us. In Jesus' name, Amen
In what situation is God asking you to take Him at His Word? What makes it hard to trust Him with this situation? What makes believing Him easier?
—–
If you don't know Jesus, yet, or if you want to know Him and trust Him more, I invite you to meet Jesus Face-to-Face in the Gospel of John. Join me next week for: "Do You Want to Get Well?"
—–