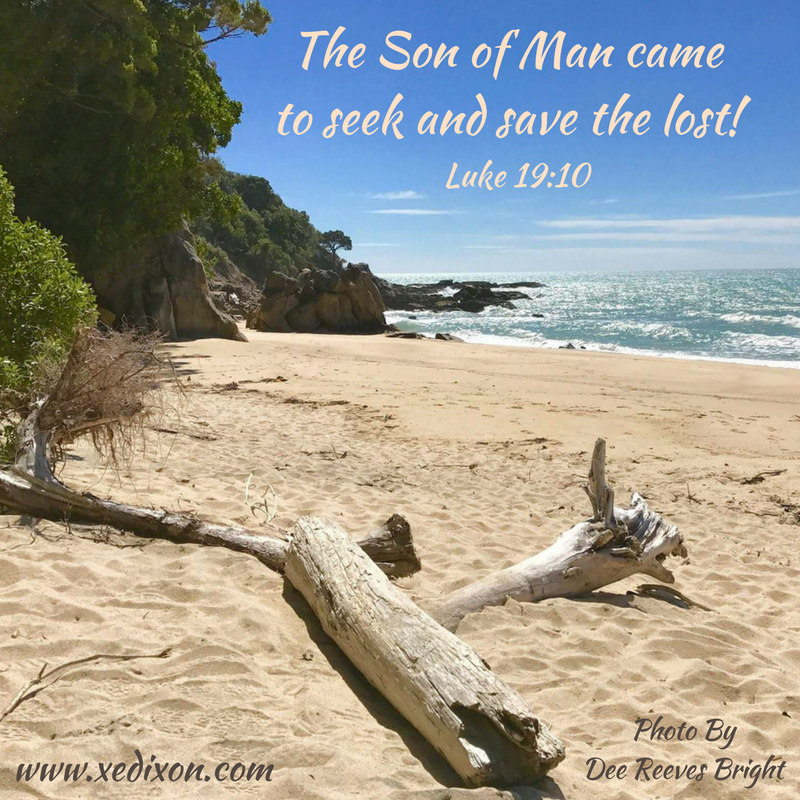 (Suggested Reading: Luke 19:1-10)
Seeped in sin. Sometimes oblivious. Sometimes . . . okay, most of the time, completely and intentionally rebellious.
I believed God existed, but I'd never had a personal encounter with the Person−God the Father, God the Son, and God the Holy Spirit−the loving and faithful One, the mighty and merciful One, the one and only True Triune God.
I'd grown up confused by wrong-thinking that led to seeing God as a punisher, a cruel judge who delighted in pouring His wrath on people. I couldn't imagine turning to God just to be judged, condemned, and shamed into changing my life.
How could I love God if He called me a . . . sinner?
I perched in that tree of confusion, looking at Jesus from a safe distance, never daring to get close and personal, until He whispered my name and invited me to spend time getting to know Him.
The more I study the Bible, the more I know about God's story, the more I submit to God's Holy Spirit, the more I spend time loving Jesus and being loved by Jesus, the more I discover the extent of God's incredible love for me.
I enjoyed sharing a part of my journey through blog series: "Meeting Jesus Face-to-Face in the Gospel of John."
Contrary to my past belief, Jesus didn't expect me to come to Him cleaned up and sin-free. He accepted me, drew me closer to His heart, and wrapped me in compassion and mercy, while I was still chained by my brokenness, my fears, and my sins.
Overwhelmed by Jesus's love for me, I fell in love with Him.
He didn't shame my sins away or make me feel like a total loser, like I'd expected.
Jesus showered me with grace, drew me so close I could hear His heart beating, and loved me.
He loved me and held on with gentleness and compassion, until I had the strength to lean toward Him.
Eventually, I wanted nothing more than to love Him, to please Him, to praise Him, to live for Him because of His love for me.
The more I lived for Him, the more I understood Jesus's declaration that loving Him leads to obeying Him (John 14:15-27).
Sobbing on a cold cement floor of my garage on December 14, 2001, I had my Zacchaeus Moment. But it's during my ongoing face-to-face encounters with Jesus that He helps me love Him more, receive His love more, and turn toward Him and away from my sins more and more each day.
What's a Zacchaeus Moment?
Scripture says Zacchaeus climbed a tree to get a glimpse of Jesus when He entered Jericho (Luke 19:1-4).
Short in stature, the chief tax collector scrambled up that tree because the crowd kept him from seeing the Lord (vv. 3-4). His status, his money, his heritage couldn't spare him from the badge of condemnation his community placed on his chest (v. 7).
Jesus could have passed the tree without glancing at Zacchaeus. The Lord could have rebuked him in front of the entire community, listing his sins, shaming, condemning, and demanding him to change.
Instead, Jesus called Zacchaeus by name and let the whole world know He wanted to spend time with the man He knew was a sinner (v. 5).
With a sense of urgency, his tone dripping with joy, gratitude, and even surprise, Zacchaeus "welcomed" Jesus into his home "gladly" (v. 6).
When his neighbors reminded him how unworthy he was (v. 7), Zacchaeus didn't wait for the Lord to rebuke them. He repented and offered restitution before Jesus even said a word (v. 8).
And when the Lord called him a son of Abraham (v. 9), how did Zacchaeus feel? How could he hold back the emotion after being acknowledged as a rightful member of God's family, because of who he belonged to, because of who loved him, not what he did or didn't do?
Jesus made it clear that Zacchaeus belonged for one reason: "For the Son of Man came to seek and to save what was lost" (v. 10), to save those lost in their sins . . . all of us.
Why should I love God when He calls me a sinner?
Because I am a sinner.
I am compared to God, who is holy, not anyone else.
I am a sinner in desperate need of rescuing, a sinner saved by God's grace.
Being a good person will never save me, because I can never be good enough. Only Jesus is perfect, only Jesus is good enough, only Jesus can save.
And that's why He came, why He died on the cross, why He rose, and why He whispers our names until we turn to Him and receive all that wondrous life-transforming love He offers us.
I lived the life of Zacchaeus, fending for myself, not caring who I hurt as long as I benefited, as long as I avoided pain.
But Jesus . . . oh, but Jesus . . . Jesus called me by name.
Jesus invited me to spend time with Him. He helped me accept His love and gently cracked my armor until I gladly welcomed Him into my home, my heart, my life.
Like Zacchaeus, I've had to repent and even offer restitution. But I've learned to enjoy the freedom of complete surrender to and total dependence on Christ, and shared a part of my story in "Accepting My Wings of Freedom."
But, the Lord helps me remember what He revealed and affirmed during my Zacchaeus moment:
The Father sent His Son to save all sinners, which means all people. When we choose to receive Jesus as our personal Lord and Savior, He blesses us with His Holy Spirit who dwells in all Christ followers.
He invites us to commune with Him through prayer and the study of His Word. He helps us to know Him and know His Word, the more we spend time with Him.
He helps us receive the fullness of His grace, as He empowers us to repent and turn away from our sins so we can live for Christ and share His life-transforming love with others . . . because we are all lost without Him.
Lord, thank You for loving us and wanting us to know You intimately. Thank You for reminding us that when we surrender our lives to You, we are sinners no longer enslaved by our sin because we are saved by Your grace and renewed by Your eternal and unconditional love. Please help us love You, live for You, and share You, every chance we get. In Jesus's name, Amen.
——
Photo taken by and used with permission from Dee Reeves Bright.
Meme created by Xochitl E. Dixon.
—–