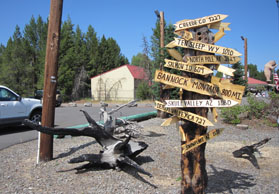 A Prayer for Direction
"This is what the LORD says?your Redeemer, the Holy One of Israel: "I am the LORD your God, who teaches you what is best for you, who directs you in the way you should go." Isaiah 48:17, NIV
Father God, we thank You and praise You for being the same yesterday, today, and forever.
Your faithfulness, goodness, and love strengthen us in times of uncertainty during our writing journey.
Direct our steps. Align our hearts with Yours. Drench us with Your grace as we bend to Your will.
Give us clarity and courage, showing us the next step You want us to take.
Bless us with sensitivity to Your nudging, refreshing our spirit like the spritz of an ocean breeze.
Help us trust You and follow wherever You lead, Abba.
We surrender each word we write to You.
In Jesus' name, Amen.
How has God blessed you with a U-Turn, dead-end, or a detour in your writing journey?
—–
Previously published at www.inspirewriters.com on March 4, 2012
—–