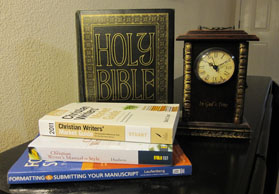 During the 2010 Writing for the Soul conference, I pitched the first draft of my Contemporary Teen novel. The agent gave me positive feedback on my writing and invited me to send her a complete proposal.
Elated, and still green regarding the business side of writing, I slapped together a cover letter and submitted a synopsis and the first three chapters of my manuscript. I waited for her to hand deliver my contract.
Instead of a contract, I received my SASE with a wonderful rejection letter.
She said she enjoyed my voice and thought my writing was strong, but she didn't think she could find a home for my project.
I shelved the manuscript and asked God what He wanted me to do next.
Keep learning.
I obeyed.
In 2011, I attended the Christian Writers Seminar and the Mount Hermon Christian Writers Conference. Later that year, God led me to Inspire Christian Writers.
I've learned so much about the craft and business of writing over the last two years. My amazing critique team challenged me to bring my writing to a higher level of quality. God refined the focus of the message He wanted me to share and brought me through some much needed pruning, both spiritually and as a writer.
I didn't pluck that old manuscript off my shelf until February 2012. After I reviewed my synopsis and read through the first three chapters, I praised the Lord.
Thank You, Father, for not allowing this manuscript to be published in 2010.
My manuscript has gone through the refining fire. Hallelujah!
As I prepare to pitch the revised book as a part of a series during this year's Mount Hermon conference, I'm grateful for the initial rejection in 2010.
God's divine intervention.
When I forget God's plan is perfect and I'm tempted to take rejection personally, it helps me to remember that agents and editors, just like writers, are accountable to God.
We are all responsible for using the gifts God gives us to produce a work that honors the One who sends us as His messengers.
We're on the same team.
Having a positive attitude over something as negative as a rejection is all about priorities and perspective.
My top priority must be pursuing God, not publication.
If I believe He loves me and has my steps ordained, I have to believe every detail of my life is sifted through His love and covered by His grace. That includes every rejection letter, as well as every letter of acceptance.
When my perspective is filtered through God's Holy Word and dependent on a personal relationship with the Lord, I can trust Him when He opens and closes doors.
It's my job to remain teachable, flexible, obedient, and totally dependent on God as I surrender to His will, sharpen my skills, and respond with thanksgiving to His divine intervention.
—–
How has the Lord helped you process rejection in your writing journey?
—–