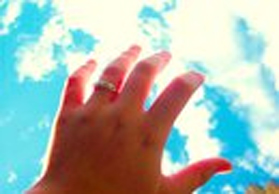 "You will keep in perfect peace him whose mind is steadfast, because he trusts you. Trust in the LORD forever, for the LORD, the LORD, is the Rock eternal." Isaiah 26:3-4
Thank You, Lord, for reminding us that You are the Rock eternal, solid, strong, and secure.
When darkness threatens to overtake us, bring Your wonderful works to our minds.
Help us rest on the firm foundation of Your perfect love, which is built on the trustworthiness of Your Truth and the reliability of Your character, not the shifting grounds of our circumstances.
Envelop us with Your light of hope and peace, the reward of a heart totally surrendered to You.
Though there are times when we will waver and wane, You, O Lord, remain mighty, faithful, good and always in control.
Keep our minds steadfast, braced on You, with each word we write. And in those times when the words won't come, give us courage to lean into the arms of Your unrelenting grace, and wait.
Stream through us, Father. We are Yours.
In Jesus' name, Amen
What verse from the Bible or characteristic of God helps you when you are weary?
—–
Also published at www.inspirewriters.com on February 12, 2012
—-