When circumstances feel overwhelming, we can count on God to keep His promises.
I'm thankful for the privilege of having three of my stories published in Inspire Promise.
In "The Promise," Logan struggles with the shame of his temptation and discovers he's not the only one who needs to hope in God's promises of forgiveness and redemption.
In "A Beautiful Mess," Melissa agrees to a dreaded visit with the pastor and an unlikely ally helps her realize God's promises of unconditional love and grace applies to her and her unborn child.
In "Emma's Dancing Socks," a mother is forced to admit that clinging to God's promises requires her to trust Him, even when she's not ready to let go of her greatest fear.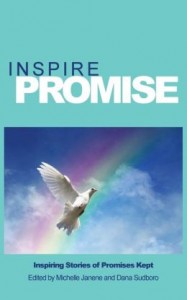 Please join me and my fellow Inspire Christian Writers as we celebrate the release of our 2014 anthology.
The Inspire Promise book signing event will be held on Saturday, December 13, 2014 from 11am-1pm at Oasis Christian Mission Center, 10255 Old Placerville Road, Suite #1, Sacramento, CA 95827.
Inspire Promise will make a great Christmas gift to encourage anyone who is trusting God to keep His promises in and through their own circumstances.
To read my stories, along with the other great stories written by my fellow Inspire Writers, you can buy your copy of Inspire Promise online at Barnes and Nobel or Amazon.
You may also enjoy reading Inspire Victory, the 2013 anthology that celebrates victories in Christ and includes my short stories, "The Apology" and "Never Alone," and my poem, "Amazing by Grace."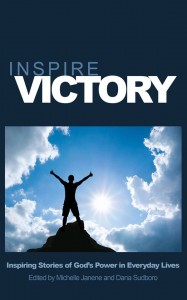 Inspire Victory will be sold at the book signing event on Saturday, December 13th, and is also available online at Barnes and Noble or Amazon.
Thanks for your continued support and encouragement as I share God's truth through the writing and speaking ministry He's placed on my heart.
Your prayers and fellowship as readers is priceless.
—–