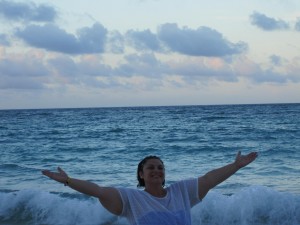 "For my thoughts are not your thoughts, neither are your ways my ways," declares the LORD. "As the heavens are higher than the earth, so are my ways higher than your ways and my thoughts than your thoughts." Isaiah 55:8-9, NIV
Almighty God, Creator of the heavens and the earth, we worship You.
You determine the boundaries for the land and the sea. You control each rolling wave and paint the skies with vibrant reflections of Your complete love for us.
Your mercies radiate through every sunrise.
"In the morning, O LORD, you hear my voice; in the morning I lay my requests before you and wait in expectation." (Psalm 5:3, NIV)
Nothing is hidden from You.
Nothing is impossible with You.
Nothing surprises You.
Help us reflect on Who You are as You reveal Yourself through the treasure of Your Word.
Through Abraham, You showed Yourself faithful.
Through Moses, You showed Yourself mighty.
Through Joshua, You showed Yourself sovereign.
Through David, You showed Yourself merciful.
And through us, You show Yourself still constant, unchanging, loving and always in control.
Remind us that writing is an expression of worship, a tool for ministry, a gift to be used for Your glory. Purify our motives, ignite our creativity, and help us trust You in our waiting seasons.
"For a thousand years in your sight are like a day that has just gone by, or like a watch in the night." (Psalm 90:4, NIV)
We acknowledge You, Lord. You are Who You are.
You will make our paths straight.
You are always right on time.
Hallelujah!
In Jesus' name, Amen
In what aspect or season of your writing journey has it been difficult to trust God? How did the Lord help you through that tough time?
—–
Previously Published on the Inspire  Christian Writers blog on April 22, 2012
—–