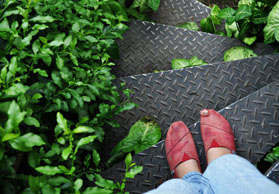 The writing ministry the Lord placed on my heart bloomed from my passion for seeking God's face and serving His people.
The Lord opened my eyes to the struggles of my sisters in Christ. He nudged me to write cards of encouragement to people He brought to my mind.
My favorite phrase became: "I have a card for you!"
Writing is a powerful tool for ministry.
I didn't wake up with the sudden realization that God wanted me to write a book. I didn't even start out wanting to be published.
All I knew was that the Lord had given me a gift of encouragement, a tender heart for His people, and the ability to form a complete sentence. He also blessed me with an active imagination and a love for revision. Twisted, but true.
Praying for guidance, I decided to trust God's path instead of trying to pave my own way.
The more I learned about the craft and the business of writing for publication, the more I understood that the process requires hard work and perseverance.
I determined to walk through any door God opened for me. With a desire to be obedient, I asked Him to make it clear if He wanted me to pursue publication.
His answer was, "No. I want you to pursue Me, do your part as I equip you, and trust My plan."
Submitting to the Lord was my first step as a believer who uses writing as a tool to communicate God's truth and encourage His people.
—–
How has God used your unpublished writing, or the unpublished writing of someone you know, to minister to the hearts of His beloved children?
—–
Photo by Lindsie West
—–