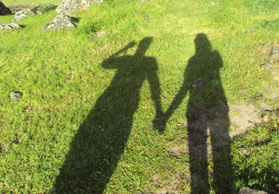 "Delight yourself in the LORD and he will give you the desires of your heart."
Psalm 37:4, NIV
Thank You, Lord, for inspiring our dreams and igniting our passion to honor You with every word we write.
Help us delight in Your goodness, rejoicing as we acknowledge Your sovereignty.
Help us delight in Your faithfulness, praising You for revealing Your love to us in times of tears and times of laughter.
Help us delight in Who You are, and what You've done for us, as we place every moment of our lives on the altar as an offering of our devotion.
Help us follow in courage as we worship in joy that does not depend on our circumstances.
Help us cling to You alone, knowing You will bring to fruition the beautiful plan You've written for our lives.
May knowing You intimately be the ultimate desire of our hearts, Abba.
Align our desires with Yours, Lord.
Please, do what You will, loving Shepherd.
And help us trust You.
In Jesus' name, Amen
—–
Portions of this prayer were previously published on the Inspire Christian Writer's blog  on April 1, 2012
—–