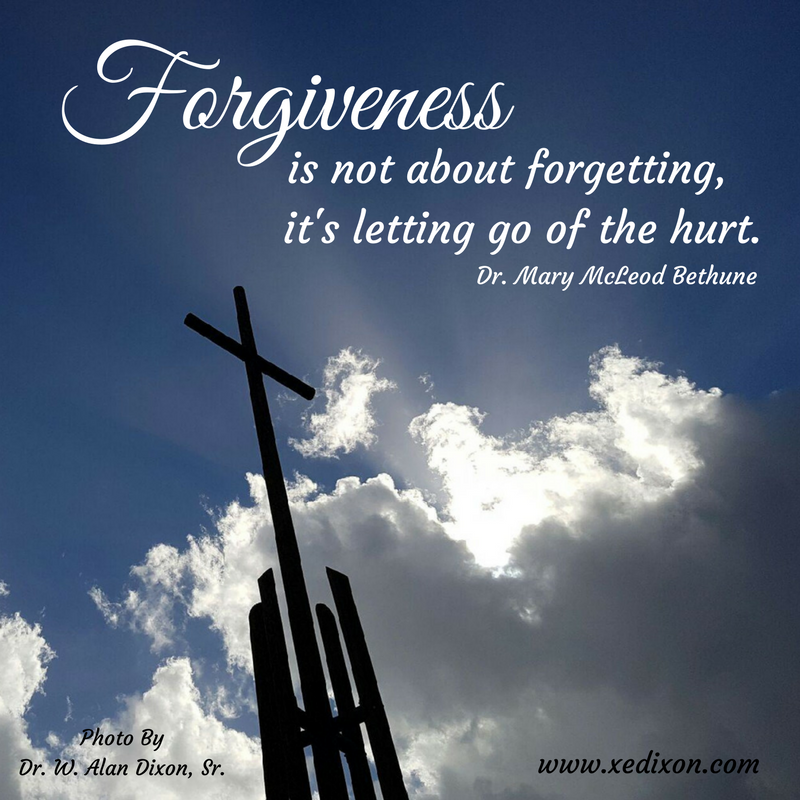 "Bear with each other and forgive whatever grievances you may have against one another. Forgive as the Lord forgave you." (Colossians 3:13, NIV)
When I started planning this series a few months ago, I'd been asking God to help me forgive a few people in my life who had not admitted their sins against me or repented.
I wanted to obey God. I wanted to forgive. Period.
So, I asked for a heart-check and began studying what God says about forgiveness.
In my B.J. (Before Jesus) days, I boasted being a master at casting blame on the people I'd hurt. If I hurt them, they must have done something to provoke me. Besides, what they did was way worse than what I did. Right?
After Jesus exposed my plank-in-eye syndrome, I saw how justifying, minimizing, and excusing my sin worsened the hurt I'd caused others and pushed me further away from them and from God.
I've always had a hard time letting go of the hurt when receiving surface-apologies. These poor attempts at repentance usually begin with a phrase like, "I'm sorry you feel hurt, but . . ."
It's painful when someone claims you caused their hurtful actions. It's like an abuser saying, "I'm sorry I hit you, but you made me do it."
Not only is that a lie, it's passive-aggressive manipulation.
It took me years to realize the victim mentality, common in one who has not processed or healed from past pain, often resembles an abuser's mentality.
My heart grieved when God began to help me recognize those destructive behaviors in others close to me, and even in myself.
Learning how to embrace the art of radical forgiveness required me to learn how to process my own pain in a healthy and holy way.
I used to slip on my victim-jersey, look for hints of offenses against me, and eagerly tell the world how I'd been wronged.
I named names and shared details with whoever would listen.
I disguised my gossip as prayer requests and enjoyed when people felt sorry for me or took my side. It felt good when people admired me for being so strong or so kind after being so wronged.
But in 2005, when I first read Total Forgiveness by R.T. Kendall, God used the following statement to convict me on how I processed my pain:
"If you must tell another person what happened‒because you can't contain the pain‒tell only one, and choose someone who won't repeat it." (p. 10)
By the time I re-read Total Forgiveness in 2009, God had carried me through plenty of tough ordeals that required me to put this skill into practice.
In one situation, mutual friends informed me someone was gossiping and slandering my name.
While I wanted to come to my defense, God stilled my tongue.
Oh, how I wanted to pray for vengeance like the psalmists who stood on the retribution principle.
But God made it clear I wasn't supposed to tell Him how to fix my offender, prove how wrong they were, or demand everyone be told the truth about what really happened.
Instead, often through sobs and a few layers of stubborn pride, I remembered how Jesus prayed for those who cheered as He was crucified.
I asked Him to help me forgive.
The Lord wants none to perish. If my desire is to be more Christ-like, I would want none to perish, too, wouldn't I?
Surely a trustworthy King would provide healing care, perfect justice, and fight on my behalf.
He did. He does. And He'll continue to do so.
Being committed to radical forgiveness is a lifetime process of learning . . . and failing.
With my identity more secured in Christ, I re-read Total Forgiveness in 2014 after being hurt deeply by someone close to me. I praised God that I no longer felt the immediate need to play the victim and demand justice when I'd been hurt.
He helped me process my pain through personal prayer and Bible study. I shared minimal details with a couple of prayer partners who promised not to judge, who desired reconciliation and prayed for restoration, and who weren't afraid to tell me when I was in the wrong.
By God's grace, that relationship is now stronger than ever! Hallelujah!
I don't always handle situations perfectly, but I've finally accepted I'm not defined by my sin or controlled by the sins of others.
Being rooted in my relationship with God makes forgiving a demonstration of my confidence in His trustworthiness and loving care.
In Matthew 18:21-35, the apostle Peter asked Jesus how many times he should forgive someone who has sinned against him. Jesus's answer is interpreted as perfect forgiveness, ongoing and complete, just like Christ has forgiven us.
Jesus shared the story of a servant begging for mercy when confronted with his insurmountable debt to the king (vv.23-26). Once forgiven, that servant went out and found another servant who owed him, demanded payment, and refused to extend the mercy he'd received from the king (vv. 27-30).
In referring to how the king responded to the unforgiving servant (vv. 31-34), Jesus said: "This is how my heavenly Father will treat each of you unless you forgive your brother or sister from your heart." (v. 35)
As Dr. Mary McLeod Bethune so eloquently said, "Forgiveness is not about forgetting, it's letting go of the hurt."
When we're committed to living in radical forgiveness, God helps us realize our sin is no better or no worse than the sins of others.
He'll help us trust Him to protect our reputations and heal our wounds, even when the scars run deep.
God will handle every offense and offender justly.
So, we don't need to tell everyone how someone wounded us. We don't need to prove we're right and someone else is wrong. And we don't need others to admit their transgressions before we forgive them.
When we submit to God and truly believe His grace is sufficient and His love unconditional, we can be freed by forgiveness, expecting and extending mercy . . . unlike that wicked servant.
Radical forgiveness is simply loving obedience to God.
Forgiveness is not forgetting, minimizing, justifying, or accepting sin.
Forgiveness never requires us to pretend we weren't hurt or to allow the offender into our personal space to hurt us more.
On the contrary, forgiveness demands an honest look at the situation as we trust God to work.
It's important to remember that we don't always play a part in the sinfulness.
Yet, even when we truly are innocent victims, we can forgive because we trust God's sovereign goodness and love will prevail as we're all brought to account before His throne.
I'll share more on how God is helping me accept this hard truth next week.
Until then, we can admit embracing radical forgiveness is hard and sometimes feels impossible.
But we can also expect God's help.
Why?
Because forgiveness isn't a preference or a choice.
God gives us a mandate, not an option, to forgive as we've been forgiven . . . because He equips His followers to be freed by submission to His authority and empowered by His Spirit to live in courageous obedience and faith.
Lord, thank You for loving us, forgiving us, and empowering us to forgive. Please help us process our hurts in ways that honor You. Help us recognize our sins and repent without excusing or blaming others for our sinful behaviors. Please prepare our hearts as we continue to dig into Your Word and discover what forgiveness is and isn't. In Jesus's name, Amen.
—–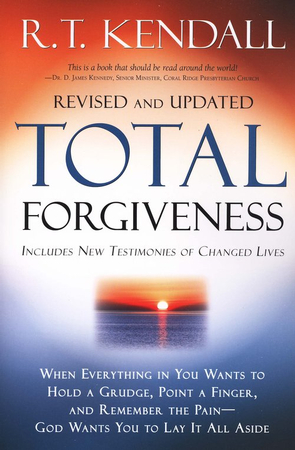 Photo taken by and used with permission from Dr. W. A. Dixon, Sr., my amazing husband and best friend.
Meme created by X.E. Dixon.
—–
You can join me in reading Total Forgiveness by R.T. Kendall, as we continue this journey toward experiencing the freedom of radical forgiveness.
—–