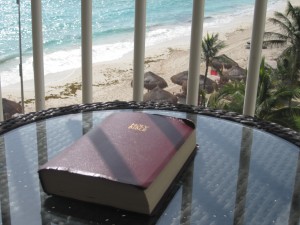 "How great is Your goodness, which You have stored up to those who fear You, which You have wrought for those who take refuge in You, before the sons of men!" (Psalm 31:19, NASB )
God's goodness is stored up, continually on hand, built up as a testimony of who He is, who He was, and who He will always be!
The more we know about God, the more we fear Him.
I'm not talking about the trembling fear of a cruel dictator, but the revering respect of an Almighty, loving Creator, who gives abundantly more than what we can hope for or deserve.
His goodness is great, immeasurable, unfathomable. Goodness which He has "wrought," worked out, accomplished, "for those who take refuge" in Him.
Yes, there will be troubles, hardships, and moments that have us teetering on the edge of hopelessness.
Yes, there will be seasons in which our patience feels depleted, our strength wanes, and our courage appears to have been blocked by the dark clouds of our circumstances.
But, praise the Lord, beautiful woman of God!
In the midst of our moments of weakness, our Savior offers us His strong embrace.
The love of Christ abounds for those who accept His greatness isn't minimized by our weakness.
God is our refuge! "Be strong and let your heart take courage, all you who hope in the LORD." (Psalm 31:24, NASB)
Lord, please keep our thoughts saturated with the truth that reveals Your unchanging and continual goodness, which breaks through our darkest hours. In Jesus name, amen
—–
Photo taken in Cancun (2012) by X. E. Dixon
—–