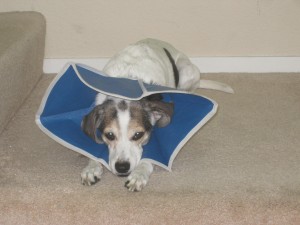 Every month I squirt a small tube of Revolution between Jazzy's neck and shoulder blades. The medicine protects her from fleas, ticks, and heartworms. The liquid has a distinct smell that Jazzy does not like.
The second I pull the plastic tube out of the foil wrapper, my picky pooch twists her ears back, tucks her tail between her legs, and slinks away. When I call her, she lowers her head and inches her way toward her doom.
Experience has taught me that Jazzy will roll on her back and rub the expensive medicine into my carpet as soon as I finish applying the liquid. So, after I've squirted the last drop onto her exposed line of skin, I immediately comb her fur over the wet spot and slip a cloth cone around her neck.
We've nicknamed the dreaded accessory "The Cone of Shame" because our usually perky pup mopes the entire time she's wearing the protective gear.
I always stay close to make sure she doesn't try to paw the cone off. So, I get the full show of doggie dramatic despair.
Her brown eyebrows lift and lower as she watches me with woeful eyes, periodically huffing air through her nose.
"Really, Jazzy? I'm right here. Just be patient. You're all right."
My words do not console her.
After the liquid dries, I call her name.
She looks my way but doesn't budge.
"Are you ready to take that cone off?"
Her ears perk as she bounds toward me, tail swooshing.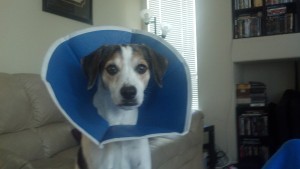 Ready? It's about time! I've been wearing this thing forever!
As soon as I untie the cone and slip it off her head, Jazzy flops on her back. She grunts as she tries to rub off the evidence of her painful experience. But it's too late.
As her loving master, I know how long it takes to soak up the medicine that's intended to keep her safe.
I toss her a small treat and shake my head.
When will she realize I know her needs?
When will she believe she can trust me to do what's best for her?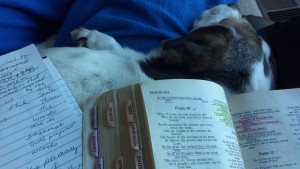 When will her master's presence and words of assurance be enough to bring her comfort when hard times seem endless?
Oh, how much I have in common with my pooch!
In Isaiah 30:20, the prophet writes:
"Though the LORD gave you adversity for food and suffering for drink, he will still be with you to teach you. You will see your teacher with your own eyes."
My first response to this verse was, I do not want to be invited to that dinner party!
Then, I took a closer look and discovered the overflowing hope and assurance.
Suffering and affliction on this side of eternity is inevitable. But, in the midst of our suffering and affliction, God is with us, teaching us, and revealing Himself to us.
Our Master may not give us the relief we desire, but He will never leave us. And we can be sure our pain has a purpose. He never wastes our experiences, good or bad.
When we feel trapped in affliction or suffering, we can mope, like Jazzy, or choose to praise the Lord and rest secure in His constant presence.
While we trust God's all-knowing goodness and perfect timing, we can armor up with His Word. The Holy Spirit uses the truth in the Bible to strengthen and comfort us when hard times seem endless.
After all, moping doesn't make me take off Jazzy's cone any sooner. So, why should we expect God to move faster when we don't like our circumstances?
Thank You, Lord, for never leaving us. Thanks for offering us a new perspective in regards to suffering and affliction. To You be the glory! In Jesus' name, amen.
What can we do to help us remember God's presence when we're in the middle of the season of longsuffering or affliction?
—–