The Bible tells us we are separated from God by our sin and the wages of sin is death. But, God loves us so much He sent His one and only Son to pay the debt for our sin, reconciling us with Himself through the blood of Christ.
Jesus was fully God and fully Man, God incarnate, Emmanuel (God with us). He died on the cross for our sins and rose from the dead three days later, showing Himself to His disciples and promising them the gift of the Holy Spirit, before ascending to heaven to prepare a place for us.
If we acknowledge that Jesus is God, proclaiming Him with our mouth and believing in our hearts, asking Him to be the Lord of our lives, we are saved! Once we accept Christ as our Lord and Savior, we receive the gift of the Holy Spirit and nothing can take our Salvation away.
Through the process of sanctification, the Lord will help us become more like Jesus even though we live in a world at war with God. We'll make mistakes and go through tough times, but He will help us turn away from our sin and live holy lives.
God's love and forgiveness is unconditional. His mercy and grace is unfathomable. And He promises that He will never leave us, nor forsake us!
We were not meant to go through this life alone. Not only does God give us the gift of the Holy Spirit, Who dwells within us when we receive Jesus as our Savior, we are also given the opportunity to live in community with other believers.
God blesses us with the beautifully diverse and interdependent church to help us grow. We need fellow believers to encourage us, pray for us, and walk with us as we follow Christ and learn to live for Him, in all circumstances.
We can continue to grow closer to God until the day He calls us home to live with Him forever in eternity. Through the study of His Word, communication with Him through prayer, and full-surrender to the power of the Holy Spirit, He refines our character and changes us day by day, so we can be more like Jesus.
It doesn't matter where we've been or what we've done, God's grace is enough! His love is life-changing, transforming, and free! He will heal us, strengthen us, and use us, our experiences, and our gifts to help others for His glory.
When we realize how much God loves us, we can accept the privilege of living for Him and the gift of loving Him with all our heart, souls and minds. Knowing Him helps us love Him, our neighbors, and ourselves, so that we are not deceived or discouraged by the lies of the world.
Realizing our value is in Christ, our gratefulness overflows. Love motivates us to share the Good News with everyone God puts on our path, until the day He calls us home or when He comes again. And, the Good News is that Jesus will come again.
I pray you receive His healing grace and see how amazing you are because you belong to Him.
—–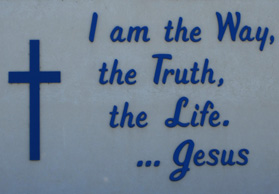 Seven Truths that Make Up the Good News for You and Me!
1. God loves you, more than you will ever know, and wants you to spend eternity with Him!
"For God so loved the world that He gave His only Son, so that everyone who believes in Him will not perish but have eternal life. God did not send His Son into the world to condemn it, but to save it." John 3:16-17(NLT)
2. Jesus understands, and cares about, what you are going through. We can trust Him!
"That is why we have a great High Priest who has gone to heaven, Jesus the Son of God. Let us cling to Him and never stop trusting Him. This High Priest of ours understands our weaknesses, for He faced all the same temptations we do, yet He did not sin. So let us come boldly to the throne of our gracious God. There we will receive His mercy, and we will find grace to help us when we need it." Hebrews 4:14-16 (NLT)
3. No one is perfect. That's why we have a perfect Savior!
"We are made right in God's sight when we trust in Jesus Christ to take away our sins. And we all can be saved in this same way, no matter who we are or what we have done. For all have sinned; all fall short of God's glorious standard. Yet now God in His gracious kindness declares us not guilty. He has done this through Christ Jesus, who has freed us by taking away our sins." Romans 3:22-24 (NLT)
4. We can leave the past behind us, turning away from our sins, and live a full life, forgiven and FREE!
"Therefore, if anyone is in Christ, he is a new creation; the old has gone, the new has come!" 2 Corinthians 5:17 (NIV)
5. We can't earn Salvation, or lose it! God has a plan and you have a purpose in His plan!
"God saved you by His special favor when you believed. And you can't take credit for this; it is a gift from God. Salvation is not a reward for the good things we have done, so none of us can boast about it. For we are God's masterpiece. He has created us anew in Christ Jesus, so that we can do the good things He planned for us long ago." Ephesians 2:8-10 (NLT)
6. Salvation is available to all who are ready to repent and receive God's free gift of eternal life! If you are ready to welcome Jesus into your life and experience His life-changing, unconditional love and forgiveness, you can say this prayer with me, right now!
Jesus, thank You for coming to the world, fully man and fully God. Thank You for dying on the cross for my sins and for rising three days later. I know the wages of sin is death and You paid my debt in full, so I could have eternal life with You in heaven.
I want You to be the Lord of my life, making me more like You every day.
I believe, and I know I need You to help me believe as I learn to walk in obedience and faith, growing in the knowledge of Your Word, until You come again.
Help me to be completely dependent on You and totally surrendered to You, in every aspect of my life.
Please forgive me for my sins and help me to live for You all the days of my life, loving You and accepting Your perfect love for me.
In Jesus' Name, AMEN
"That if you confess with your mouth, "Jesus is Lord," and believe in your heart that God raised Him from the dead, you will be saved. For it is with your heart that you believe and are justified, and it is with your mouth that you confess and are saved." Romans 10:9-10 (NIV)
7. Everyone matters and is welcomed into God's Family!
We weren't designed to walk through life's amazing journey by ourselves. God blessed us with the beautifully diverse and interdependent church so we could learn more about Him as we put our faith into practice and live for Him.
"From him the whole body, joined and held together by every supporting ligament, grows and builds itself up in love, as each part does its work." Ephesians 4:16 (NIV)
I encourage you to share your decision to follow Christ with a Pastor, or Christian friend, who can help you learn more about how to grow in your personal relationship with Jesus. I suggest you start by reading the book of John in the New International Version or the New Living Translation. That's where I first got to know Jesus, face to face!
It's a blessing and a privilege to seek God through the treasure of His Holy Word and to submit to the life-transforming work of the Holy Spirit, one moment at a time, until the day He calls us Home or the glorious day Jesus returns.
"For you are a chosen people, a royal priesthood, a holy nation, a people belonging to God, that you may declare the praises of Him who called you out of darkness into His wonderful light." 1 Peter 2:9 (NIV)
If you committed, or re-committed, your life to Christ today, I'd love to celebrate with you! You can contact me at Xochi@xedixon.com.
—–