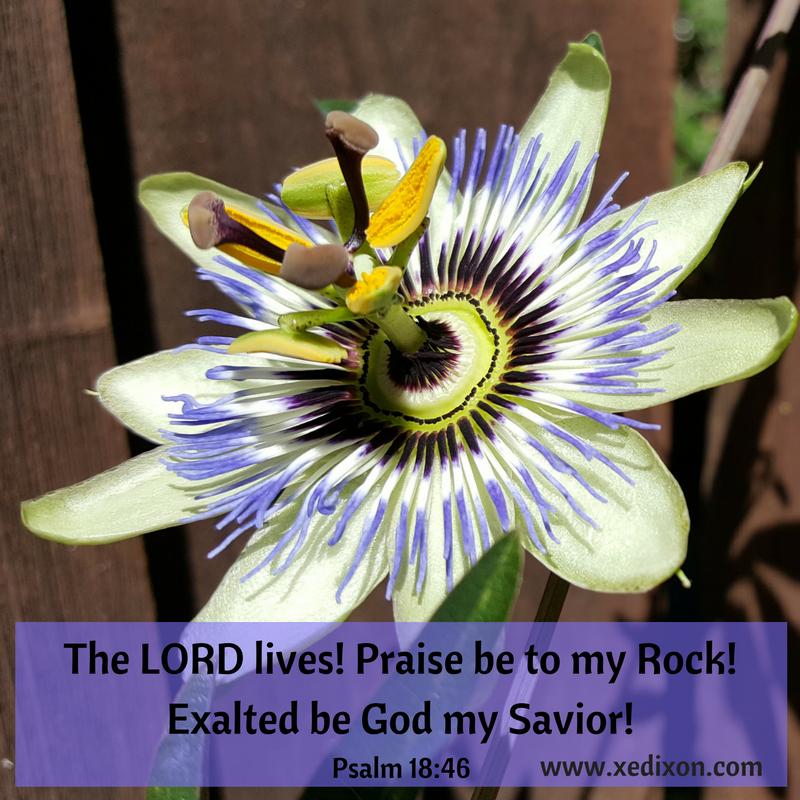 It's easy to say, "Praise the Lord!"
We can toss these words out in response to something good happening, without even considering the meaning of the phrase. With these three syllables strung together, we can express relief, gratitude, and joy. Yet, we can totally miss the magnitude of the meaning this phrase holds.
The psalter bursts with shouts of praise unto the Almighty God.
As a psalmist, King David exalts the Lord with an unparalleled quickness, consistency, and sincerity.
Eavesdropping on his prayer time reveals a depth of faith built solely on his intimate connection with the one and only eternal Rock−Creator, Sustainer, and King of Kings.
After being delivered from his enemies, David begins his song with a proclamation of total devotion.
"I love you, O LORD, my strength." (Psalm 18:1, NIV)
The king declares his adoration and affirms God is his strength, not just the distant provider of power. The Lord is the fortified foundation on which David stands. The king holds his head up with confidence in God's promise of deliverance, safety, and protection.
This king, who others look to for guidance and protection, declares his dependence on God with exuberance:  
"The LORD is my rock, my fortress, and my deliverer; my God is my rock, in whom I take refuge. He is my shield and the horn of my salvation, my stronghold." (v. 2)
Never spared from adversity, David experienced desperation, depression, discouragement, and doubt.
Still, his confidence in God paints his perspective with expectation. He pours his heart out to his Creator then testifies to anyone within earshot.
"You, O LORD, keep my light burning; my God turns my darkness into light." (v. 28)
Though David accepts dark times as inevitable, the Lord Himself becomes his beacon of hope during those times of suffering and affliction. Assurance of God's faithfulness in character and the unchanging power of His Word evoke David's praise and obedience.
"As for God, his way is perfect; the word of the LORD is flawless. He is a shield for all who take refuge in him." (v. 30)
The psalmist chooses to trust in the living God who intercedes intimately in the lives of those who place their trust in Him, while maintaining His transcendence.
He cries out, "The LORD lives! Praise be to my Rock! Exalted be God my Savior!" (v. 46)
We can skim by this verse and miss savoring the power of the king's proclamation.
David experiences a personal closeness with the Lord, the living God and Savior who was and is and always will be above all and near all.
This closeness is available to every person who calls God.
When we're hurting, our Heavenly Father feels our pain. When we're anxious, He invites us to place our burdens in His capable hands. When we're desperate or blinded by fear, insecurity, depression, or doubt, the one and only Living God intercedes with matchless power and lovingkindness.
Let us honor, admire, commend, and worship, yes, let us praise the Lord.
He lives. He saves. He is God.
Let us place our tender hearts into the hands of the One who is and always will be worthy to be trusted, exalted, and obeyed.
Like David, let us be quick, consistent, and sincere when we sing with grateful hearts:
Praise the Lord! Praise the Lord! Praise the Lord!
Almighty God, than You for empowering us to recognize Your voice, which always aligns with the living and active words You've given us through Scripture. Please help us cleave to Your promises with hearts that remember You are eternal and unchanging.
May gratitude and joy burst forth in contagious praise, whenever we think about all You are and all You do.
Please never let us forget the reasons David praised You, or the reasons You are worthy of all our praise in the midst of all our circumstances. You are and always will be our living God, our fortress, our refuge, our Savior. Hallelujah!
In Jesus' name, Amen
—–
Photo taken by and meme created by Xochitl E. Dixon.
—–