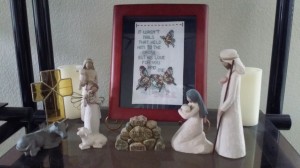 With grief still fresh in my heart after losing my mom in October, there are moments when Christmas feels anything but merry.
During times like these, I usually turn toward Jesus and find comfort in Who He is, what He's done, and what He promises.
But this year, as I pray for those grieving around me and process the roller coaster of emotions that accompany my own grief, I noticed the other people involved in the events surrounding Jesus' birth in Luke 2:1-20.
When God came in the flesh, people were going through life unaware of their desperate need for a Savior. Business had to be handled. Rules had to be followed (1-3).
Joseph was a righteous man. He didn't hesitate to do the right thing, even though travel with his new wife was sure to be difficult.
Though his circumstances were overwhelming and uncomfortable, he chose to be obedient to God (4).
Mary surrendered to the Lord (5). The details surrounding her pregnancy and marriage weighed heavy on this young girl's heart. Her suffering drew her closer to God, made her more dependent on God, ignited her passion to praise God.
On the other side of the spectrum, the innkeeper didn't even make room for the Lord (6-7). Would it have been too hard to let compassion clear space in his heart for a family who looked like they had nothing good to offer?
Meanwhile, a group of shepherds were going through the motions in a dark field (8). They freaked out when the angel of the Lord appeared to them (9).
Still, the Good News was proclaimed (10-12). The angels praised God with contagious joy (13-14), piercing the darkness with the hope of salvation, the promise of eternal life, an assurance of peace on earth and power made perfect in our weakness.
The shepherds didn't just hear the truth, they received the Truth, and responded to Him with urgency (15). They sacrificed their agendas to see Jesus (16). They weren't worried about the list of things that still needed to be done. They didn't make excuses about why they couldn't stop to spend time in the presence of the Lord.
Transformed by their personal encounter with Jesus, the shepherds shared the Good News with excitement (17). God used their testimony to reach the people within their sphere of influence (18).
Meanwhile, Mary quietly "pondered" (19).
Her trust began with the seed of hope planted by God, rooted in her willingness to surrender, nurtured by her obedience, watered by unconditional love, and grown by the power of the Holy Spirit.
The final verse in this story demonstrates the lifelong impact of a personal encounter with Jesus. Scripture doesn't say the shepherds glorified and praised God for a few days, a couple of weeks, a month or two, or even for years.
The Bible says they returned "glorifying and praising God for all the things they had heard and seen, which were just as they had been told" (20).
Their grateful praise was ongoing.
Our family celebrates Jesus every day of the year, but we've always enjoyed our Christmas traditions.
This year, with a heart aching to see my mom smile or hear her laugh just one more time, it's not always easy to embrace merriment.
As God carries me through my grieving process, I pray He'll empower me to be obedient like Joseph and surrendered to His will like Mary. I pray I'll always make room for Jesus and rejoice in the Good News, no matter how bleak my circumstances appear. I pray I'll never be content with going through the motions as I wander around in the darkness of this world.
When Christmas feels anything but merry, I will gaze at my Nativity set, which sits on our shelf year round, and remember Emmanuel, God with us.
My mom's spending this Christmas in the arms of Jesus. But, so am I.
Only I'll be praising Him from this side of eternity, until the day He calls me home.
Lord, please help us rejoice in the hope of salvation that promises eternal life with You. Help us find comfort and peace in Your birth, Your rising, and Your promise to come again. Hallelujah! In Jesus' name, amen
Reflection:
How did God help you face a Christmas that felt anything but merry?
What would you like to say to someone who is struggling with grief this Christmas?
—–