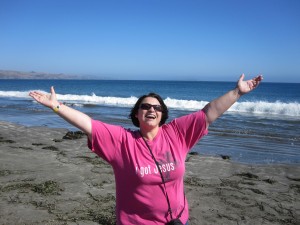 I'm wincing with pain as I write this post.
In 1992, I suffered a severe back injury. Physical therapy aggravates the hot spot. Although the pain has been constant in location and severity, doctors can't identify the cause so surgery has not been an option. After over ten years of begging for relief and drowning in frustration over quick fix prescriptions for pain meds, I gave up asking doctors for help.
I settled into the fact that this pain was always going to be a part of my life.
I ask God to bring me relief on the bad days. I plead for comfort and strength to get me through the days when the pain refuses to relent.
I've learned to cope with the hurting, living with the ache. I've learned how to step with caution to avoid flare-ups. I've learned to adjust my world so I could still be productive.
But today, after over twenty years of trusting God through my suffering, I was brought to tears with a stabbing spasm on my upper back. The pain pinched my neck and pierced the front of my rib cage simultaneously. I cried out to my husband for help and whimpered as he attempted to rub out the hurt.
Hours later, after the ache dulled, I realized I never once cried out to God. I felt His presence. I knew He was carrying me through the hurt. But as I lay still on my bed, afraid of tweaking my back into another rampage, I recognized my curtain of contentment.
You see, it's not true contentment if the desire is stuffed deep beneath a broken resolve.
Years ago, I stopped asking doctors about my back injury, tired of being given temporary fixes to mask the problem, tired of the disappointment of not having a diagnosis.
I stopped praying, tying God's hands with my unbelief, succumbing to accepting a life of limitations as normal.
Scripture says: "Be joyful always; pray continually; give thanks in all circumstances, for this is God's will for you in Christ Jesus. Do not put out the Spirit's fire; do not treat prophecies with contempt. Test everything. Hold on to the good. Avoid every kind of evil. May God himself, the God of peace, sanctify you through and through. May your whole spirit, soul and body be kept blameless at the coming of our Lord Jesus Christ. The one who calls you is faithful and he will do it. Brothers, pray for us." (1 Thessalonians 5:16-25, NIV)
I squelched the Spirit's fire by smothering my life with unbelief.
I've always been passionate about my chats with God. So passionate that a woman once mocked me in front of a group and asked, "Do you have to pray about everything?"
I wasn't as bold in my faith back then. My thought-response was, "Absolutely! God tells us to pray continually in His Word!" My actual response was to laugh with them and walk away, wondering if God thought my prayers were silly, too.
I praise the Lord that my actual response today would match my thought response back then. Hallelujah!
But, as I lay still during my unexpected bed-rest, I'm asking God to reveal what other things I've stuffed behind my curtain of contentment.
What else have I stopped praying about? What have I wavered in believing God would, or even could, do for me?
Restoring a broken relationship? Releasing me from a place of emotional, physical, or spiritual bondage?
Have I stopped interceding for a prodigal? Have I quit asking for a breakthrough?
Have I waned in believing in God's provision?
Have I settled for survival rather than pressing on in prayerful perseverance?
Have I ceased to pray continually because I don't trust God's sovereign goodness and faithfulness?
In Romans 12:12, the apostle Paul says, "Be joyful in hope, patient in affliction, faithful in prayer."
I may not like being stuck in a season of waiting, but my hope is in my Lord and Savior, Jesus Christ, Almighty God and Creator of the Universe.
I may have to endure pain in its various forms, but God is my strength and my refuge. He comforts me and gives me peace that I can't even begin to explain.
His answer to my prayers may be yes, no, or not yet, but He always answers right on time and according to His perfect plan. And He loves me enough to not always give me my way.
Today, I will place all my pain on the altar.
I will choose to pray for those things I had given up on. Not the things of this world. You won't hear any prosperity preaching from this camp. But, I will pray according to God's Word.
Empowered by His sweet Holy Spirit, I will do my part and trust God to do His part without my input or interference. I will pray for God to work miracles and be ready to acknowledge Him and praise Him in all circumstances.
Yes, we do have to pray about everything.
And the more we get to know our Savior the more we'll be able to trust Him, even when it hurts.
(P.S. I'm going to the doctor next week and am praying for a miracle of God's healing grace!)
What have you shoved behind your curtain of contentment and stopped bringing before God's throne of grace?
—–