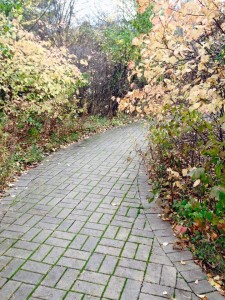 When I first saw this picture posted on my friend's Facebook page, I barely glanced at the colors of fall painting the sidelines of the walkway.
I hardly noticed the artistry in the detailed pattern of the bricks aligned by the path's designer. I didn't appreciate the emerald moss flourishing in the darkened cracks.
I failed to imagine the glorious fragrance of transformation, as drying leaves surrendered to buds of new life.
Instead of gasping at the wonder of God's perfect moment, I strained to peek through the branches in hopes to catch a glimpse of what lay just around the bend.
More often than not, fretting over what we may or may not face in the future blurs the present beauty of what the Lord's doing in the moment.
We can easily forget that every step we take is arranged by an intentional Designer, especially when obedience feels like it's leading to a scenic route destined to extend our travel time and challenge our comfort zone.
Still, Scripture confidently confirms God can be trusted with today.
In Psalm 139, the psalmist proclaims, "Your eyes saw my unformed body; all the days ordained for me were written in your book before one of them came to be." (Psalm 139:16, NIV)
The prophet Jeremiah cries out, "I know, O LORD, that a man's life is not his own; it is not for man to direct his steps." (Jeremiah 10:23, NIV)
Wisdom reminds us that "[in] his heart a man plans his course, but the LORD determines his steps." (Proverbs 16:9, NIV)
These verses point to the faithfulness and lovingkindness of our Good Shepherd and Wise Counselor, Jesus. He is always with us. He is well prepared for what lies around the bend in every season of our lives.
Being overly concerned about tomorrow negates everything the Bible teaches us about God's character and reflects fear not trust, doubt not faith.
Jesus said, ". . . I have come that they may have life, and have it to the full." (John 10:10, NIV)
He promised a full life today, on this side of eternity.
Today, He is with us. Today, He is working. Today, He is enough.
Yet, so many of us still waste time and energy preparing for battles we aren't even sure we'll be facing tomorrow. We invite the pain of our past to sabotage the joy of today. We try to control circumstances in an attempt to avoid the possibility of being hurt again.
Life is filled with seasons of wilting and spurts of new growth peeking through the cracks of God's masterpieces, so often mistaken as ordinary days.
While planning ahead is wise, being too preoccupied with the future opens the door to discontent and distraction.
When we appreciate today as a gift from God, falling leaves of fear and disbelief give way to buds of revitalized faith, spiritual growth, peace that transcends all understanding, and joy.
Embracing God's pace and direction, being grateful for the moment we're in right now, will help us learn to savor each step as we're transformed into His likeness.
Lord, thanks for reminding us that every day is a gift from You, no matter how mundane or difficult that day may feel. Forgive us for doubting You when we worry about tomorrow instead of trusting You today. Help us live in the fullness of the moment, walking in obedience to Your Word and rejoicing in the fact that You are "the same yesterday and today and forever" (Hebrews 13:8). In Jesus' name, amen.
—-
Reflection:
In what aspects of your life are you tempted to worry about what tomorrow might bring?
When is it hardest to admit your dependence on God, live in the moment, and trust His promises instead of being concerned about what may or may not happen in the future?
—-
Photo taken by Kim Bangs and used with permission for this post.
—-