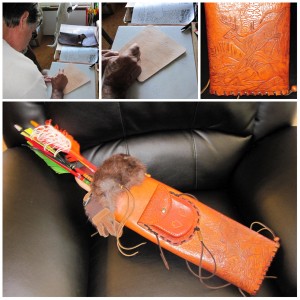 "For You created my inmost being; You knit me together in my mother's womb. I praise You because I am fearfully and wonderfully made; Your works are wonderful, I know that full well." Psalm 139:13-14 (NIV)
My father creates custom quivers for bow-hunters. He carves intricate wildlife pictures into the genuine leather.
Archers from across the states have purchased these works of art, which are easily recognized as my father's one-of-a-kind creations.
During my last visit, he carved the details of an eagle onto a side-quiver.
Pressing a blade into the supple leather, he varied pressure to create the different textures that give his artwork dimension. With gentle strokes, he covered the leather with crimson dye, magnifying its beauty.
As my father's confident hands designed another masterpiece, I thought of how often I forget to appreciate God's creativity in myself, and in others.
The Bible teaches that all people are important to God. He designs us with unique qualities and purpose.
Ephesians 2:10 reminds us that ". . . we are God's workmanship, created in Christ Jesus to do good works, which God prepared in advance for us to do."

Learning more about the Lord, through the study of His Word, helps us view others as God's beloved masterpieces.
Like the pliable leather carved by my father's skilled hands, our worth is determined by the unconditional love and creativity of our Creator.
We each have value as God's one-of-a-kind creations, simply because we are His. 
Lord, help us accept Your perfect love and see ourselves, and others, as Your unique masterpieces. In Jesus' Name, AMEN

—–
Suggested Reading: Isaiah 43:1-7
Prayer Focus:  THOSE SEEKING AFFIRMATION AND ACCEPTANCE
Thought for the Day:  We are uniquely created for God's glory.
——
"The Master Craftsman," written by Xochi E. Dixon, was previously published in The Upper Room (Jan/Feb 2014) and featured on The Upper Room Blog in February 2014.
—–