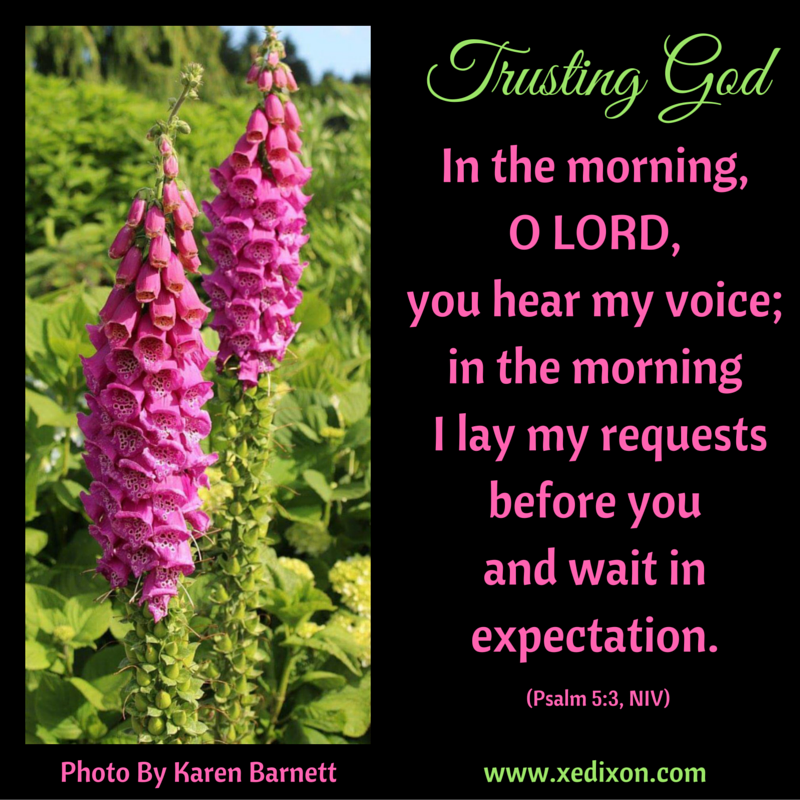 Wait. Hold on. Not yet. Be patient.
These are not phrases most of us welcome with joy.
Waiting can be anything but joyful.
So how could King David praise God while stuck in the wait?
He shares a few secrets of his unshakable faith in Psalm 5.
His prayer begins with a desperate plea:
"Give ear to my words, O LORD, consider my sighing." (v. 1)
David doesn't fear being honest with God. He approaches prayer with boldness, sure of the Lord's great love for him.
I've fussed and whined my prayers countless times. I've begged God to hear me, pleaded for flashing neon lights to acknowledge He heard my cries. I've related to David's desperation many, many times.
But, just when we think David has plopped into a pity-party, he writes:
"In the morning, O LORD, you hear my voice; in the morning I lay my requests before you and wait in expectation." (v. 3)
Those words burst with surety, a confident faith in God's intimate connection with His people.
David knows God is hearing his voice. He fully expects the Lord to work as he waits with complete trust.
How can a man who has endured so much suffering cleave to God with such assurance?
David gives us a glimpse of his secret when he sings, "But I, by your great mercy, will come into your house; in reverence I bow down toward your holy temple." (v. 7)
He acknowledges his need for and the greatness of God's mercy. He moves closer to God, entering His presence to worship with total devotion and awe.
He focuses on who God is, on what He's done and what He's capable of.
"But let all who take refuge in you be glad; let them ever sing for joy. Spread your protection over them, that those who love your name may rejoice in you." (v. 11)
The joy of taking refuge in the Lord hinges on His ability, not our inabilities.
God is our protector, our source of joy.
Knowing and loving the Lord intimately begins with resting in His constant and powerful presence.
He fuels our faith as we immerse ourselves in His unchanging truth, refusing to be distracted by our ever-changing feelings, wants, or circumstances.
Like David, we can count on God to wrap us in His lovingkindness.
"For surely, O LORD, you bless the righteous; you surround them with your favor as with a shield." (v. 12)
We're protected, provided for, and pruned for His greater purpose.
God, the Maker of the Universe, hears our voices.
God, the Giver of all good things, cares about us.
God−the Savior and Redeemer of the World, the One who was, is, and always will be−invites us to lay all of our requests before Him, to place all of our concerns, big and small, into His loving and capable hands.
We can trust the Lord with great expectation.
God will hold us close during the wait and answer us, in His perfect timing and according to His perfect will.
Hallelujah!
Lord, thank You for blessing us with the sweet assurance of Your loving attention. Thanks for being available when we call on You. Please deepen our faith, giving us the courage to wait in confident hope and reminding us that You are always listening because You are always with us. In Jesus' name, Amen
—–
Meme created by X.E. Dixon, using photo taken and used with permission by author Karen Barnett (www.karenbarnettbooks.com).
—–