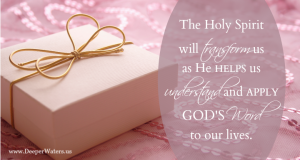 God blessed me with an opportunity to serve through the ministry of Deeper Waters this week.
If you want to know a sure fire way to grow deeper in your personal relationship with God, please check out my devotion "Bible in a Box," published on the Deeper Waters website.
Join this wonderful team of women as they encourage others to read through the book of Joshua and experience the life-transforming power of meeting God face-to-face in Scripture.
If you're encouraged by any of the devotions on their website, please take a moment to comment and/or share them through your social media links.
We never know how God can use the stories we share to minister to the heart of a sister we didn't even know was struggling or longing to know God more.
Thanks for your continued prayerful support and encouragement. It's a blessing to be growing with you, Sisters.
In His love and by His grace,
Xochi
—–
Meme created by and used with permission from The Deeper Waters Team.
—–