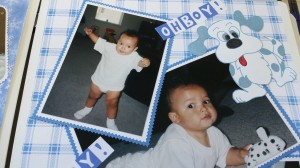 My son wobbled through his first steps. Knees shaking as he stood, he teetered back and forth before plopping onto his bottom. Day after day, he ventured a little further away from the couch.
One step. Two steps. Plop!
Fall after fall, he pulled himself up. When he seemed too discouraged or weary to try again, we picked him up and helped him regain his balance, or assured him it was okay to rest.
With Daddy coaxing him forward, Xavier eventually shrugged off baby steps for a full toddler run. His chunky fist released my crunched finger only after his chubby arm secured a spot around his father's neck.
The grieving process is like a toddler taking those shaky, training steps. Except our Heavenly Father isn't waiting for us to be strong enough to walk on our own. He isn't coaxing us to venture out grasping the air in blind faith.
God is with us, affirming His unchanging character, holding us up when our knees are shaking, picking us up when we fall. Yes, He's carrying us when it feels impossible to take one more step.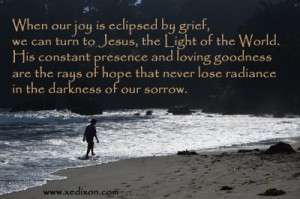 When our joy is eclipsed by grief, we can turn to Jesus, the Light of the World. His constant presence and loving goodness are the rays of hope that never lose radiance in the darkness of our sorrow.
Still, there are moments when we're so overwhelmed with grief that we don't have the strength to turn the slightest bit to the left or right. I've linked arms with those moments numerous times since October 22nd, the day my mom shook off her pain and joined the angels around God's throne to praise Him in eternity.
I forget I can't call my mom whenever I want. I can't be cheered up by her laughter. I can't be consoled by her honey voice declaring, "God is good and that's all there is to it."
Those are the moments my knees buckle, the moments I plop onto my bottom, too weak to even turn my eyes away from the shadows of mourning.
Thankfully, the Lord exudes immeasurable mercy and limitless power, which are magnified in my weakness.
When grief thrusts us into a whirlpool of despair, fear, confusion, and anger, the first baby-step in the healing process doesn't require us to take a step at all.
If all we can offer is a broken sob in prayer, we can depend on Jesus to turn toward us in compassion and mercy.
With confidence secured in God's faithfulness yesterday, today and forever, we can pour our hearts out to our Loving Savior and cling to this promise as we grieve:
"I waited patiently for the LORD; he turned to me and heard my cry. He lifted me out of the slimy pit, out of the mud and mire; he set my feet on the rock and gave me a firm place to stand." (Psalm 40:1-2, NIV)
Lord, thank You for remaining faithful, sovereign and good. Please help us cry out with bold faith as You comfort us with the peace of Your presence and carry us through the grieving process. In Jesus' name, amen
Reflections:
What do you think is the hardest thing about the grieving process?
How did God comfort and strengthen you as you grieved over the loss of your loved one?
—–
Pictures by X. E. Dixon
—–