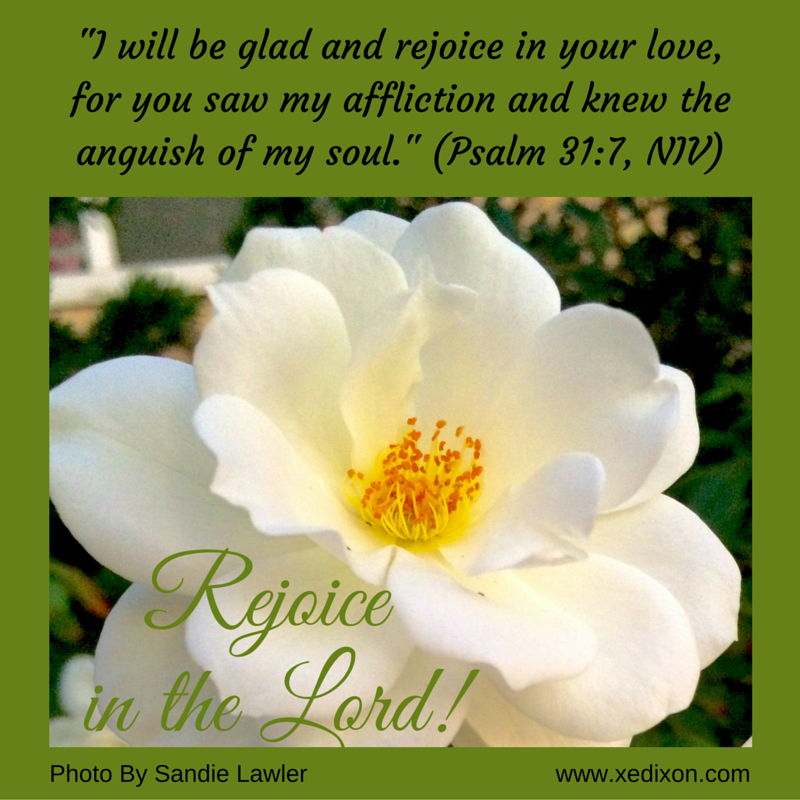 King David practiced the art of rejoicing in the Lord through all circumstances, and enjoyed the peace of God as his reward and his legacy.
He wrote: "I will be glad and rejoice in your love, for you saw my affliction and knew the anguish of my soul." (Psalm 31:7, NIV)
With joy anchored in God's love, not his ever-changing circumstances or feelings, David celebrated being known and cared for by the Creator of the world. He praised God with gladness, even when his troubles didn't end or when his relief was delayed.
David knew from experience the Maker of time and all that was, is, and is to be, intervenes in the lives of His people.
We can enjoy that same blessed assurance as God reveals Himself through His Holy Scriptures and His Holy Spirit, who enables us to experience His constant and powerful presence.
Jesus promised we'd have trouble in this world (John 16:33).
At some point in our lives, we'll be crushed by grief, frustrated with wayward children, or tired of fighting to save deteriorating relationships.
We'll be battered by depression, deceived by discontent, blinded by pride, or shackled by insecurities.
We'll be worn by illness, paralyzed by fear, weighed down by guilt, or broken by shame.
There's no doubt that each and every one of us will feel overwhelmed by the worries of this world, at one time or another.
But there will always be One who sees every detail of our afflictions and knows the deepest anguish of our souls.
We can trust the One who loves us so much that He willingly endured pain that surpassed everything we could possibly experience, so that we could secure our hope in Him now and forever more.
Like King David, we can experience peace through the art of rejoicing in the Lord, even through our greatest sorrows.
We can pour our hearts out, in raw honesty:
"Be merciful to me, O LORD, for I am in distress; my eyes grow weak with sorrow, my soul and my body with grief. My life is consumed by anguish and my years by groaning; my strength fails because of my affliction, and my bones grow weak." (Psalm 31:9-10).
We can proclaim His name with confident surrender:
"But I trust in you, O LORD; I say, 'You are my God.'" (Psalm 31:14)
And we can declare our trust in God by encouraging others:
"Be strong and take heart, all you who hope in the LORD." (Psalm 31:24)
Lord, thank You for assuring us that Your unchanging heart will always be reason enough to rejoice in Your limitless love. In Jesus' name, Amen
—–
Meme Created by X.E. Dixon with photo taken by and used with permission by Sandie Lawler.
—–