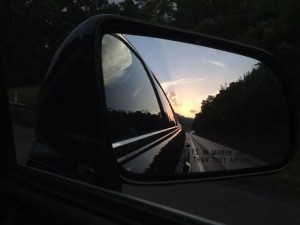 The darkness of the past can paralyze the bravest warrior.
Wisdom moves full-steam ahead and never looks back. Why dig up old skeletons and risk people judging?
The optimist who fritters the day away in the depths of my mind pipes, "God can use the past for good."
My doubt blares like a siren.
Lord, don't You remember the shameful moments riddling my past? Don't You recall the poor decisions damaging, and sometimes destroying, relationships? What about the careless words I've spoken, the hurtful words of others that I can't seem to forget? How can You use the painful things that happened to me, and the horrible things I've done, Lord?
Fear and shame morph into an iron shield, separating me from people and from God.
Still, the Holy Spirit breathes truth that eventually begins melting my steely heart.
"Praise be to the God and Father of our Lord Jesus Christ, the Father of compassion and the God of all comfort, who comforts us in all our troubles, so that we can comfort those in any trouble with the comfort we ourselves we have received from God." (2 Corinthians 1:3-4, NIV)
I respond.
"You turned my wailing into dancing; you removed my sackcloth and clothed me with joy, that my heart may sing to you and not be silent. O LORD, my God, I will give you thanks forever." (Psalm 30:11-12, NIV)
Dwelling in the past differs greatly from using the past to give God glory.
Like my friend realized when she snapped this picture, beauty pierces through the darkness we're leaving behind.
The unconditional love of the One who knows and wants to be known creates a powerful healing balm. In mercy, He turns heart-wrenching circumstances into testimonies of His faithfulness.
Because God knows our purpose, we can thank Him for using hardships to reveal our great need for Him. Because God works for the good of all who love Him, we can appreciate the longsuffering that magnifies the truth of His power made perfect in our weakness. Because God redeems, we can share our story and point to His power and grace.
A wise psalmist penned these words:
"I will remember the deeds of the LORD; yes, I will remember your miracles of long ago. I will meditate on all your works and consider all your mighty deeds. Your ways, O God, are holy. What God is so great as our God? You are the God who performs miracles; you display your power among the peoples." (Psalm 77:11-14)
Faith roots deep when watered by witnesses of God's faithfulness in our lives, in the lives of others, and in the Bible.
Every child of God is a living testimony of His life-transforming grace. His Light pierces through the dark parts of our past and uses our story to shine hope into the lives of others.
Lord, please give us opportunities to share our testimonies with others. Use our experiences to encourage someone to place their hope in You. In Jesus' name, Amen
—–
Reflections:
What has God done for you in the past that can refresh your faith or shine hope into a friend's dark situation?
What's stopping you from sharing your testimony and giving God glory for what He's done?
If you've shared your testimony, how have you and others been blessed by your courage to be transparent and honest about your past struggles?
—–
Photo taken by Cheryl Thompson and used with permission. Portions of this article previously published at www.xedixon.com, June 2014 and at FBCVV.com January 2015.
—–